18 hours in Dublin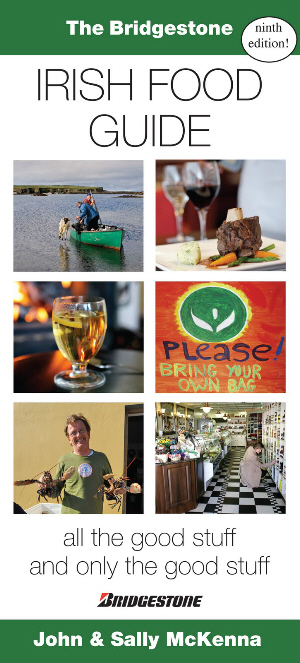 Just enough time to…
– attend a dinner to celebrate 20 years of John and Sally McKenna's Bridgestone Guides and Bridgestone at the just-opened Pinot's restaurant in Sandyford. (John also blogs at The Bridgestone Guides.)
– enjoy sumptuous wines from Enrico Fantasia, the all-cooking, all-drinking, opera-singing, Venetian wine importer who – besides having a most memorable name, imagine being the Fantasia family! – brings an buttery, apricoty Arneis (Guidobono Roero Arneis 2009), rich Vignai da Duline Vivernum 2004 and refreshing prosecco (Prosecco Col Saliz) into Ireland. Reason enough, besides his name, to make his acquaintance.
– savour a thoughtful menu of great Irish produce as cooked by Thomas Haughton (ex Harvey Nichols) – the small cutlets of new season Wicklow lamb with wild mushroom tapenade was to die for, especially with the Vivernum, while I would have happily confined myself to plates of the beautifully plated McConnell's smoked salmon with mini potato blini and lemony Glenisk crème fraîche for the entire evening.
– have breakfast cooked by the Designer because he didn't have enough milk for cereal. A definite score for me!
– go raspberry and redcurrant picking first thing in the morning in the Designer's long and very productive Crumlin garden.
– meet the Murphy brothers and see the works in progress that are the two Murphy's Ice Cream Dublin shops. Exchequer Street is supposed to open this evening, just in time for a summery weekend's worth of ice cream eating. Make sure you try the affogato.
– have time for a catch up with the Daily Spud over little savoury tartlets (mine: asparagus and brie, definitely recommended) in the newly minted Pepperpot on the first floor of Powerscourt Townhouse, as recommended by Aoife Carrigy of Food & Wine Magazine. The side salad was something well worth the name, plenty of fresh, green leaves with a bite, and the accompanying chutney a spicy thing of beauty.
– linger over a shared flourless chocolate cake that had myself and Spud wondering if it was made of almonds or walnuts – as it turned out, we were both right: ground almonds in the cake, crushed walnuts on top and spread with, most delicious and elusive of all, a hazelnut chocolate ganache.
– head home on the train with redcurrants from Spud and the Designer along with a jar of the Designer's blackcurrant jam, wishing I had an ice cream maker for redcurrant sorbet.
Sometimes short visits are the best.