Food Bloggers Country Outing: Old Farm Heritage Pork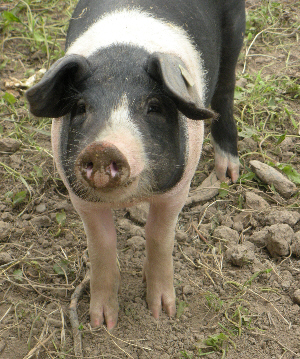 First Margaret and Alfie decided to get two pigs – one for themselves, one for a brother – and Alfie came home with three. Then a few sows arrived and before long there were 48 little piglets squealing, tumbling and racing around their farm at Lorrha in North Tipperary. Now they sell their free-range, antibiotic-, GM- and hormone-free Old Farm Heritage Pork through a box scheme at €10 per kilo for mixed boxes of 5, 10 or 15 kilos. These pigs are fed on barley and vegetables sourced locally, together with whey – the leftovers from making Mossfield organic cheese – from their neighbour, Ralph Haslam.
Yesterday we visited the farm to learn more about pork production, from Margaret and Alfie's tales of starting off pig farming, rubbing the heads of curious yearlings as we walked through their pen and admiring energetic piglets zooming around their mothers as they all gazed up at us, ever-hopeful for extra rations. It being a gathering of food bloggers, there was eating with the education as we all tucked into a delightful spread of Gillian's Chocolate Tart, Raspberry Chocolate jam and Barra cake from Theresa, two sets of cookies from Kristin and myself and bowlsful of Margaret's homegrown cherries and strawberries. There was also homemade elderflower cordial, both young and mature Mossfield cheese and then, after extolling the virtues of lard, Alfie went into the kitchen and came back with plates of fried bread. We practically rolled away from the table.
After much conversing, we left laden down with chunks of Mossfield cheese and jars of chunky pesto from Yvonne of Hey Pesto (last night's supper all sorted!), big bundles of just-pulled rhubarb, borage plants and, most importantly, sausages made from the siblings of the pigs that we had just met (easy dinner tonight).
A big thank you to Margaret and Alfie for being such superb hosts. You can order their meat direct from Margaret through Facebook and watch out for their forthcoming barbeque class with John Whelan of The Devil's Menu on Saturday 3 July. Thanks also to Ralph for coming along to tell us about Mossfield cheese – available locally to me in The Pig's Back, Cork – and to my fellow bloggers: Theresa from The Green Apron, Kristin from Dinner du Jour, Gillian from Some Say Cocoa and Wendy from My Chef at Home.
Now to get planning the next trip…did someone mention the Kilkenny Food Trail?!