Shrewd Food by Elizabeth Carty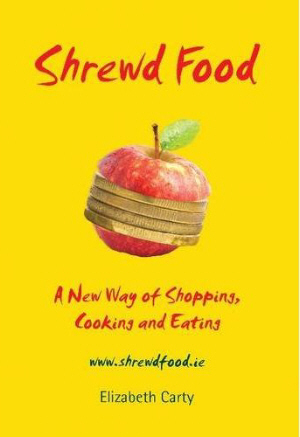 There are times when a book arrives at exactly the right time. Elizabeth Carty's Shrewd Food, with its focus on – as the subtitle says – a new way of shopping, cooking and eating, is that book. As Carthy points out in her introduction, food does not have to be expensive to be good and recipes in the following pages prove this.
She may not be reinventing the wheel but many of the commonsense tips that are scattered throughout the book have been forgotten in recent years. With grab-it-and-go in the supermarket having been replaced by careful shopping around, advice like making a list (and sticking to it!), checking product price per kilo and menu planning is always worth repeating. Carty encourages readers to use their freezers to maximise the value of supermarket special offers, to buy food that is in season for better value and to buy local produce which will be fresher. She also emphasises the importance of enjoying cooking as well as eating and there is no recipe included that won't be enjoyed by all the family.
Before moving back to Ireland in 2000, Carty lived in London, Cyprus and Dubai and her experiences abroad have informed the recipes that she includes. Middle Eastern Salad, Greek Roast Lamb and Kibbe sit alongside more familiar Irish-style recipes like Mushroom and Leek Soup, Apple Crumble and Cauliflower Cheese. Each recipe include a shopping lists, along with information on adapting the dish to appeal to children, or to make it low fat or gluten-free.
With a wealth of interesting recipes, Shewd Food is a book that shows how eating on a budget can be much more of a pleasure than a hair shirt penance.
Must Try: Courgette Pasta (to use up the current garden glut), Gigot à la Cuillère, Clementine Clafoutis
Shrewd Food by Elizabeth Carty (£12.99) is published by Hachette Ireland. Thanks to the publishers for the review copy. Elizabeth Carty's website is ShrewdFood.ie and she is also on Facebook and Twitter.