Blueberry time at Derryvilla Blueberry Farm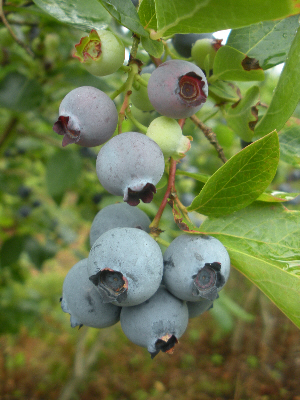 Growing up in Ireland during the 1970s and 1980s, blueberries were a rare, exotic fruit, only read about in the books of Laura Ingalls Wilder or Roald Dahl. Years later, my first encounter with a blueberry was in a muffin but, alas, it was one of those ever-lasting, plastic-wrapped ones and the purple coloured spot in the muffin bore little resemblance to the real thing.
Now, tagged with the superfood label, there's enough demand that blueberries are available in supermarkets year round but for the real deal you need to go looking for the Irish crop. Blueberry growing in Ireland is very much a small, but healthy, cottage industry with growers selling most of their crop either directly from their farms or in local shops. As my own blueberry crop was a total failure this year, an invitation from Bord Bia to visit Derryvilla Blueberry Farm near Portarlington last Friday was a real treat.
Derryvilla, had I known it as a child, has been growing blueberries since 1965. Now owned by John Seager and his wife, Belinda, it is the largest blueberry farm in Ireland with a 20-acre operation just outside Portarlington. The high bush blueberry that they grow on their pesticide-free farm is the commercial cousin of the native Irish fraughan or, as they're called around here, the hurt. Like the Irish variety, the bush blueberry is an acid-loving shrub which thrives on the area's cut-away bog, although fortunately its fruit is much larger and easier to pick than the tiny fraughan.
Nuala, a vivacious woman whose youthful appearance and attitude belies her age, manages the ten acres of Derryvilla where the pick-your-own operation is based. Although she lived away from the area for many years her roots are here: she remembers walking to school through this farm and picking fraughans nearby. While she believes that people primarily buy blueberries because of the health benefits – they are rich in the antioxidants that may help prevent age-related diseases like cancer and heart disease – but I think it's the taste that really gets them. Sweet but tart, the thin-skinned berries pop in your mouth and a punnet can disappear far sooner than intended.
The Irish blueberry season normally stretches from the end of July to the end of September but, as with all things to do with the land, this is very weather dependent. In 2009 the rain sodden season ended on 9 September; this year, delayed by the hard winter, picking has only just started. Compared with imports – and earlier in the week I had bought a punnet of Polish berries – Irish blueberries have more flavour, are much bigger, twice as juicy, and there are no food mile issues.
While I was in the shed talking to Nuala, Derryvilla was doing a brisk trade in boxes of pre-picked blueberries but last Saturday, 7 August, they were also due to kick off their pick-your-own season. With PYO prices a full €2 less than the ready picked berries (€10/kilo instead of €12/kilo – compare that with supermarket prices of up to €16/kilo), it's very a recession-friendly option and something that the whole family can enjoy. Nuala often sees people coming to spend half a day picking the berries, complete with picnics, grandparents and children – although I wonder how much they take home compared to the amount that gets eaten there and then.
I got my own chance at picking, After talking to Nuala, I headed down a narrow, grassy laneway. The ground underneath had that lovely springy bog feel and the bushes were weighed down with a mixture of ripe, ripening and some very green blueberries. As a child I often picked strawberries, blackcurrants, raspberries and gooseberries but I had never came across a fruit that was so easy to pick. The ripe blueberries berries practically fell into my hands and my punnet was half filled within moments. I could have stayed there much longer if it wasn't for the rain that started to bucket down.
Despite being surrounded by blueberries all day, every day, Nuala is still a fan. She starts every morning with a handful in her porridge saying "it keeps you ticking over until lunchtime." When asked for her favourite way of cooking blueberries, she reels off the recipe for her Blueberry and Apple Crumble with the air of a woman who puts it together on a regular basis without thinking or needing to measure quantities.
With fresh blueberries in the car being nigh on irresistible, it's just difficult to make sure that you arrive home with enough to bake with. Nuala's solution? Just buy double the amount you think you'll need!
Derryvilla Blueberry Farm is just outside Portarlington in Co Offaly. Call Nuala at 057 8642882 or 087 2466643 for details of picking times and accurate directions. www.derryvillablueberries.com info@derryvillablueberries.com
Nuala's Blueberry and Apple Crumble
Part stew, separately, one Bramley apple and ½ kilo of blueberries. Add a small bit of sugar – no water – and a tablespoon of lemon juice to the blueberries. Put the blueberries on the bottom of a loaf tin, the apple on top, and add a light sprinkling of crumble. Bake in the oven until golden and the blueberry juice is just bubbling through. Serve with a good dollop of ice cream.
Bibliocook Podcast: Caroline Hennessy talks to Nuala of Derryvilla Blueberry Farm, Co Offaly about the blueberry season in Ireland.