Beer and curry at O'Brien's in Lismore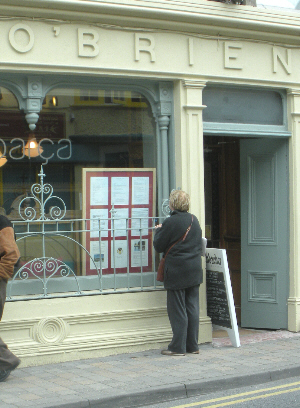 Events at O'Brien's Chop House in Lismore are very well done. Long tables with lots of random strangers (who turn out to be anything but after a few minutes talking), food served family style in large dishes, beer and wine on the tables for self service: it's all very relaxed, terribly well organised and enormous fun. That's why the Husband and I leaped at the last minute chance to go along to a Beer and Curry Feast there last Friday.
The beer? From the newly established Dungarvan Craft Brewery, just down the road. Green Saffron supplied the Indian spice blends for the curries, which Chop House Chef Eddie Baguio combined with lamb from butcher Michael McGrath, saddleback pork courtesy of Ballyvolane House, Nora Ahern's chicken and vegetables from Ballyvolane's walled garden. Southern India was the focus of the night as large bowls of Lamb Korma, Chicken Vadagam, Pork Vindaloo and Sambar Podi Masala were brought to the tables, accompanied with aged Basmati rice, tiffin boxes filled with raita (the spiced banana version was worth spooning up by itself) and jars of mango chatni. We all had bottles of Dungarvan's beer in front of us, to try at will with the curries. Unfortunately I drew the short straw and it was the Husband doing most of the drinking while I was limited to small samples.
For me, the highlights were the intense, sweet lamb korma, especially good with the citrusy notes of Helvick Gold Blonde Ale, the fragrant vegetable and lentil Sambar Podi Masala, and Black Rock Irish Stout with a Vanilla Cardamom Ice Cream. Think of a rather superior, grown up ice cream float and you'll understand what I mean.
Food fantastic, beer refreshing, company brilliant. Our table, now great friends, were amongst the last to leave. A great night out – and it seems that O'Brien's is talking about continuing the beer and curry theme on the last Friday of each month. Keep an eye on www.obrienchophouse.ie for more details. For photographs of the food, head over to Cormac's account of the first curry night on his Dungarvan Brewing Company Brewer's Blog. Guess who forgot her camera?!