Leon: Naturally Fast Food by Henry Dimbleby and John Vincent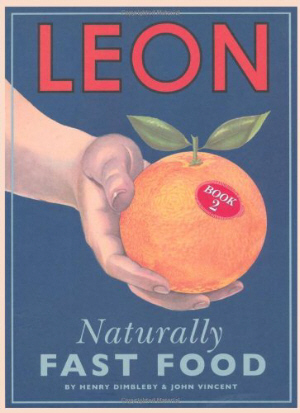 Since the first Leon cookbook arrived at the cottage, it hasn't been allowed to leave the kitchen. Crammed with whole food ideas and healthy, seasonal dishes, all the food is tempting and very, very tasty. The Indian Parsnip Soup is one of those recipes that is in constant rotation, Little Missy loves the Sweet Potato Falafel and there's always a stash of smoked fish in the fridge for a Magic Mackerel salad.
Inspired by the book, on a brief visit to London last year I made sure we included a trip to the Spitalfields Leon. We were charmed by the quirky surroundings, the savoury breakfast baps, the dark cherry, chocolate and yoghurt knickerbocker glory (post-breakfast desert is obviously the most important breakfast of the day!), the books on the shelves around us and the relaxed atmosphere.
While missing the ecclectic guiding hand of Allegra McEvedy, the second Leon cookbook has as quirky a design as the first, complete with family photos, fold out pages, upsidedown text (for Upsidedown Apple and Cardamom Tart, of course), unusually styled food pictures and a page of Leon stickers at the back. And the recipes are no less enticing. It's a hop, skip and jump through a variety of countries, with influences coming from India, Italy, Thailand, Burma, Greece and many more but there's still nothing too complicated here.
The book is divided into two main parts. It starts off with 20-minute prep Fast Food dishes, which includes speedy soups (Butter Bean Soup, Persian Onion), quick ways with potatoes, rice, and other grains, corner shop classics (Ultimate Cheese on Toast, Bean Salad with Quick Pickled Onions) and even a guide to cooking with kids. The next part, the one that Dimbleby and Vincent call Slow Fast Food, is all about the kind of meals that can be put together well in advance, popped into the oven and allowed to cook away by themselves. Henry's 18-Hour Beef looks set to become a classic and the pot roast chapter has treasures like Indian Pot Roast Chicken, Pork Belly with Turnip and Prunes and a Greek meat and pasta dish called Rigas' Lamb.
There are ideas for raw food feasts (Raw Masala Carrot Dip, Raw Chocolate Banana Torte), collections of simple dressings, soup lifters and ice cream toppers, fab ice lollies and an exceptionally good gathering of party food recipes – choose between 70s, Middle Eastern or Spanish themes. In fact, there is a little bit of a whole lot in Naturally Fast Food. A book to be kept in the kitchen alongside its predecessor.
Must Try: new ideas for minced meat are always good so these Lamb and Apricot Balls are top of the list. Kamal Mouzawak's Aubergine Purée is a must try, as are the Caramelised Biscuits to sprinkle over ice cream and Giles' Jewish slow cooked beef Cholent looks like a great recipe for the Slow Cooker.
Leon: Naturally Fast Food by Henry Dimbleby and John Vincent is published by Conran Octopus, priced £20. Thanks to the publisher for the review copy.