Food, glorious Food(Camp)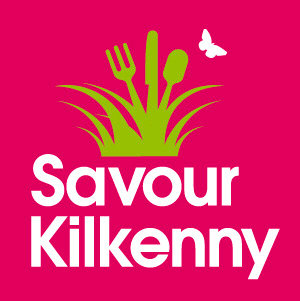 Tweets and trends, coffee and conversation, information and inspiration: all in the mix at Savour Kilkenny's first Irish FoodCamp last Friday. It was a full on day. Not only were Dinner du Jour and I presenting a new Irish blogger resource but the schedule was crammed with talks on a variety of food-related topics.
Alas, the presentations took place concurrently in four different rooms so I had to miss temptation like David Tiernan's Making Connections Between the Farmer and the General Public; the charismatic Philip McCabe on Honey – The Oldest Known Medicine to Mankind (although I did slip in for the last five minutes to hear an enthralling story of bee stings being used to treat MS) and two different takes on Bringing a Product to Market from Denis Coleman and Paul Deegan of Dunhill Castle Beverages.
I did, however, get to hear Wendy Kavanagh of www.mychefathome.ie talk about encouraging the next generation of farmers, Gary Gubbins of Red Nose Wine and his compatriots – Cate McCarthy (The Cookie Jar), TJ Crowe (Crowe Farm Meats), Nuala Hickey (Hickey's Bakery) – discuss the advantages working together in the Tipperary Food Producers Network, and a fascinating presentation on social media and food business from The Bridgestone Guides' Sally McKenna and Donal Doherty of Harry's Bar and Restaurant, a man who knows his Facebook from his Chocolate Fondant.
Lunch was a long, long table, heavily laden with food from all the participants. The deal? Bring some food to share for free FoodCamp entry sounded good to me so my Hanley's Black Pudding and Leek Tart took up a little corner alongside The Daily Spud's layered Vegetable Terrine, Ummera's award winning smoked duck breast, amazing apple syrup (think the pour of maple syrup, but tart apple flavoured) from Highbank Organic Apple Farm, The Secret Recipe Company's cucumber pickle, chocolate brownies (from lots of us!) and more food to choose from than you could shake a stick at. There was enough for seconds. And perhaps thirds. And then there was still a few sweet things to be nibbled at. And a danish from Smörgåsblog to bring home for Saturday's breakfast.
So, a day of food-orientated talking, learning, eating – and, while that presentation still hung over us – nerves! After dreaming up the idea of the Irish Food Bloggers Association two months ago, Kristin and I had set the FoodCamp as the deadline to present it to our fellow food lovers. There were times I didn't think that we'd make it on time but, with the help of Susan from Súil Design and some cracking work from Kristin, we were able to unveil not only our idea, but a website www.IrishFoodBloggers.com, complete with Twitter and Facebook presence.
If you're a blogger or in anyway interested in food take a wander over to www.IrishFoodBloggers.com and let us know what you think. We're at IrishFoodBloggers@gmail.com.
Things to take away from FoodCamp?
* By spending €20 a week on local produce we can make a difference. Wendy Kavanagh
* Twitter for your peers, Facebook for your customers. Italianfoodie via Sally McKenna
* Don't sell. Keep it short, social, simple and positive. Donal Doherty re social media
* When you spend money on local food it stays local. John McKenna
* 86% of fish caught in Irish waters goes abroad without any value being added. Susan Steele, BIM
* Embrace your own food culture, even if it is apple tarts and brown bread. Helen Finnegan of Knockdrinna Farmhouse Cheese
* Work together. Gary Gubbins
* Everyone should have a hive in their garden. Philip McCabe
* Never be nervous in front of friends. Me.
Thanks to the FoodCamp organisers for all their hard work. Looking forward to next year!