Itsa Cookbook by Domini Kemp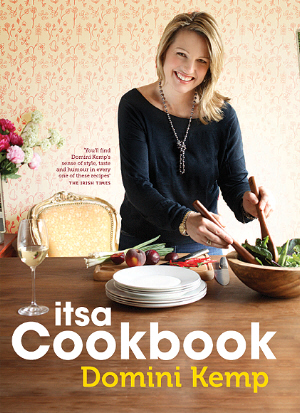 I've been a Domini Kemp fan since she and her sister, Peaches, opened the first Itsabagel in Dublin's Epicurean Food Hall. I fell in love with the Mountaineer bagel at first bite and Itsabagel became a regular port of call as well as the unanimous office choice when I was picking up lunch for everyone. I loved her first 2002 cookbook, Real Food, Real Fast, especially the sweet side of things: the Sticky Toffee Pudding makes masses and is a well-tried-and-tested large crowd dessert, the gooey Pistachio and Chocolate Biscuits never linger long and White Chocolate Berries is a great bring-along-dessert for dinner at a friend's house.
A second volume is long overdue and Itsa Cookbook doesn't disappoint. As anyone who reads her Irish Times column will know, Kemp is full of smart ideas for easy (or, as she calls them, no fuss) dinners. There's a stash of moong dal in the kitchen cupboard for regular Duck Dal Suppers, Irish Rarebit is due to get a try out this week and Kemp includes the famed Itsabagel meal-in-a-bowl Lentil and Vegetable Soup which is well worth adding to any one's repertoire.
Good humoured and relaxed – when was the last time you read "throw in another knob of butter if you're feeling skinny" in a recipe? – Kemp wants to get people into the kitchen, not intimidate them out of it. Any busy working mother can identify with her last minute kitchen inventions and her admission that she never bothers to make her own stock. Kemp is the first to admit that baking and sweet things aren't her strongest suit but she still manages to include some great muffin recipes (Apple and Pecan; Apricot and Orange), a positively decadent recipe for Chocolate Cheesecake Brownies, some tempting iced deserts that don't involve ice cream machines (Raspberry Ice Cream, Lemon Semifreddo, Chocolate Sorbet)
Here, as in the Irish Times, she reels out a sterling lineup of influences including Skye Gyngell, Yotam Ottolenghi, Sarah Raven and Diana Henry. It's enough to set you off on a cookbook shopping spree – but be sure to start with Itsa Cookbook.
Lotsa Must Trys: when I'm over my poaching obsession, I must move onto Steeped Chicken with Spring Onion and Ginger Sauce; a dark and decadent Chocolate Sorbet; perhaps an alternative to the usual Christmas turkey flavourings: Cider Poached Turkey with Maple Chilli Glaze
Itsa Cookbook by Domini Kemp is published by Gill and Macmillan. Thanks to the publisher for the review copy.