Lyric FM: McCarthy's Black Pudding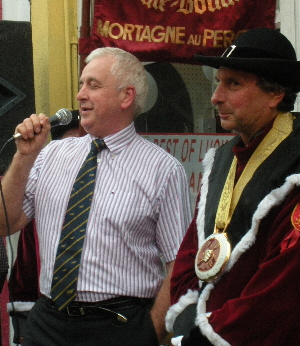 There was a rich, savoury smell in the autumn air as a band marched down the crowded streets of Kanturk, leading a white and crimson velvet-gowned troup. The members of the Brotherhood of the Knights of the Black Pudding, or La Confrérie des Chevaliers du Goûte Boudin, had travelled from France to pay tribute to the black pudding made father and son butchers Jack and Tim McCarthy.
Five generations of McCarthys have worked at the shop in the middle of Main Street since 1892, but Jack and Tim don't rest on their laurels. This is a butcher's shop with a difference, constantly innovating, always striving for excellence in every product. Their superb boudin de la crème, a black pudding with cream and whiskey, was awarded a gold medal in France earlier this year and that was the star for this particular evening.
With as simple an ingredient as pigs' blood, Jack and Tim make something amazing, elevating an every day kind of ingredient into something that should be truly savoured. And it's not the only unusual thing that you'll find in McCarthy's Butchers: try their air-dried Sliabh Luachra Beef, my favourite North Cork pancetta, and, as it is coming up to that time of year, a piece of their Guinness & Cider Spiced Beef.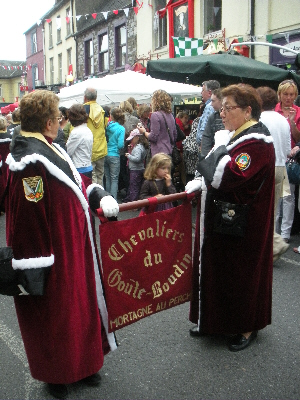 Black pudding on the barbeque, a wild boar spit-roasting alongside, food stalls lining the street, marching bands and plenty of dancing: the recent visit of the Brotherhood of the Knights of the Black Pudding was a night to be remembered in Kanturk. Listen to my report for Culture File on Lyric FM here.