Kitchen: Recipes from the Heart of the Home by Nigella Lawson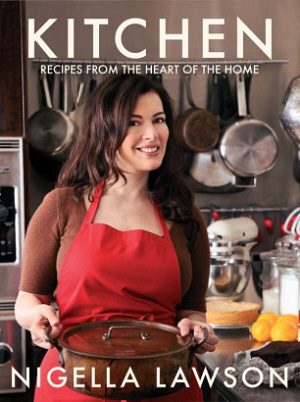 Kitchen arrived at the cottage just before a recent weekend where I was the kind of unwell that makes you want to curl up on the couch with a mug of hot chocolate and a good book. I picked up Kitchen – carefully, I didn't want to drop the hot chocolate, and it is a Big Book – and it was the perfect antidote to a few miserable days. I reveled in Nigella's exuberant and extensive descriptions of Cheesy Chilli, Guinness Gingerbread and Marmalade Pudding Cake. Never mind the comfort eating: this is comfort reading at its very best.
I've always loved Nigella. When we lived together, myself and the Artist bought two copies of her first book, How to Eat – just in case we ever had to live apart – and worked our way through it. The simplicity of its design (look, no photos!) is in stark contrast to her later books but her lavish writing has never changed. Nor, apart from the one misstep of Nigella Express, has my devotion to her books: How to Eat is dragged out on a regular basis, Domestic Goddess is on the kitchen shelf of most-used-cookbooks and Feast was the book I used while feeding crowds in New Zealand. I have to admit, however, that I've seen Nigella on TV a total of twice and, not particularly enjoying the experience, have stuck to her books ever since.
This volume is divided into Kitchen Quandaries – covering topics like fast food, easy puddings and making the most of what's in your kitchen – and Kitchen Comforts with weekend baking, relaxing over a risotto and Sunday night suppers. How much more welcoming would the working week be when eased into with a supper of Garlic Soup and Pumpkin Scones or Pork and Apple Hotpot? And there's plenty more where that came from. Mexican Lasagne, layered with tortillas instead of pasta; Chocolate Brownie ice cream bowls; Hummus, made with peanut butter instead of tahini. Lots to play with. There are also plenty of ideas for what Nigella calls "making leftovers right" and it's also reassuring to see that I'm not the only one who makes cakes with a dip in the middle. Neither her Lemon Polenta Cake, Cherry Banana Bread nor the Seed Cake seem to have risen unduly.
It is always interesting to get a peek into someone else's kitchen and there are plenty of opportunities here. Along with a few snaps of Nigella's own space, she writes at length about the equipment and ingredients that she finds invaluable. For anyone, who like me feels the lure of kitchen gadgets, check out her hall of shame. But remember, one cook's super juicer is another's electric breadmaker (one of my treasures!) so to each their own!
Packed full of recipes that I've been trying out since the day I got it, Nigella's Kitchen is already well stained with use. In short, I'm loving it.
Must Try: I've been a fan of halloumi since I first came across it in Nigella Bites so I'll have to try Halloumi with Beetroot and Lime; Greek Lamb Chops with Lemon and Potatoes hits all those one tray dinner buttons; and I've got a stash of blueberries just waiting to be turned into Blueberry Cornmeal Muffins.
Kitchen by Nigella Lawson is published by Chatto & Windus.. Thanks to the publisher for the review copy.