Local food: Tipperary Food Producers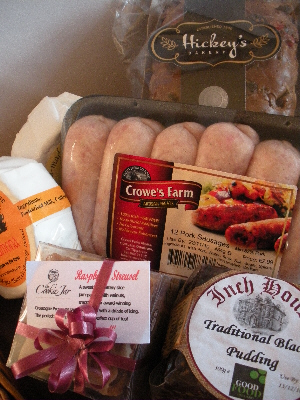 It was all about buying local at last night's Tipperary Food Producers Cookery Extravaganza in Clonmel. Tipperary produce – local cheese, preserves, meat and fruit – was used for the elegant nibbles on offer at the start of the night, during the cookery demonstrations and for the rapidly hoovered up deserts which finished off the evening.
I was there as a member of the 11-strong Twitter panel, along with @goatsbridge, @HeyPestoie, @KeithBohanna, @Omaniblog, @RogerOverall, @BrianPCleary, @QueenofPots, @AnyGivenFood @ClonmelInfo and @DerryO. We had a great time, down the back of the room with nothing to do but watch, listen and tweet (find us at #TippFood). Normally tweeting at the cottage is squeezed in between radio editing, article writing, pot stirring and toddler watching so it felt like a total luxury to have a couple of hours devoted to it, just me, my netbook, my fellow panel members (plus many iPhones!) and a 500-strong crowd of Tipperary food lovers.
For me, the best part of the night was a chance to chat with and buy from the Tipperary food producers that were showcasing their wares. After all the demonstration and tweeting ended, I got a chance to pick up sausages from Crowe's Farm, along with advice from John Paul on hanging and cooking my Bronze turkeys, a cute little box of Raspberry Streusel from The Cookie Jar, one of Nuala Hickey's award-winning barm bracks now scenting the whole kitchen with fruit and spice, a chunk of the fantastic Inch House black pudding and a couple of cheeses from Cooleeney. I picked up Gortnamona, a soft goats' cheese, to go with a tomorrow night's warm lentil and roast pumpkin salad but couldn't resist a wee Cooleeney, a Camembert-style cheese, for baking whole as a weekend treat.
Well done to the Tipperary Food Producers Network for putting such a great event together and thanks to Pat Whelan (check out his book here) at James Whelan Butchers for the invitation to participate.
Buy local? With food this good, the only question is why wouldn't you?