Cookbooks at Christmas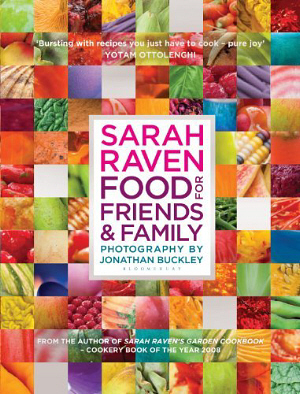 Some might say that it is too late for Christmas shopping but, as the Little Brother informed me this morning, there's loads of time yet. Which would be fine if he wasn't supposed to be buying for me – my family does Kris Kringle so that you only have to buy for one person – and most of the things I want are online. My fault for not telling him in time, apparently! Oh well…if there are any similarly challenged little brothers out there, they might find this list useful. Here are, in no particular order, a selection of review books that I've enjoyed this year. You can also find a few more in the Cooking the Books index.
Food for Friends and Family by Sarah Raven (Bloomsbury)
Sarah Raven is the queen of seasonal cooking at the cottage. Her Garden Cookbook is a fixture in the kitchen, along with Jane Grigson's superb Vegetables, for veggie gluts and her Complete Christmas gets pulled out every year. Food for Family and Friends is another winner. A brightly coloured and sizable book, this is packed with original ideas for Easter feasts, summer picnics and bonfire parties and is perfect for anyone who likes to entertain. Lucky friends and family.
Must Try: Beetroot and Coconut Soup, Five Hour Leg of Lamb, Clementine Curd
Freud on Food by Clement Freud (Black Swan)
I first read this book as part of what I now call the reading-my-way-through-my-local-library project in the early 1980s and absolutely loved it. To a child in Ireland, his casual mentions of assorted hors d'oeuvres and quail eggs, elegant racegoers' picnics and Pommes Anna were all wonderfully far fetched. While the terms and dishes are no longer quite so exotic, Freud's writing is still as entertaining as ever. Plenty of attitude, wit and a very particular sensibility that is a real antidote to Christmas excess.
Must Try: Onion Tart, anything from his "Give the Wife a Break" menu, and especially his relaxed Christmas Countdown which involves getting up at 12.15pm to serve lunch for ten at 1pm.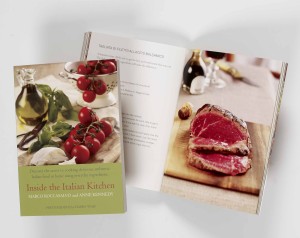 Inside the Italian Kitchen by Marco Roccasalvo and Anne Kennedy (Greatfood.ie)
Marco Roccasalvo, the owner and chef of the well-respected Campo de' Fiori in Bray, Co Wicklow, has teamed up with Anne Kennedy of Greatfood.ie for this neat little book on authentic Italian food. With a focus on good ingredients – there are tips on everything from olive oil and tomatoes to capers and cured meat – the recipes are simple and easily achievable. Great photos from Harry Weir.
Must Try: I was particularly taken with the Carne (meat) section – Costolette di Agnello al Vino Bianco (lamb chops with a white wine and herb sauce), Bistecca Con Salsa al Pepe Verde (steak with green pepper sauce), Agnello del Paradiso (paradise lamb chops).
Jamie's 30 Minute Meals by Jamie Oliver (Michael Joseph)
I normally read cookbooks to relax but not this one! Even skimming through 30 Minute Meals made me breathless. While I do like the idea of complete menus, I find the way that the methods of all the dishes are combined together a bit offputting for someone who likes to pick and mix. That said, and forgetting about the notion of whether these menus can actually be completed in 30 minutes, this is a fantastic book for someone who just wants to make a Jamie meal without any deviations. The Husband has been eyeing it up already. I might just pass it on.
Must Try: just in case he's reading, I'd be happy any night with either the Liver and Bacon, Swedish-Style Fishcakes or Fish Tray-Bake menus.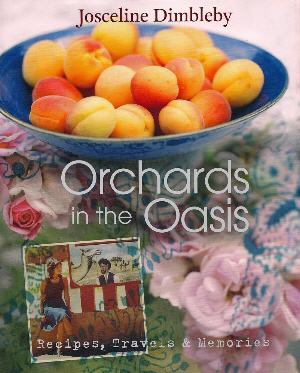 Orchard in the Oasis by Josceline Dimbleby (Quadrille)
The year's finest memoir with recipes comes from respected British cookery writer Josceline Dimbleby. Growing up as the step-daughter of a diplomat, she started traveling at an early age and was hugely influenced by the foods that she encountered in places like Syria and Peru. It's a life less ordinary, punctuated by trips on the Orient Express, caviare in 1970s Teheran, a Burmese birthday and living in a village of plums in Devon. Dimbleby's evocative writing is complimented with photos from the family album and fantastic recipes that will make you search out her recipe books.
Must Try: Cheesy Fish Cakes with Spring Onions, Dried Apricot Tart, Moonlight Bananas.
Entertaining at Home by Rachel Allen (HarperCollins)
While I found the idea behind this book a little unconvincing and could only bear to watch one episode of the television series which it is paired with, there are still plenty of great, solid, reliable recipes in Entertaining At Home. Check out the brilliant brunch options, ice creams that don't need machines and a couple of pheasant recipes for the birds that regularly arrive on our doorstep from a hunting neighbour. This book is not up to Allen's usual standards but it will keep the fans happy.
Must Try: Pheasant Casserole with Chorizo, Cream and Thyme, Pot-Roast Pheasant with Bacon and Brandy, Baked Eggs with Creamy Kale.

Gifts from the Kitchen by Annie Rigg (Kyle Cathie)
Not just for Christmas, Gifts from the Kitchen covers the entire year by season, including a chapter on celebrations. Think heart-shaped lollipops for Valentine's Day, summer barbeques with a homemade Spiced Plum Sauce, Damson Vodka in autumn and Herbal Teas for Christmas hampers. Celebration ideas include housewarming Granola, Baby Shower Cakes and Cashew and Almond Barfi for Divali. Catherine Grantwicke's photographs give you a starting point but some more ideas for packaging would be useful.
Must Try: Sea-Salted Caramels, Spiced Cranberry Jelly, Hot Chilli Vodka.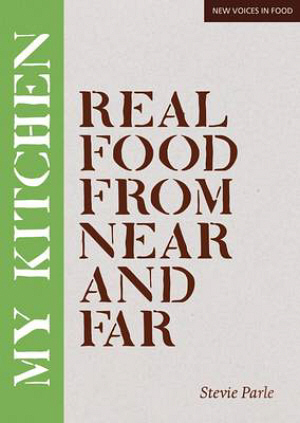 My Kitchen by Stevie Parle (Quadrille)
Get ahead of the curve with rising star Stevie Parle's tales of conversation and curry in My Kitchen. Although only 25 years old, Parle is a graduate of Ballymaloe Cookery School, has cooked at The River Cafe, Moro and Skye Gyngell's Petersham Nurseries, opened his own London restaurant – The Dock Kitchen – and was named Young Chef Of The Year by the Observer Food Monthly Magazine in October. Lots of exotic flavours, ideas for garden gluts and group meals.
Must Try: Chocolate, Hazelnut, Brandy and Espresso Cake, Tamil soup Rasam, Peas with Allspice
I Love Curry by Anjum Anand (Quadrille)
January is a good month for eating spicy food and you'll have no shortage of ideas from this book. Anand includes an invaluable two-page guide to the secrets of making great curries which explains when and why you add different ingredients, the importance of adding boiling water when cooking a curry, why it is best to use bone-in meat and how to balance the final flavours. These are essential notes for anyone who loves to make curry and worth the price of admission alone.
Must Try: Spinach with Black Eyed Peas, Bengali Yoghurt Fish, Spicy Lamb, Tomato and Coconut Curry.
The Wholefood Kitchen by Ross Dobson (Quadrille)
As well as being a fantastic focus for any meal, pulses, lentils and grains are also a great way of bulking out more expensive ingredients. Australian writer Dobson covers both options in his Wholefood Kitchen with recipes for soups and side dishes, main meals and baking. Quinoa for Choclate Chip Cookies, whole spelt in salads, rye, spelt, soya and wholemeal flour in bread: this is the kind of cookbook that shows you how to incorporate more wholefoods easily into your diet.
Must Try: Slow Cooked Lamb Salad with Broad Beans, Pomegranate and Fresh Mint, Homemade Semolina Crumpets, Little Almond, Polenta and Lemon Syrup Cakes
At Elizabeth David's Table compiled by Jill Norman (Michael Joseph)
While Elizabeth David's recipes cannot be improved on, this illustrated collection of her greatest hits will hit the spot for any cookbook lover who has yet to be seduced by her peerless taste. The recipes and excepts are chosen by Jill Norman, literary trustee of the David estate and well known author in her own right, and simply photographed by David Loftus. This the book that will make you want to buy all David's back catalogue.
Must Try: Slow Cooked Beans, Tomatoes Baked with Gruyere, Raspberry Shortbread.