Lyric fm: Today's Special at the Cork Film Festival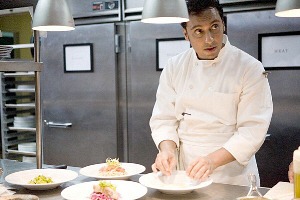 My Culture File report for Lyric fm on the Slow Food screening of Today's Special during this year's Cork Film Festival is now online and can be listened to here.
Each year the Cork Film Festival, in collaboration with Slow Food Cork, screens a food-related film. It's a popular event, especially as the ticket price includes a glass of Prosecco and tastings of locally-produced food. This year the caterer was Bite Size in Midleton, who provided the beautifully packaged and tempting-sounding boxes of food which are described in the audio link.
Today's Special, which was directed by David Kaplan, was written by and stars The Daily Show's Aasif Mandvi as a Manhattan sous-chef who reluctantly takes over his father's Indian restaurant in Queens. A well observed romantic comedy, it is peopled with appealing characters, including – foodie alert – the great Madhur Jaffrey playing Mandvi's long-suffering mother. A smart script, sparky cast and plenty of great food shots to delight the eye. Worth watching out for.