A bit cheeky: Beef, Mushroom and Red Wine Pie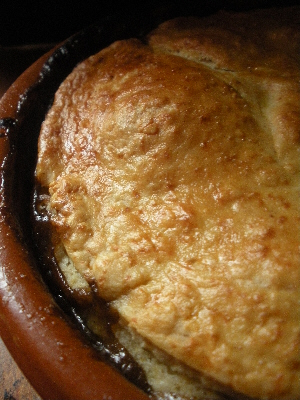 I hadn't intended on cooking beef cheeks for a family lunch but a chance trip to the English Market to meet Clare and her MM on Saturday morning gave me an unexpected opportunity. Queuing at Tom Durcan Meats, there was a bit of banter with the man ahead of me about the lamb's liver for one that he was picking up – like myself at the cottage, no one else in his house will eat it – and then, rather than ordering a kilo of stewing beef, I asked the butcher what would he recommend for long, slow cooking. "I have an idea," he said, "but I'm not sure you'll like it. How do you feel about beef cheeks?"
He had me at beef cheeks – not to mention his challenge! Although it is one of those cuts that I've been wanting to try out, I always thought you had to order them in advance. Apparently not so at Tom Durcan Meats. As the butcher chopped and trimmed, he recommended that I cook the meat for a minimum of three hours. Slow cooker on hand, this was no problem so I made the filling part of my planned Beef and Red Wine Pie on Saturday evening, leaving the flavours to get to know each other a little better overnight.
Sunday morning, as I decanted the mixture into a pie dish, I tasted it. Without a doubt, this was the best casserole I have ever made. Now, it may have to do with the fact that I like to cook chorizo with beef and there was also enough red wine in there to make anyone happy but the flavour and texture of the beef cheeks was incomparable. Topped off with a light, scone-like dough, this seemed to be the general consensus at lunchtime too. There was a general licking of plates – even from the Little Sister who doesn't generally do stews – and demands for more. I didn't mention the cut of meat: as my mother said, the squeamish family enjoyed it but, maybe if they knew, it might not have been quite so nice.
I've no such reservations. This is a cut that's just perfect for long, slow forget-about-it cooking, either in your oven or slow cooker. I loved how sweet and melt-in-your-mouth tender the meat was – and the fact that I've another kilo stashed in the freezer, just waiting for another rainy casserole day.
Beef (Cheek) and Red Wine Pie
If you can get your hands on it, Gubbeen chorizo is fabulous in this. Have a chat with your local butcher about beef cheeks – you never know, he just might have some on hand!
Filling
Olive oil – 2-3 tablespoons
Chorizo – 100g, cut into slices
Celery – 2 stalks, roughly chopped
Onions – 2, sliced
Garlic – 6 cloves, sliced thinly
Carrots – 4, cut into 2.5cm chunks
Beef cheeks or stewing beef – 1 kilo, cut into 2.5cm chunks
Plain flour – 3 tablespoons, seasoned with salt and pepper
Red wine – 500mls
Water – 500mls, approx
Bay leaves – 2
A sprig of thyme
Button mushrooms – 300g, quartered
Sea salt, freshly ground black pepper
Pastry
Plain flour – 300g
Baking powder – 3 tablespoons
Pinch salt
Butter – 50g
Milk – 250mls
Egg – 1, beaten with a little milk, to glaze
To make the filling: preheat the oven to 150ºC or get your slow cooker ready.
Heat the olive oil in a large frying pan over a medium heat. Add the chorizo, celery, onions, garlic and carrots. Fry for 8-10 minutes until the celery, onions and garlic are softened but not brown. Remove with a slotted spoon and place into a large casserole.
Heat the same frying pan over a high heat, adding more olive oil if necessary. Toss the chunks of beef in the seasoned flour then brown all over, in batches. Add to the chorizo, celery, onions, garlic and carrots in your casserole.
Pour the red wine into the frying pan, scraping any sediment off the base, and bring to the boil. Pour into the casserole, with the bay leaves, thyme and enough water to cover the meat. Season well, bring to the boil then cover and place in the preheated oven. Cook for 3-3½ hours until the meat is tender.
Alternatively, transfer into your slow cooker, cover and cook on low heat for 6-8 hours until the meat is tender.
Either way, now is a good time to leave it sit overnight before you get on with topping and cooking the pie. Or you could just eat it for dinner.
To make the pastry: whisk the flour, baking powder and salt together. Rub in the butter then add milk so that it comes together in a smooth dough. This can also be done in a food processor. Wrap and refridgerate for 30 minutes.
To finish the pie: preheat oven to 180ºC. Heat a little olive oil in a frying pan, add the quartered mushrooms, season well and cook for 6-8 minutes over a medium heat until lightly browned. Stir into the filling and spoon into a large pie dish.
Roll the pastry out to 3mm thickness and cover pie. Glaze with egg and milk mixture. Bake for 35-40 minutes until pastry is golden brown and the filling is bubbling. Serve immediately with roast vegetables and roast garlic and rosemary potatoes or garlic and rosemary mash.
Serves 6.