Charleville Cheese Shop: not just for cheese lovers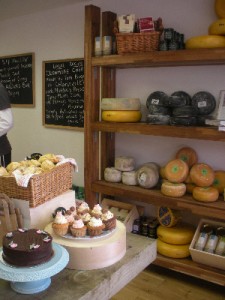 Last weekend I was at a pop up restaurant: this weekend's treat was a pop-up shop. And not just any old shop, but an actual cheese shop just down the road in Charleville. Little Missy and I collected the Student Siblings on our way there on Saturday morning which was fortunate as it's always good to have an LM distraction while her mother is distracted by lots of gorgeous local cheese and a great selection of Irish food products.
Jenny, who runs a stall at the weekly Charleville Farmers' Market, has taken on the shop for – as I understood on Saturday – a month's trial. It's all taking place as part of a television programme called Dirty Old Town and Sheridans Cheesemongers have a hand in the shop, hence the selection of amazing products on offer, from Jack McCarthy's bramley sausages (the Little Brother couldn't resist) and black pudding (nor could I), David Llewellyn's cider apple vinegar, great looking sauces from Mic's Chilli, On The Pig's Back pâté and terines, jams, chutneys, chocolates and more cheese than you could shake a stick at. It's all Irish and there's a real focus on local products.
I was delighted to finally find a local stockist of what I believe is one of the best goat's cheeses in the country: Clonmore goat's cheese, made just out the road by Tom Biggane. I wrote a piece on his cheese for Food & Wine magazine in 2006 but haven't always found it easy to track down. He now makes a cow's milk cheese so I, happily, came home with chunks of both for Saturday night supper. The Little Sister, an avid parmesan consumer, got a chance to buy Irish this time as she picked up a chunk of Desmond for her carbonara. Also on display on the wooden shelves in the bright, airy shop were plenty of other local cheeses from producers like Cratloe Hills, the Fermoy Natural Cheese Company and Hegartys.
There was a real buzz in the shop on Saturday morning as people came in to check the place out, taste cheese and try some of the buttery cookies that Richard from Pâtisserie Régale had on offer. After enjoying his products regularly while working in Urru Mallow – himself and his wife Jane supplied us with all our cakes, tarts and sweet treats – I needed no second prompting to come home with a box of their oat and raisin cookies.
As far as I understood on Saturday, Jenny will be opening the Charleville Cheese Shop from Wednesday to Saturday. It's well worth checking out. I know that I'll be making a few more trips there over the next month.