Clonakilty by Candlelight…and other good eating in Dublin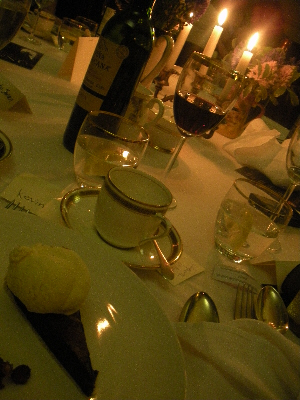 It was an eating weekend in Dublin. Kristin of Dinner du Jour and I were there on Friday night as guests at Clonakilty by Candlelight, a pop-up restaurant which ran for three nights last week and is continuing for another three from this Thursday. I don't want to write too much about the whole event – one of the best parts of it, for me, was the fact that I didn't know what was about to happen – but I'll give you a few impressions of the night: sipping cava in the drawing room of a gracious Georgian house…fabulous meet and greet people…lots of eerie staring dolls…unusual uses of bacon…in short, great food, interesting people and an amazing atmosphere. Well worth dressing up for.
There was also a competition element which the IFBA representatives didn't shame themselves at. Just as well – the sausages, pudding, and rashers that I went home with came in very handy for breakfast the next morning as the Husband and the Aussie had been out, researching (ahem), for the evening in Against the Grain and Messers Maguire.
Bacon and black pudding weren't the only things that I encountered in Dublin over the weekend. After a lunchtime IFBA meeting with Bord Bia – lots of exciting developments to be announced on IrishFoodBloggers.com over the next few weeks – Kristin and I headed for an afternoon pick-me-up at Murphys' Ice Cream on Wicklow Street. There was coffee and hot chocolate and plenty of ice cream tastings (pink peppercorn: wow!) and a peaceful corner to rest, recharge and gear ourselves up for some food shop browsing. Of course, browsing wasn't all that happened. My stash? A modest bar of cacao nib-flecked 66% chocolate from Cocoa Atelier and a bag of Lorge truffles that I picked up in Fallon and Byrne. Restraint at its very best.
There was also time for Saturday morning coffee in one of my all time favourite Dublin spots, the Silk Road Café at the Chester Beatty library. Their kunefe, a warm syrup-soaked filo vermicelli pastry filled with cream cheese, was almost too decadent for that early in the day but I made a very happy exception. Lunch in the recently expanded Cornucopia was as much of a treat as ever even though my butter bean and hazelnut cutlets were put in the shade by the Editor's butternut squash lasagne. Still, it was a good antidote to a very meat-orientated weekend: that night's dinner at the NZ Association's Waitangi Day event was, naturally enough, a slow-cooked lamb shank.
Hitting the road early on Sunday morning gave us a head start on breakfast at the Egg Café in Avoca Rathcoole. A pot of coffee and yes, even more bacon (Gubbeen this time) and enormous herby local sausages set us right for the drive home. It's now vegetarian week at the cottage.