Farmhouse Cheeses of Ireland: A Celebration by Glynn Anderson and John McLaughlin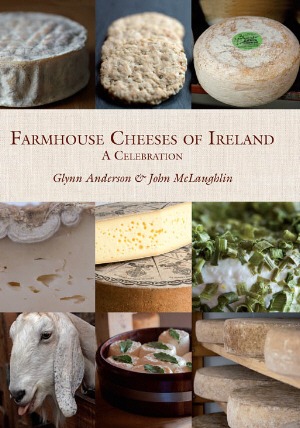 If you're a cheese fan, watch out for the forthcoming Farmhouse Cheese and Craft Beer Weekend which is taking place across the country during the October Bank Holiday weekend. There is more information on the events and, if you're interested in participating at home, some beer and cheese pairing notes on the Bord Bia website.
The rich variety of farmhouse cheeses produced by wonderfully idiosyncratic individuals is one of the real treasures of the Irish food industry. Glynn Anderson and John McLaughlin's Farmhouse Cheeses of Ireland is a labour of love that not only celebrates the products but also the individual cheesemakers.
I first heard about this book in April while driving to the Waterford Foodcamp with the Daily Spud, who has several recipes included. Arriving home with the Small Girl, I was delighted to it find it in my letterbox and have been dipping into it ever since.
The authors understand that the appreciation of a food is closely linked to knowing about its provenance: each cheesemaker is profiled, complete with contact details, there are comprehensive tasting notes on their cheeses and information on its availability.
Farmhouse Cheeses of Ireland is, essentially, a comprehensive catalogue of Irish artisan cheeses, complete with a selection of recipes from, as mentioned, the Daily Spud along with Kieran Murphy, Jenny Young of Castlefarm and Nash 19's Claire Nash. Although there are no pictures in the recipe section, it is otherwise well illustrated with photos of cheesemakers and the actual cheeses.
There are also wonderful stories here – about the innovation of my favourite Fermoy Natural Cheese Company,  the history of Milleens and goats' cheese made on Cape Clear Island by an extraordinary blind cheesemaker.
A handsome book, Farmhouse Cheeses of Ireland is a valuable resource for any cheeselover.
Must Try: Indian Potatoes topped with Castlefarm Shamrock Cheese from Jenny Young, Aoife Cox's Raclette au St Gall, Clodagh McKenna's Baked Gubbeen Cheese with Thyme and Rosemary.
Farmhouse Cheeses of Ireland: A Celebration by Glynn Anderson and John McLaughlin is published by The Collins Press, price €24.99. Thanks to the publishers for the review copy.