Beer – and food and walking – at Druids Glen Resort, Wicklow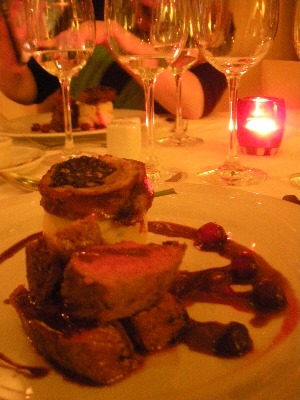 I've come to the conclusion that nice hotels, in many ways, are wasted on me. Swimming pool and gym on site? I'm allergic to chlorine and have never darkened the doors of a gym. Championship golf courses just outside the door? I'm with Mark Twain – "Golf is a good walk spoiled" – on that one. Great kids' facilities? I bring the Small Girl who, at six months old, isn't exactly up for playground runarounds just yet.
But give me a comfortable airy room with plenty of room for the Small Girl's bed, some good food and a decent walk that I can do without having to hop into my car – sometimes I need a way to justify all the eating! – and that's me happy. Include some Irish craft beer in the equation and it's not so easy to keep me away.
Last weekend, I – together with the Small Girl and my mother – took up an invitation to stay overnight and have dinner at Wicklow's Druids Glen Resort. The hotel was showcasing some of its local partners, including cookbook author Catherine Fulvio, the Porterhouse Brewing Company and the Hempenstall family that produce Wicklow Farmhouse Cheese.
It's not like you need to mention beer a second time to get me interested and pre-dinner drinks were with Porterhouse Master Brewer Peter Mosley. Together with Cork's Franciscan Well and the Carlow Brewing Company, the Porterhouse Brewing Company are the only survivors from the first wave of microbreweries in Ireland. Their Temple Bar premises was a regular haunt for my friends in the late 1990s when we first moved to Dublin; we were fascinated with the fact that brewing happened on-site and loved the flavoursome pints, especially their oyster stout which, being brewed with live oysters, gave our vegetarian friends the shivers.
The smooth and ever-so-slightly saline oyster stout is still going strong but it was their lightly hoppy Hersbrucker pilsner and the rich – it's 7% ABV – chocolaty celebration stout that made the greatest impression on Friday night. Peter had us thoughtfully sipping the beers, sniffing at the smelling salt-like hop pellets and tasting crunchy chocolate malt. I was in the middle of discussing accompanying foods when I heard that one of the canapés featured my favourite beef cheeks. These cubes of, first, slow cooked and then deep fried meat were good enough to merit me chasing the waiter around the room.
(Incidentally, there'll be more Porterhouse beverages, and many other beers, at Cork's Franciscan Well Easter Beerfest this weekend, on Saturday 7 and Sunday 8 April.)
Beer to start, but wine all the way for dinner. Loic, our waiter, was also the person who had imported and chosen the wines for the night. Fresh and fruity, the Domaine Sancerre Tassin was a good foil for my beef carpaccio starter, which came sprinkled with shavings of Cork's own Desmond cheese. I loved the berry-rich, juicy Chateau Damase Bordeaux with my Wicklow lamb main course, the tender lamb fillet accompanied by a disc of sliced belly, which had been stuffed with black pudding. As with the beef cheek mouthful earlier, this was a way of adding interest – and value – to a cheap cut of meat.
At the end of a meal I wouldn't normally be too fussed with desert (really!) but my passion fruit and orange tart, from a recipe developed with Catherine Fulvio, was a perfectly judged ending. Zesty and light, there was precious little left to share with those around me. Just in case there was any corner left unfilled, this was followed up with a cheese plate so that we could try Wicklow Gold, a sweet cheddar from Wicklow Farmhouse Cheese.
It was just as well that there was a walk in store; the next morning dawned bright – and early for me, with the Small Girl to holler for food – so there was plenty of time to figure out a route through the golf course that didn't involve dodging flying balls. All in the pursuit of being able to eat more good food. And I didn't even have to get into the car.
We were guests of Druids Glen Resort for their Partners' evening, an event that was organised by Host PR.
Druids Glen Resort, Newtownmountkennedy, Co Wicklow. +353 1 2870800 @druidsglenhotel