In a bit of a pickle – Green Tomato and Apple Chutney, Red Onion Marmalade, Pickled Beetroot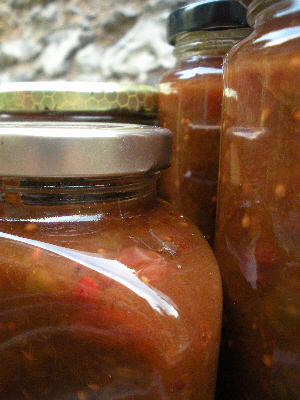 If you grow your own fruit and veg, you can turn your garden gluts into winter treats. Caroline Hennessy has some useful tips and a few straightforward recipes for pickles and chutneys. First published on EveryMonday.ie in 2009.
Growing your own fruits or vegetables is very satisfying. However, you will invariably end up with a glut at some stage during the growing year. Rather than trying to squeeze your excess produce into the freezer to be forgotten about until it's time for the annual defrost, it is better to set aside a little time for preserving. Pickles and chutneys are a great addition to the store cupboard and, if you're thinking ahead for Christmas, are always welcome gifts.
No more left-overs
When you pull up your plants at the end of the tomato-growing season, there is always some unripe fruit left lying around. With green tomato and apple chutney, however, you can make the most from this accidental harvest, using tomatoes of any shade. This is a very versatile recipe: once you keep to the basic proportions below of tomatoes, apples, sugar and vinegar, you can mix and match as you please. If you're not a fan of whole sultanas, chop them up or substitute them with diced dried apricots or cranberries. I use fresh ginger, chillies and mustard seeds but you could just as easily try cloves, allspice or whole cinnamon sticks.
Red onion marmalade is another condiment that everyone loves – just put a jar on the table with some cold meats and watch it disappear. It is also delicious with pâtés and terrines, and is especially good spread underneath the cheese in a toasted cheese sandwich. The recipe below can easily be scaled up and, especially if you have a food processor (or kitchen minion!) to slice the onions, it is well worth making at least double the mixture.
Many people have an aversion to pickled beetroot but, when they taste your homemade version, these same people will finish the jar. The trick is to use white or red wine vinegar instead of the harsher malt version. A little sugar also helps the flavour. This bright, cheery pickle – even the onion slices turn pink – is especially good with goat's cheese.
Labels are a must
When you've gone to the bother of making these recipes, don't forget to label the fruits of your labour – there's nothing worse than opening a jar of jam when you expected chutney, or vice versa! You can use an indelible pen to write directly on the lids or find some downloadable labels online. There are some beautifully designed, printable labels available from A Sonoma Garden, which will make any jar look special.
Store the jars in a cool, dark place but make sure they're not too inaccessible. Half the pleasure of preserving is looking at the rows of jars that you have just filled; it's much more satisfying than stuffing things into the freezer!
Recipes
Green tomato and apple chutney (makes approximately 10 jars)
Green tomatoes – 1kg
Apples – 1.5kg, peeled, cored and chopped
Ginger – about 2cms, peeled and finely chopped
Fresh chillies – 2, finely chopped
Sultanas – 225g, chopped
Onions – 500g, chopped
Salt – 2 teaspoons
Demerara sugar – 500g
Malt vinegar – 500ml
Mustard seeds – 1 heaped tablespoon
Put all the ingredients into a large, heavy-based pan. Heat gently, stirring, until the sugar is dissolved.
Simmer, stirring regularly, for 2-3 hours until reduced to a thick, rich pulp. When the chutney is ready, you should be able to draw a wooden spoon through it and see the base of the pan for a few moments.
Decant into warmed, sterilised jars, then cover and label. Store in a cool, dark place and allow it to mature for at least a month before using.
Red onion marmalade (makes approximately 2 jars)
Olive oil – 1 tablespoon
Butter – 25g
Red onions – 5 large, thinly sliced
Brown sugar – 150g
Fresh thyme leaves – 1 tablespoon
Balsamic vinegar – 75mls
Sea salt and freshly ground black pepper
Heat the olive oil and butter in a large, heavy-based frying pan. Add the onions, sugar and thyme leaves. Season well and cook over a moderate heat, stirring occasionally, until very soft.
Add the balsamic vinegar to the pan and stir well. Simmer over a low heat for 15 to 20 minutes until the liquid has reduced and the onions are richly sticky.
Pour into warmed, sterilised jars. Cover and label. Store in a cool, dark place.
Pickled beetroot (makes approximately 2 jars)
Beetroot – 1kg
Sugar – 250g
Water – 900mls
Wine vinegar – 450mls
Cinnamon stick – 1, broken in half
Whole cloves – 4
Onion – 2, cut into ½cm slices
Wash the beetroot well, being careful not to cut the skin or the vivid colour will bleed away. Cover with boiling water and cook until tender. Depending on the size, this may take up to 2 hours.
Allow beetroot to cool, then trim roots and stems, and peel off skins. Cut into ½cm slices.
Combine the sugar, water, vinegar, cinnamon stick and cloves in a large saucepan. Bring to the boil and then add the slices of beetroot and onions. Simmer for 2-3 minutes. Fill your warm, sterilised jars with the pickle. Seal immediately.