Irish Examiner | Taking baby steps through Hanoi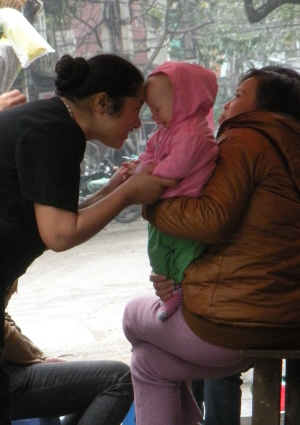 In 2010, while coming back from Little Missy's first NZ visit, the Husband and I were fortunate enough to get an invitation from a friend based in Hanoi. Take a 10-month-old baby to Vietnam? Why not! LM's first year was spent travelling – an impromptu trip to London to meet her Kiwi grandparents at just two months; ferry-and-car to the Lake District on a camping expedition for our friends' wedding a month later; then 10 days in Berlin when she was almost half a year old while the Husband studied brewing.
A family wedding took us to New Zealand for Christmas and we were lucky enough to be able to combine that with nights in Kuala Lumpur and the trip to Hanoi. It was an incredible first year for her – and for us, figuring out our way as new parents and determined to grab all opportunities that came our way.
Fortunately, she was a very laid back baby, loved all the new experiences and, to make it easier, I basically breastfed her around the world. From the London Underground, a busy Lake District pub, the back seat of a Hanoi taxi, at the dinner table of more than a few weddings, it was breast all the way – no bottles, no sterilising, no fuss and very discrete. I'm all for doing things the easy way!
Hanoi was an incredible place to visit with a small baby. She loved meeting everybody; we loved the food, particularly pho, the legendary Vietnamese beef and noodle soup, which always tastes best from a steaming cauldron by the roadside, and the much-needed rocket fuel that is Vietnamese coffee. With condensed milk. Mmm…
My feature on visiting Hanoi with a baby – and eating as much as possible while there – was published on Saturday: Taking baby steps through Hanoi | Irish Examiner
Some recommended food-related Hanoi links:
When my Singapore-based brother and his wife visited, we all went on the Hidden Hanoi (

www.hiddenhanoi.com.vn

) street food breakfast tour ($25). Worth doing at the start of your trip so you know what to watch out for and where to go. Great tour guides.

Hanoi Cooking Centre (

hanoicookingcentre.com

) runs informative hands-on cooking classes ($55) and market tours, including a kids' club. It was set up by Australian chef Tracey Lister, who previously worked with KOTO, an intensive hospitality training program for street kids. She retains strong ties to KOTO – recently publishing a fundraising cookery book – and many of the teachers here are KOTO graduates. I made a delicious – but never since replicated! – banana flower salad in my class and really enjoyed the included market visit.

You can get all dressed up for fine dining at Wild Lotus (www.wildlotus.com.vn) and Green Mango (www.greenmango.vn/), but my favourite food was always found by the roadside. Loved the bun cha (barbecued pork with fresh noodles), banh mi (a baguette sandwich, the best version of which is stuffed with pâté, sliced pork and pickled vegetables) and banh xeo (stuffed rice pancakes). Yes. My whole day was spent eating.
Check out the Australian-run Hanoi Social Club (@HanoiSocialClub, +84 4 39382117. 6 Hoi Vu, Hoan Kiem) for veggie fare and quality espresso coffee.
In a city that is constantly changing, The New Hanoian (tnhvietnam.xemzi.com/en) is great for up to date reviews from locals.

If you fall for the condensed milk-coffee combo, it is definitely worth picking up a small stainless steel drip filter and several bags of Vietnamese coffee to take home. 
More travels with Little Missy
Little Missy in London
Loitering in the Lakes
Kaffee und kuchen in Berlin
Goodbye to New Zealand…
Vietnamese coffee
Bye, bye Hanoi