Lyric fm's Culture File: Miso making with Junko Hamilton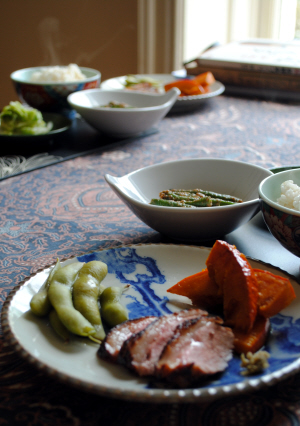 Sandor Katz has a lot to answer for.
After interviewing him and attending his classes at the Ballymaloe LitFest, I got stuck into The Art of Fermentation, which led me down a number of new rabbit holes. I was interested in what he had to say about beer and sourdough but there were many side routes impossible to resist. One of these alternate paths involved making miso, the Japanese fermented soy bean paste, where he mentions his fascination with a culture called koji. Around the same time, on Kevin's News of the Curd blog, I read Robin's piece on a miso-making workshop – and again there was mention of koji.
A sign? Time to learn more.
Robin had learned how to make miso from Junko Hamilton, a native of Kyoto, who now lives in Ireland. In her elegant Blackrock flat, she hosts miso-making workshops, teaching people about Japanese cooking, food, customs and style.
I interviewed Junko for Culture File, talking about the importance of miso in Japanese culture,  what koji is and the products that you can make from it, including things like soy sauce, mirin and an incredible sweet, dairy-free fermented rice dish called amazake. She also took the time to cook me a delicately delicious – and beautifully presented – lunch. I was very thankful that I knew how to adequately wield a pair of chopsticks although may have left myself down, somewhat, by eating the edamame beans, pod and all, before I realised that this, ahem, Was Not the Done Thing. At least edamame pods are edible, although somewhat scratchy to swallow.
You can find more information about Junko's classes on her Facebook page: Ichiju Sansai
She will be holding a Japanese Vegetarian Cooking Workshop, hosted by The Heritage Community Garden in Donnybrook on Saturday 10 August. This will include a talk by head gardener Jean Burtchaell and a demonstration on how to cook vegetables using basic Japanese techniques and condiments. It costs €45, including recipe notes and tasting, and can be booked by email to: info@ichijusansai.com 
More fermentation talk:
Lyric fm's Culturefile: Fermentation guru Sandor Katz