Fermentation, beer (and porter brownies) at the Theatre of Food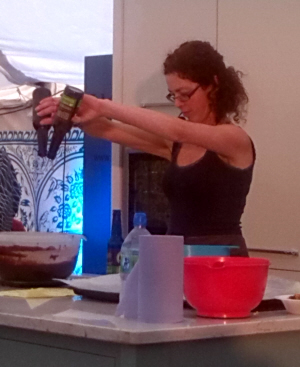 Last year, I spent August doing beer tasting and cooking demos with the Theatre of Food at the Liss Ard, Tall Ships and Electric Picnic Festivals.
Do it again for Electric Picnic 2013? Once more, with feeling. And fermentation, beer,  amazake and – couldn't deprive festival goers of some (fermented) chocolate – Knockmealdown Porter Brownies.
Junko Hamilton (check her out on Ichiju Sansai), who I recently interviewed about miso, was my partner in crime and we had great fun doing our demo on the sweet side of fermentation. We had tastings of the light – Junko's creamy, non-dairy amazake fruit shake – and the dark: the richest, most luscious, still warm and just-out-of-the-oven Knockmealdown Porter Brownies. Those were matched with both Sunburnt Irish Red and Knockmealdown Porter
Hats off to the Theatre of Food crew, who managed to put together a brilliant line up of chefs and cooks and brewers and bakers and paella-makers to feed the audience with ideas and food. Loved Kevin Aherne's talk on the 12-mile menu that he cooks at Sage in Midleton as he cooked all kinds of goat, Kevin Thornton's take on campsite cooking (mint tea for couscous re-hydration and post-EP antioxidants) and the standing ovation given to John and Sally McKenna for all their work with, and on behalf of, Irish food lovers, whether they be restaurateurs, producers or eaters.
Here's a piece I wrote for the McKennas' Guides on last year's Theatre of Food: Festival Food, by Caroline Hennessy
Thanks again to the Theatre of Food, Catherine and Rachel at VSC Events, to MC William, washer-upper Denis, all the brownie distributors and the Little Brother who was a beer-carrying/taster-offering star. A special mention to the Small Sister who, with her boyfriend, sat in the front row and giggled throughout my demo. Family, huh?
You'll find the brownie recipe here: Knockmealdown Porter Brownies
Next beer event: The Irish Craft Beer and Cider Festival kicks off this Thursday, 5 September, and I'll be doing a talk on food and beer matching on Friday, 6 September, at 6pm.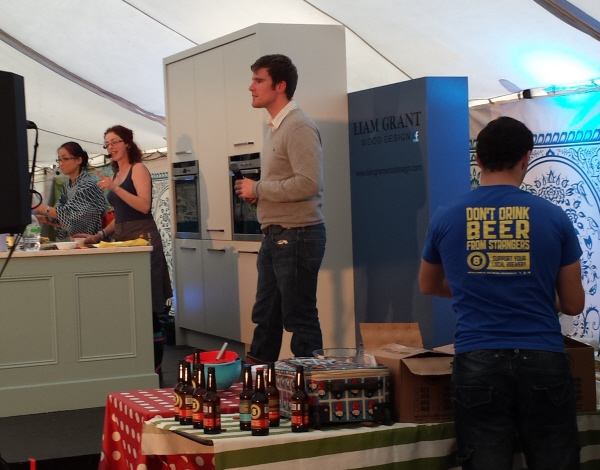 Related links
Irish craft beer baking, matching and tasting at the Liss Ard Festival
Irish craft beer baking, matching and tasting at Dublin Tall Ships & Electric Picnic
Lyric fm's Culture File: Miso making with Junko Hamilton