Read: a cheesy Valentine's Day in Irish Country Living and Baked Brie with Caramelised Maple Pecans
You might have realised, over the years, that I'm a fan of cheesy Valentines:
2012 Something cheesy for Valentine's Day
2008 The easiest Valentine's Day dinner: Baked Vacherin Mont d'Or
2007 Valentine's Night – delayed: Simple Irish Cheese Fondue
To read all about this year's variation – a Baked Brie with Caramelised Maple Pecans – head over to the Irish Country Living blog.
Link: Food Friday: Valentine's special
This is a treat that's not difficult to source – the small inexpensive Cooleeney brie that I use can be picked up in any supermarket, or substitute a similarly sized camembert – so you'll be able to go to town seeking out some of the gorgeous chocolate from Irish bean-to-bar producers – Wilkie's Organic Chocolate, Burren Chocolatier or Clonakilty Chocolate are all worth searching for.
Never a fan of going out for a Valentine's Day dinner – I've heard too many stories of silences, arguments and tears from the restaurant manager sister! – I loved the McKenna's Guide focus on the night through the voices of different restaurateurs.
The Shell's Café take of the dreaded event, complete with a description of a The Lady and The Tramp-style spaghetti situation, was nearly enough to tempt me.
I said nearly.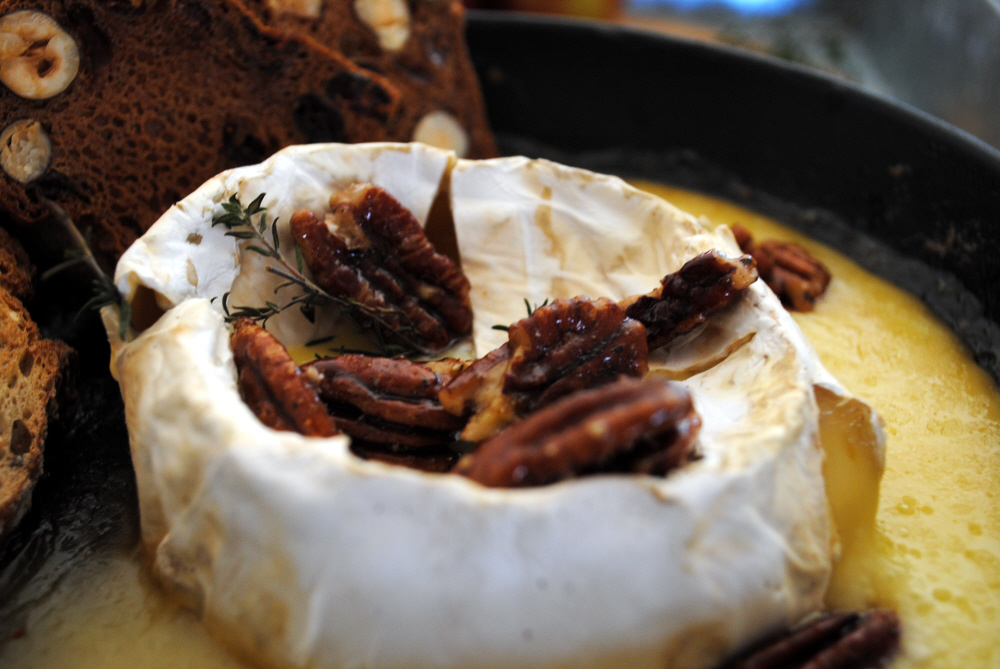 Baked Irish Brie with Caramelised Pecans
This is the perfect after-the-kids-go-to-bed feast. Serves just two.
1 individual Coolenney brie, approx 200g
1 sprig of thyme
50g pecans, toasted
2 tablespoons maple syrup
Freshly ground black pepper, flakes of sea salt
Preheat oven to 200°C/180°C fan bake.
Put the brie in an ovenproof dish with sides and cut a cross into the top of the rind, pushing the sprig of thyme into the cheese. Place in the oven and bake for 15-20 minutes until the cheese is soft and runny in the middle – the length of time depends on the age of the cheese so keep an eye on it. Remove from the oven.
Meanwhile, toast the pecans over a medium heat in a dry frying pan until warm and fragrant. Remove from the heat, pour over the maple syrup and toss together. Season with plenty of black pepper and a pinch of sea salt then remove to a plate and allow to cool.
Pull the cut rind back from the top of the warm cheese, sprinkle with the maple pecans and serve warm with: crunchy apples and slightly underripe pears; cubes of sourdough bread crisped up in the hot oven; dried apricots; thin crackers (crunchy Cranberry and Hazelnut Crackers from Foods of Athenry are a new favourite); gherkins to cut the richness; maybe some thinly sliced Gubbeen chorizo and salami and a good salad.  To drink, try pairing it with a gently hopped red ale or saison (Black Donkey's Sheep Stealer works especially well) from an Irish microbrewery, some local cider or even a zesty sauvignon blanc.
Another favourite variation here: Baked Irish Brie with Sunburnt Red Ale Caramel and Pecans