Wine tasting, beer talking and Sláinte spotting
Would you take wine recommendations from these people?
Doerthe Woltermann, vice president of the Dublin Ladies Craft Beer Society and the Lovin' Dublin beer correspondent, Wayne Dunne aka Irish Beer Snob, Kristin "Edible Ireland" Jensen, John Duffy, better known as The Beer Nut, and myself gathered together on a blustery winter's night in Ely Wine Bar for a Food & Wine Magazine Guinea Pig gathering.
It's a monthly blind wine tasting, hosted by Aoife Carrigy, who did a brilliant job of keeping us on track and figuring out exactly what we had scrawled on our tasting sheets. As the tasting proceeded – we did six wines in total – the writing got worse and, despite the wine glasses in front of us, we did find it difficult not to talk about beer. After all, these are people who I most often meet standing at beer festival bars, as we swop recommendations and tasting notes; it was a luxury to sit and chat for an evening, albeit over the fruit of the vine. Aoife slipped away, leaving us to continue our beer conversation over  dinner – Ely's substantial Toulouse sausages and puy lentils provided ample soakage for the remnants of those bottles.
You can see our comments on the wines we tasted below. That Notte Rossa Primitivo di Manduria (available from M&S, €16.49) punched way above its weight. Well worth trying, as is the Villera Barrel-Fermented Chenin Blanc 
(also M&S, €18.49) – I'd have that with scallops and Jack McCarthy's  black pudding. With so many wine experts writing about beer nowadays, why wouldn't you take wine recommendations from the beer writers?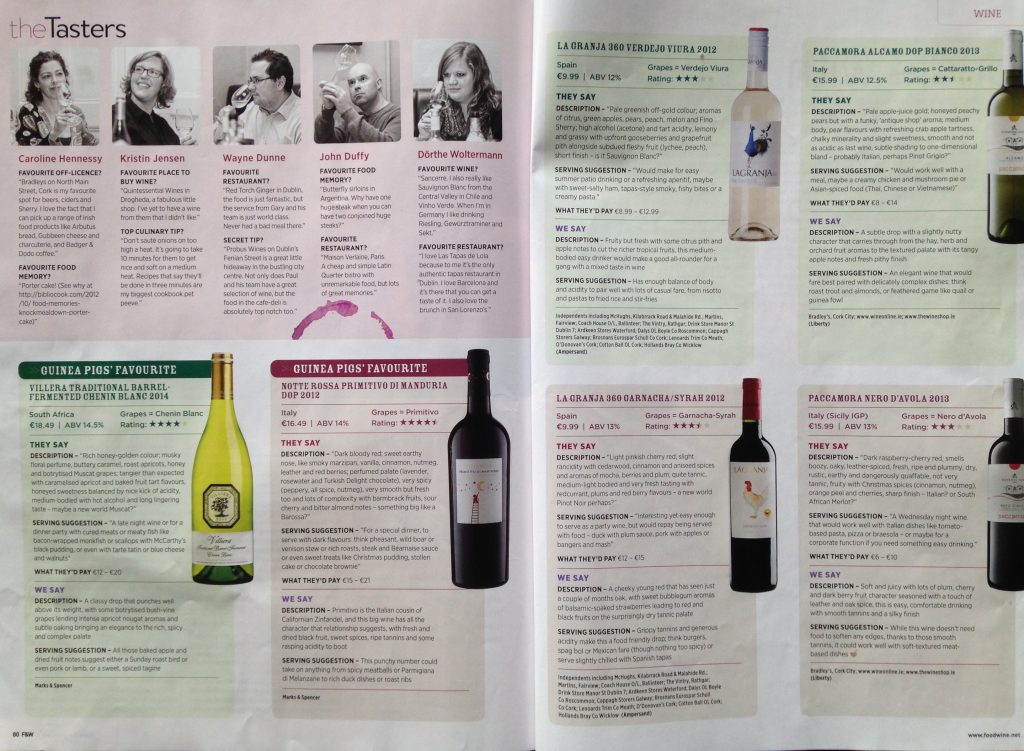 Kristin and I were focusing on beer at the recent GMIT Foodie Forum: Sláinte at GMIT's Foodie Forum. While there, we did an interview with Sharon Noonan of Best Possible Taste on West Limerick 102fm. You can listen to us on Soundcloud. Our interview starts approximately 19 minutes in but don't miss the interviews about travelling in Vietnam, chocolate seaweed pudding and the With Bread exhibition and make sure you check out the archive of Best Possible Taste as well – lots of great listening.
I made an appearance in the latest edition of Irish Country Living, along with a few other ladies involved in the Irish beer world, talking about Sláinte and Eight Degrees. That feature was published to coincide with this weekend's Alltech Craft Brews and Food event in the Convention Centre, Dublin.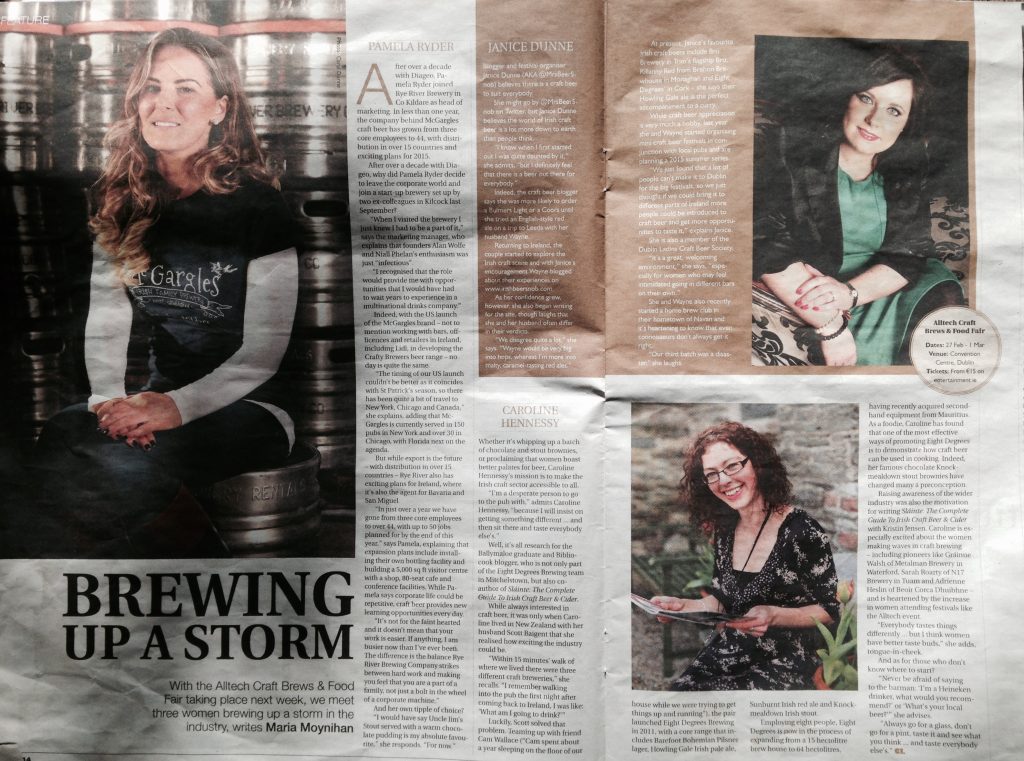 If your appetite is suitably whetted for beer learning, you can pick up a copy of Sláinte from New Island for just €15 at the moment, p&p included. Bargain!
To celebrate @AlltechBrews , we're offering #Sláinte by @bibliocook & @edibleireland for €15! http://t.co/tiNjuU4PBS pic.twitter.com/gjOZCxrNrL

— New Island Books (@NewIslandBooks) February 25, 2015
Sláinte – and those double chocolate porter brownies – will also be making an appearance in Rise of the Brew, a documentary on the craft beer industry by Mary Brophy and Neal Boyle. Read more about it here:
Documentary on Newstalk: Rise of The Brew. It's all coinciding in an interesting kind of way with the Alltech beer festival – tune in on Saturday 28 February at 7am with a repeat at 10am on Sunday 1 March. I think the brewers may be catching up with a podcast sometime later.