Read: Epic Chocolate, Porter and Potato Cake in Irish Country Living
Never mind your green beer or big brand stout! Irish craft beer is the thing to drink – or bake with – this St Patrick's Day. Incorporate some good craft porter or stout into this Epic Chocolate, Porter and Potato Cake  along with a few spuds, and you have a cake that's more Irish than us Irish ourselves.
Read more about it over on the Irish Country Living blog:
This is not an elegant or delicate chocolate cake. No, this is a large, substantial cut-and-come-again, an "eat before the parade so you won't get hungry" cake. Don't miss out on the luscious cream cheese icing, which adds a lighter counterpoint to the dark flavours of the cake itself. If you have a sweeter tooth, you could even make a double mixture of the icing, cut – carefully! – the cake in half, and fill as well as ice it. Or don't worry about the filling and just dollop an extra bit on top of each slice. I won't judge.
Beers to try in this cake: Trouble Brewing's Dark Arts Porter, Carlow Brewing Company's Leann Folláin, Russian Imperial Stout from White Gypsy, Eight Degrees' Knockmealdown Stout and, for an extra layer of flavour, the Ginger Porter from Rascal's Brewing or Dungarvan Brewing's Coffee and Oatmeal Stout. To be honest, you could make this cake many times over and try it with a different beer each time. In fact, if you head along to the RDS today, the Irish Beer and Whiskey Festival will be kicking off at 12pm with many Irish craft beers to be sampled. Check out www.irishbeerandwhiskeyfestival.com for more details.
Sláinte!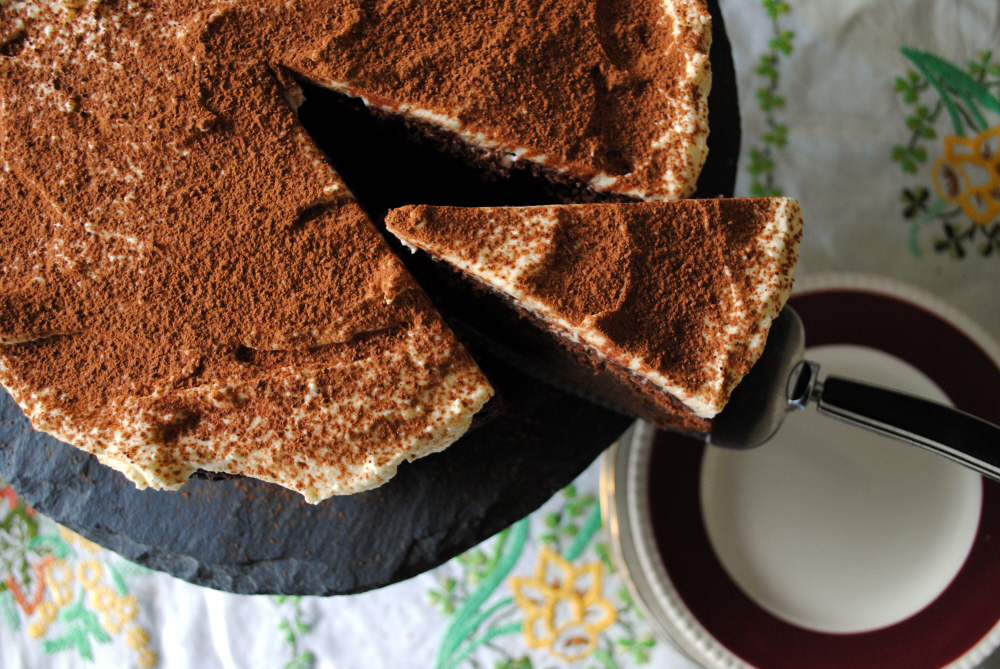 Epic Chocolate, Porter and Potato Cake
75g dark chocolate with 70% cocoa solids
225g butter, at room temperature
200g caster sugar
220g light muscovado sugar
4 eggs, at room temperature
75g mashed potato. Leftovers from last night's dinner are fine.
250g plain flour
25g cocoa
1 teaspoon baking powder
1/2 teaspoon bicarbonate of soda
150mls porter or stout
Cream cheese icing
200g cream cheese, at room temperature
50g butter, at room temperature
50g icing sugar, sifted
Preheat the oven to 180°C (160°C fanbake) and line the base of a 23cm round baking tin.
Melt the chocolate and allow to cool. Cream the butter and sugars together in a large bowl then add the eggs, one at a time, beating well between each addition. Mix in the melted chocolate and mashed potato (a sentance you won't come across in your regular chocolate cake recipe!).
Sift the flour, cocoa, baking powder and bicarbonate of soda together. Gently mix into the cake batter in three additions, alternating with the porter or stout. Pour and scrape into the prepared tin, leveling the surface with the back of the spoon, and bake for 60-70 minutes or until the cake feels springy and a skewer comes out clean from the centre.
Cool in the tin for 10 minutes then remove to a cooling rack and allow to cool completely.
To make the icing, beat the cream cheese and butter together until smooth (having them at room temperature makes this so much easier), then mix in the icing sugar. Spread over the cake and dust with a little cocoa.
Serves 8-10. Match it with vanilla ice cream, strong coffee and/or the rest of the beer – unless you polished that off during the washing up. Don't worry. I won't tell anyone.
***
Beer vs wine: round two!
Post-St Patrick's Day, I'm taking part in a Beer vs Wine Smackdown with able opponent Colm McCan, who works with specialist wine merchants Le Caveau and is consultant Sommelier at Ballymaloe House/wine lecturer at Ballymaloe Cookery School. This is an International Wine & Food Society event and tickets are €15pp for IWFS Members and €18 for non-members. (The event is open to members and those who are interested in becoming members). If you'd like to attend, please RSVP to iwfsmunster@gmail.com.
If you want an idea of what happened last time, check out Beer vs wine at Savour Kilkenny: a draw?