Read: Irish Independent – Crafty drinkers
I wrote a feature on the new world of Irish craft beer for the Irish Independent Weekend magazine last Saturday to coincide with the Alltech Craft Brews and Food Fair in Dublin's Convention Centre. See below to read the piece and, if that whets your appetite, find many of the brewers that I mention at next weekend's Irish Beer and Whiskey Festival, which takes place in the RDS over St Patrick's Weekend, from 13 to 17 March. You won't find any green-dyed pints there but you will find some brilliant brews from the best of Ireland's microbreweries.
Dublin Craft Beer Ladies Society founder Christina Wade is organising a meet up at the festival. Check it out at www.meetup.com/Dublin-Ladies-Craft-Beer-Society – even if you're going alone, it's a great excuse to meet people and taste beer together. As Bill Murray said, "Beer: Helping people to pretend to like people since 10,000 B.C."
Here's my unedited version of the Irish Independent piece.
Get behind the beer!
Imagine a world which every restaurant served the same three unimaginative meals. From Limerick to Leitrim and Letterkenny, no matter where you travelled you found the same offerings – albeit some with slightly different names – that you consumed, almost without thinking, because nothing else was on offer.
Until a few years ago, this was the situation for Irish beer drinkers. Every bar, with a few rare and prized exceptions, served three styles; a fizzy yellow lager, the dark one with the white head and, for those of you who were really left of centre, something slightly red. Different names, different brands, different advertising but precious little difference between them as they were all owned by the same few multinational brands.
For many years I didn't see anything unusual with this state of affairs. I was a devotee of the big brand that sponsored many of my college activities. I could find it everywhere, it always tasted the same and there was plenty of it.
Then I moved to Christchurch in New Zealand, and suddenly a whole new world opened up. Brew pubs like Dux de Lux and the Twisted Hop, offering an ever-changing range of full-flavoured beers, became firm favourites.They didn't just brew their own beer; they also had the same passion for good food, with great menus and pairing suggestions. Going to the supermarket was like checking out a beer lucky dip, one of the bigger breweries, Montheith's, ran an annual beer and wild food challenge which involved professional chefs and I even got to go to my first beer and food matching event. Beer in NZ was enjoyed, appreciated as an option to go with food and taken seriously. When I returned to Ireland in 2005, I could no longer stomach my former favourite – but there was precious little else on offer.
But times were a-changing. That was also the year that the then finance minister Brian Cowen halved the excise paid by independently owned microbreweries, allowing them to retain more of their capital and re-invest in their business. It was a lifeline for first generation microbreweries like Carlow Brewing Company and Porterhouse and it kicked off the next wave of Irish craft brewers, which started with Galway Hooker in 2006. Suddenly this beer-lovers life started to become a whole lot more interesting, with the arrival of newbies like West Kerry's Beoir Corca Duibhne, Dungarvan Brewing Company, Kildare's Trouble Brewing and White Gypsy in Co Tipperary. That was just the start of it. From five Irish microbreweries in 2005, there has been a massive jump with more than 50 microbreweries now producing beer in Ireland.
At first, these new Irish craft beers were just available at festivals but gradually they started to infiltrate off licences, restaurants and supermarkets. Bars – including Dublin's L Mulligan, The Salthouse in Galway and Cork's Bierhaus – were established with a focus on craft beer and, best of all, your local started to stock something interesting. Now, instead of a dull line up of interchangeable taps, there's a virtual rainbow of craft beer choices available – from from pilsners, pale ales and saisons to American-style amber ales and dark, full bodied Irish stouts.
Irish microbreweries are not just looking to the domestic market; with Irish craft beer already being exported to 25 countries, Bord Bia can see strong potential in this area. Denise Murphy, who is in charge of the drinks sector for Bord Bia, points out that they are commissioning a study of the craft beer category in North America, hoping in 2016 to run a collaborative effort, promoting Irish craft beer – rather than individual brands – with the intention of driving sales collectively. As Murphy sees it, Ireland is a small island which will – no pun intended, I'm sure – "soon become saturated. Export is the way to survive." That said, she believes "the future is looking bright. I think that this is the moment for the Irish craft beer movement, there's no sign of reversal; if there were, the big brewers wouldn't be so interested in that craft space."
Export played a large part in ensuring the survival of Carlow Brewing Company in its early days, according to founder Seamus O'Hara. They launched their first beers on to the market in 1998 but, as O'Hara notes, that was a time when "the Irish market didn't really exist". They weren't deterred, focusing instead on export: "It was 75pc of the business up to a few years ago but has gradually balanced itself out 50:50," says O'Hara. Carlow Brewing worked hard, won awards for its beers at an international level, and when Irish drinkers developed a thirst for craft beer, were ready, willing and able to supply them.
This isn't just beer for boys (or for this particular beer nerd!); women are also enjoying the new frontier. Transplanted American Christina Wade, who got into craft beer while at college in West Virginia, set up the Dublin Ladies Craft Beer Society in 2013. With more than 300 members, the group seeks to encourage craft beer appreciation amongst women, hosting beer and food pairing events, brewery tours and get togethers: "we love beer festivals," says Wade,"because we can talk to the brewers and they can tell us all about their beer, how fussy they are about their hops!"
One woman who has her eye on the hops is Emma Devlin, owner-brewer at Rascal's Brewing in Rathcoole, who gets a kick out of drinkers' preconceptions: "people are often surprised to find out that I own and brew and am 100% involved. 'But you, you're a girl!'" From her behind-the-keg perspective, she can see that women are definitely more interested in craft beer rather than mainstream lager. "Although there still is an idea that beer is for men, there are plenty of girls in craft beer bars and interest is growing."
So what are you waiting for? Step away from the monochrome mainstream and check out the incredible variety, choice and sheer flavour that's available in the Irish craft beer world. It's an exciting time to be a beer lover in Ireland. Sláinte!
Caroline Hennessy is the co-author, with Kristin Jensen, of the recently published Sláinte: The Complete Guide to Irish Craft Beer and Cider (New Island).

Ten to try
No matter where you are in the country, it's easy to get your hands on a selection of Irish craft beers from independent off licences that will deliver direct. Check out drinkstore.ie, bradleysofflicence.ie and mchughs.ie.
Jack Codys Brewery – Puck Pilsner (4.5% ABV)
Light and refreshing but with enough complexity to show why lager doesn't need to be a dirty word.
Metalman Brewing – Pale Ale (4.3% ABV)
In January, Metalman became the first Irish craft brewery to install a canning line. Their delicious pale ale has long been a favourite on draught; in cans it's going to reach an even wider (lucky) audience.
Farmageddon Brewing Co-Op – Gold Pale Ale (4.2% ABV)
Born from a love of self-sufficiency, this beer comes from a co-operative group of brewers, based in Comber, Co Down. Light bodied, with a lovely citrus bitterness.
Kinnegar Brewing – Devil's Backbone (4.9% ABV)
A rich amber ale from Donegal with deep burnt toffee and dried fruit flavours. Great with pork.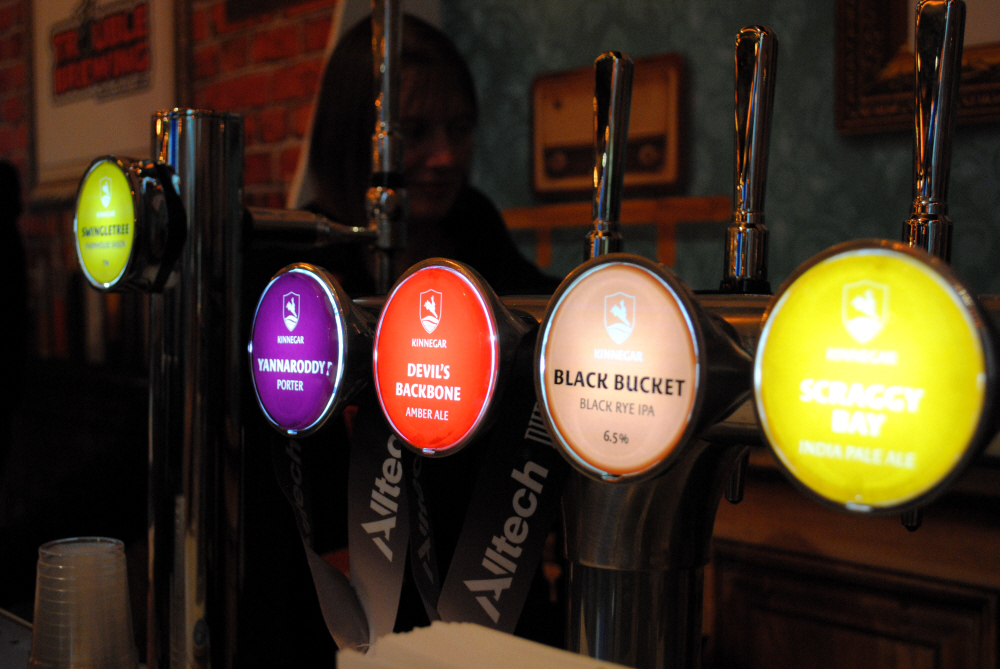 N17 Brewing – Rye Ale (5% ABV)
Owner-brewer Sarah Roarty has an inspiring use-it-all ethos; she's also a dab hand at brewing. Her smooth, not too hoppy, rye ale has a lovely dry spicy bite.
Black Donkey Brewing – Sheep Stealer (5.5% ABV)
This funky and slightly floral Belgian-style saison comes from Roscommon and is the ideal food-friendly beer.
Eight Degrees Brewing – The Full Irish (6% ABV)
Voted Beer of the Year 2015 by members of Irish beer consumer organisation Beoir, their India Pale Ale (IPA) is a juicy, hoppy pleasure.
Galway Bay Brewing – Of Foam and Fury (8.5% ABV)
Hops, hops and more New World hops in this double IPA, giving it a real fruity depth and a lingering lusciousness.
Carlow Brewing Company – O'Hara's Leann Folláin (6% ABV)
A complex dry stout with bitter chocolate notes and a supremely satisfying finish.
The White Hag – Black Boar (10.2% ABV)
An imperial stout that brooks no refusal, with delicious rich complex malts and a velvety smoothness.
and one more, just for good luck:
Rascal's Brewing – Ginger Porter (4.8% ABV)
Fresh ginger makes your tongue tingle, chocolate malt brings depth and richness to the party and this porter leaves a warm glow.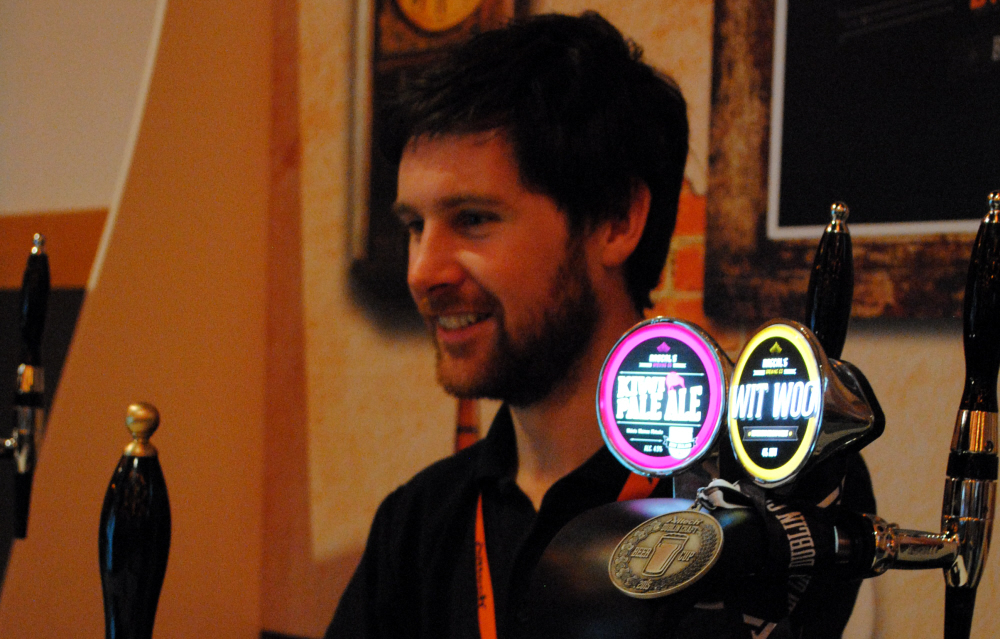 Article online here: Crafty drinkers – craft beers are flourishing and they're not just for boys