What's in your lunchbox? Pumpkin and feta tortilla!
My mum's sultana scones, leftover bacon & kidney pie, made-by-me sticky orange and cinnamon scrolls.
I'd be the first to admit that the things I took to school for lunch weren't necessarily:
a) the best examples of a healthy diet, and
b) acceptable to the other kids ("kidneys? Errugh!").
Still, I survived.
Now, with my eldest daughter about to head into senior infants this September, I've one year of making school lunches under my belt. Most days it was a triumph of hope over experience as I made wraps from leftover roasts, or cheese sandwiches (challenging, when she keeps switching allegiances between supermarket cheddar and Gubbeen – only available at markets 30km away) and shoehorned a pot of granola, a tangerine or handful of carrot sticks into her lunch bag.
At least the food that made the round trip tasted good as I repurposed it for my own lunch.
But I'm starting the new school year with a clean slate. Plus, the six-year-old's palate is so much more developed than her junior infant one so it's all going to be So Much Better. Honestly.
We'll survive.
Simple building blocks for a better lunch
Fruit: fresh and dried
Vegetables: raw or cooked
Protein: tuna, ham, chicken, hard boiled eggs, crispy bacon, bean dips eg hummus
Grains: focus on wholemeal – bread, rolls, bagels, pita, crackers, wraps, scones, rice, pasta, rice cakes, oatcakes, wholegrains eg barley, buckwheat, quinoa
Dairy: yogurt, cheese, milk
Drink: water
Avoid: crisps, fizzy drinks, processed meats and foods, muesli or breakfast bars, juices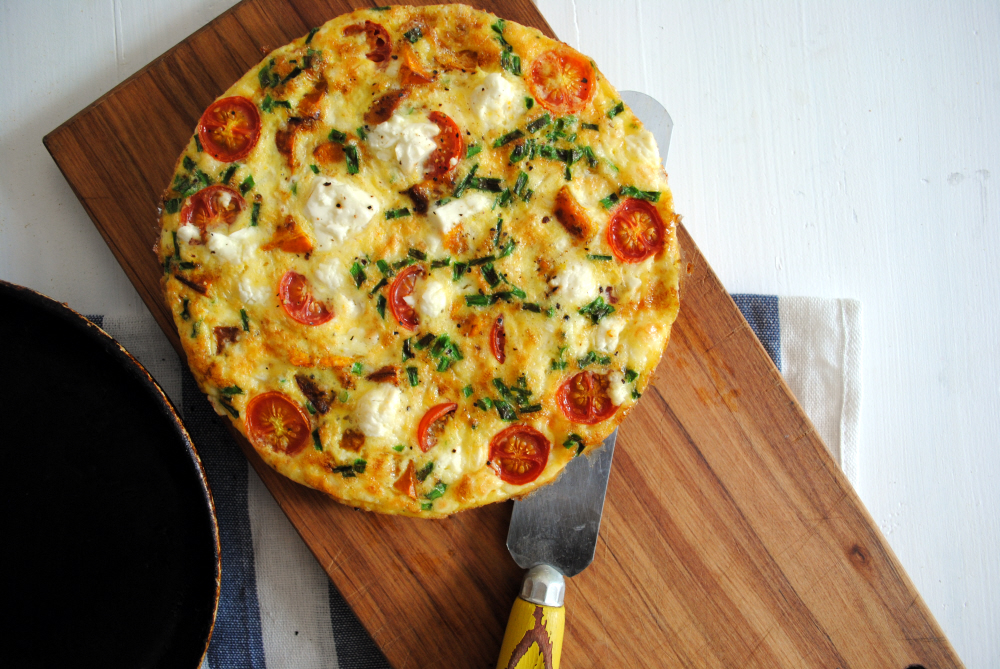 Pumpkin and feta tortilla
A tortilla is a great way of getting vegetables, protein and dairy into one slice, as long as they eat it! This is a simple template of a recipe. Larger pan? Just adjust the ingredients upwards. You can use any cooked vegetables – try potato, squash or sweet potato – with whatever cheese you have in the fridge. Crumbled goat's cheese, grated cheddar and cubes of blue cheese are all good. Adjust for your own little darlings' taste. Serves 2.

1 tablespoon olive oil
3 eggs
125g cooked pumpkin, cubed
50g feta, crumbled
A handful of chopped chives
6 cherry tomatoes, cut in half
Sea salt, freshly milled black pepper
Heat the olive oil in a 20cm frying pan – I use a cast iron one – over a medium heat.
Whisk the eggs lightly together, then stir in the cooked pumpkin, feta and chives. Season to taste, keeping in mind that the feta is already salty. Pour the egg mixture into the hot pan, top with cherry tomatoes, turn the heat down low and cook slowly for 10-12 minutes or until set. To speed this up, you can always pop the tortilla under a preheated grill for a couple of minutes.
Let it settle for five minutes then cut into wedges to pop into a lunchbox. Serve at room temperature.
First published on the Irish Country Living blog.

Over on the Irish Food Writers Guild website, Lizzie Gore Grimes and I have put together some resources to help you in making a healthy lunch box. Check out the full article here: What's in your lunchbox?

Here are some useful links from that piece:
Current lunchbox thinking in Ireland
http://www.safefood.eu/SafeFood/media/SafeFoodLibrary/Documents/Education/2012-Safefood-Healthy-Lunchboxes-Leaflet-v4.pdf
http://www.bordbia.ie/consumer/aboutfood/schools/pages/healthylunchboxes.aspx
http://www.fooddudes.ie/Food_Pyramid.pdf
http://www.fooddudes.ie/Primary_Schools_Food_Nutrition.pdf
http://www.fooddudes.ie/Healthy_Eating_for_Children.pdf
Tired of sandwiches? Ten make-ahead ideas
Egg and bacon pies
Ham and feta muffins
Mini bagels
Pork Pies
Sausagemeat, Courgette and Apple Plait
Sausage and veggie rolls
Scotch Eggs
Tuna bouchons
Veggie Pikelets
Wholemeal scones
Ten homemade sweet treats
Courgette cupcakes
Parsnip Cake with Walnuts and Raisins
Rock cakes
Shortbread
Wild bilberry cheesecake muffins
Blueberry chia seed muffins
Family Flapjacks (sugar-free)
Banana Bread (sugar-free, dairy -free)
Healthy buckwheat pancakes
Frozen berry smoothie
Five fun savoury lunchbox ideas
Black Polenta Fingers
Chicken rice paper spring rolls
Curried pumpkin bread
Potato apple parcels
Vegetarian spicy fried rice with baby spinach and chickpeas
Substantial salads
Chickpea salad with Lebanese flavours
Roast squash, citrus and bulgur with pomegranaate and maple dressing
Roast Vegetable & Quinoa Salad
Smoked mackerel and giant couscous
Puy Lentil Salad with Beetroot, butternut squash, parsley and goat's cheese
Useful links
http://www.bbcgoodfood.com/howto/guide/school-packed-lunch-inspiration
http://www.thekitchn.com/kids-love-to-dip-5-healthy-dips-that-qualify-as-lunch-167386
http://food52.com/blog/category/169-amanda-s-kids-lunch
http://lunchingdaily.com/
http://www.taste.com.au/recipes/collections/lunch+box+ideas
http://susanjanewhite.com/category/office-lunchbox/
http://letters.cookingisfun.ie/2011/08/20/1314/
http://www.herald.ie/entertainment/real-food-20082009-27921996.html
Lunchbox ideas on Instagram
https://instagram.com/explore/tags/kidslunchbox/
https://instagram.com/explore/tags/bentolunchbox/
https://instagram.com/explore/tags/lunchboxideas/
https://instagram.com/lunchingdaily/
Many schools now have a nut-free policy, which cuts out any chance of peanut butter sarnies. Susan Jane White makes the case for seed butters – just like nut butters, only cheaper and healthier. Tahini and honey sandwiches are favourites in her house and she also said that pumpkin seed and hemp seed butters are fabulous.