HearSay 2015. Memories.
Twinkle was my choice; my brother went for The Beano. Our weekly comics were on order at McCarthy's Hardware, situated right in the middle of Main Street, Kilfinane. It was the largest shop in the town, with three large plate glass windows showcasing the hardware, stationary and drapery that Tommy and Mary McCarthy sold.
Each Friday afternoon, coins clasped tight in my fist, I'd run there while my mother got the weekend's messages at the VG. Turning the black knob on the frosted glass door, I'd try not to get too distracted by what felt like a treasure trove of Ladybird books and colourful magazines and small toys as I waited to buy my comic – and maybe a quarter pound of clove rock – from Mrs McCarthy. At one stage, I saved my pocket money up for weeks to buy a pink plastic printing kit so I could make a book; early adventures in self-publishing.
Kilfinane. The town I grew up in, left almost 25 years ago, and returned to last weekend for the second HearSay International Audio Arts Festival. McCarthys has been closed for years, as first Tommy, then Mary, died, but the dusty, abandoned spot was resurrected for the weekend. It reopened as The HearSay Story Store, manned by In The Dark, so that you could go in and choose a story to listen to or, as many locals did, tell your own stories of the place and Tommy's ability to find any random hinge or bulb in the thousands of boxes that had lived on the crowded shelves.
The wooden floors still creaked in exactly the same way, but the pegboards that lined the walls were almost empty and I could now look over the glass counter without having to stand on my tippy toes.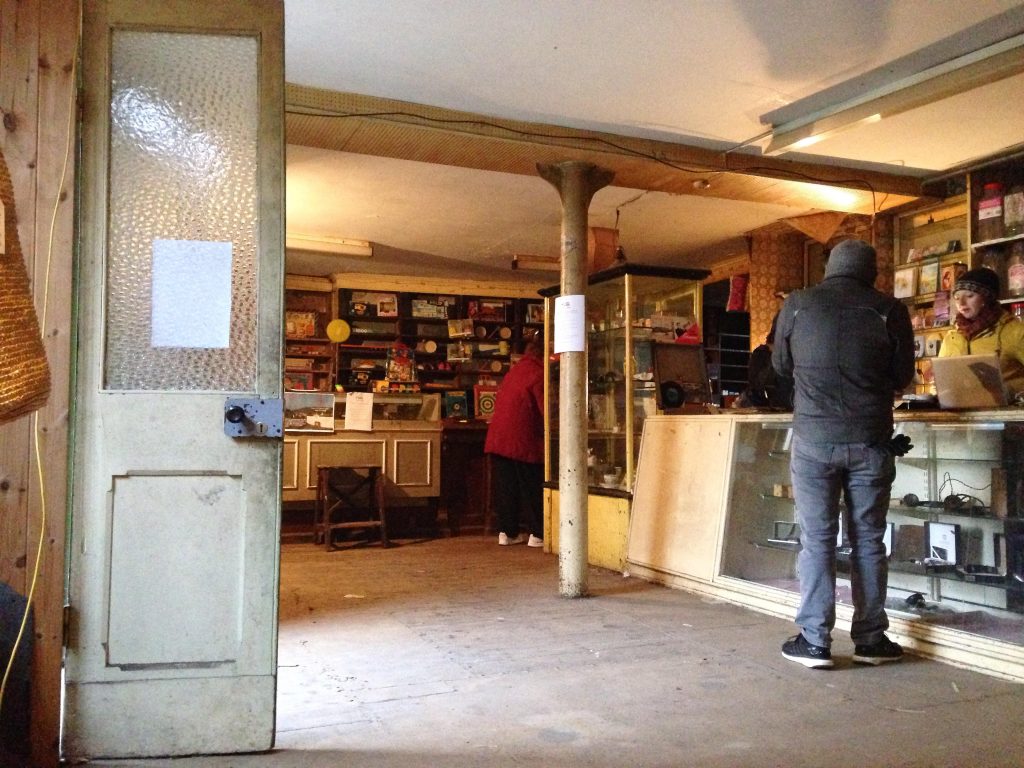 HearSay is all about sound and the power that it has. The power to bring you on a journey into the unknown, to evoke memories and feelings, to paint a picture. The power to turn a small town into a hotbed of installations and talks and tastings and screenings and listenings, to gather together a brilliantly oddball assortment of sound-obsessed nerds. It's a festival that won't let you sleep at night, for all the ideas and inspiration and conversations whirling around in your head, that will have you up and at Soundscape Yoga at 10am before you dive into a day's worth of listening.
And there was food.
Well, a prawn. But at least it was cooked by Kevin Thornton. In a very lovely imaginary lighthouse kitchen. (Check out Lighthouse Stories on RTÉ Radio One to see where that sound inspiration came from.)
There was also love in an elevator with the team behind The Heart, Steve Fanagan talking about scary sounds from horror film The Hallow in my old secondary school, surround gospel sound at Dark Delightful and comedy as a way of remembering scientific facts from a duo that I serendipitously ended up having lunch with. There was also The Blind Experiment. But that's for another day…
HearSay. The magic of sound and stories – and people working together to do something amazing in a small Irish town.
Roll on 2016.
Next event: Christmas on the Square 2015 – Saturday, 28 November
Join Caroline Hennessy, co-author of Sláinte: The Complete Guide to Irish Craft Beer and Cider, and member of the Eight Degrees Brewing team, as she talks about craft drinks at Christmas time, as part of an event at No 8 Merrion Square.
4pm – 4.45pm Craft Drinks at Christmas with Caroline Hennessy. Book your FREE tickets here.