Kerrygold Ballymaloe Literary Festival of Food and Wine 2016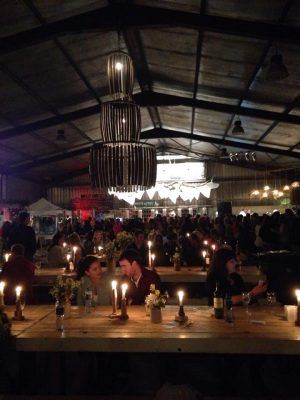 Making lists. Checking them twice. Ordering books…
No, I'm not stuck back in pre-Christmas hell, I'm glorying in a morning spent wandering through the website for the Kerrygold Ballymaloe Literary Festival of Food and Wine. Each and every year, I've come away from Ballymaloe reeling after a weekend spent with kindred spirits, head stuffed full of ideas and inspiration, notebooks and recorder filled with quotations and voices, and dragging home a stack of books written by the participants.
These are my kind of people, not just those whose words I scribble down while they're on stage, but the crew that gathers in the Big Shed, which is the real and beating heart of the festival. It's the place to hang out during the day between events, refueling with Badger and Dodo's coffee or juices from My Goodness, grabbing sustenance from Iyers and Rocketman before diving back into another stint of learning and inquiring.
You'll catch up with most of your food heroes there when the music kicks in at night time – I'll never forget being on the dance floor with the world's funkiest dancer (and foremost beer expert) Garrett Oliver last year who, despite holding a glass of beer in each hand, never lost a drop as he grooved the night away.

Garrett was there to talk at the ever-fabulous Drinks Theatre, a repurposed shed (move the tractors out, bring the people in), along with fellow beverage experts like Jancis Robinson on wine, Alice Feiring demystifying natural wines, Nick Strangeway on cocktails and whiskey man Dave Broom.
This May, Jancis Robinson returns (talking on the world's underpriced wines – expect any mentioned to shoot up in price immediately afterwards), as do Nick and Dave; the great Hugh Johnson will be along too, so will Susan and Judith Boyle with their new show, Tales of Ales.
I'm thrilled to be part of the line up and this year I'll be doing an event with Pete Brown. Pete is well known to those who love their tongue-in-cheek beer writing, from Man Walks into a Pub back in 2004 to Shakespeare's Local in 2012. Not only a beer fan, he also wrote the gorgeous World's Best Cider: Taste, Tradition and Terroir, from Somerset to Seattle with Bill Bradshaw. I'm currently stuck into his entertaining exploration of IPA, Hops and Glory, at the moment, which is particularly relevant considering that we'll be talking and tasting some brilliant IPAs as part of the Litfest event.
Hops and Glory
Sunday May 22 2016 – 11:30 AM to 12:30 PM
Price: €16. Book tickets here.
And that's just the tip of the iceberg. Check out the Litfest site for lots, lots more including; London ladies' favourite Yotam Ottolenghi, Prue Leith of the famed cookery school, Elizabeth Luard (my pick for autobiography as well as recipes) food activist Kamal Mouzawak, the lovely Mark Diacono from Otter Farm. For anyone interested in doing some writing themselves, the UCC food writing workshop with Dr Jools Gilson and Regina Sexton takes place on Friday (at €25 for four hours, it's one of the bargains of the weekend) and there's also a discussion of food styling and photography hosted by Lens & Larder founders Imen McDonnell and Cliodhna Predergast.
See you there?
More beer: Monday 22 February
Looking forward to doing an introduction to craft beer and cider at the UCC Fermentation Society, with thanks to Stonewell Cider, Blacks Brewery and Eight Degrees Brewing. Free but ticketed, via Eventbrite.