Read: New Zealand cooking + Lemon barley, roast broccoli, beetroot and clementine salad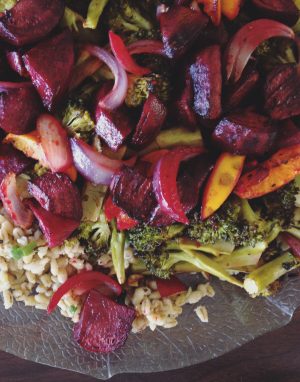 First published on Irish Country Living.
In New Zealand, catering is often on a grand scale. When we – two adults, two smallies – come to visit, we stay with the Kiwi's parents – another two adults. And then there's the four sisters, their four husbands and another five kids aged from 6 years down to 7 months.
Have you kept count? That's a total of 12 adults and six children, plus a happy, jolly baby (who's just started on solids, so she's the easy one).
Everyone else? Well, it has to be said – we do spend a lot of time in the kitchen. But it's never a slog because there are always plenty of hands to help, glorious summertime ingredients to play with and ideas to riff on. This year there was a rota, dividing dinner time catering between the various families and we ate good. With the kids occupied elsewhere – they all know if they come near me complaining of hunger, I whip out a bowl of carrot sticks – cooking is a pure joy. I love the chatter and busyness that happens as everyone preps their dishes, leaning over the worktop to check out someone's scribbled notes or emailing recipes as we cook. (Ladies, I'm still looking for the recipe of the crunchy noodle Chinese salad. You can send on that luscious pulled pork one too, while you're at it.) And there's always, always plenty of beach time.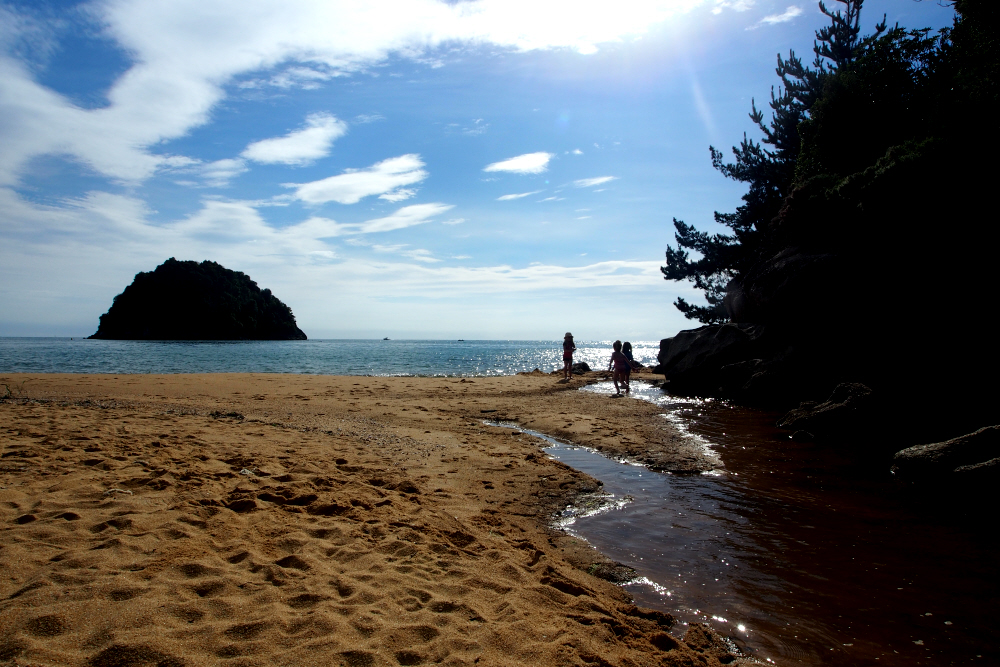 I come home, every time, with sheaves of photocopied pages – we had a veggie sausage roll one night that had us all begging for the recipe – dog eared food magazines, stacks of food photos and even a few cookbooks. New inspiration! At least until I get back and the realities of post-holiday blues and rain and cold and root vegetables hit home…
Lemon barley, roast broccoli, beetroot and clementine salad
Add some sunshine to your life no matter where in the world you are with this substantial salad. It positively invites variations: use buckwheat, brown rice, quinoa or coarse bulgar wheat as the base grain; roast spiced carrots, squash or cauliflower in addition to, or with the vegetables mentioned below. This is a vegan-friendly variation but strew with crumbled feta if you're feeling the need for more protein. Serves 4.
250g pearl barley, rinsed
Zest and juice of 1½ lemons
500g beetroot, scrubbed
6 tablespoons olive oil
2 tablespoons balsamic vinegar
Sea salt, freshly ground black pepper
2 red onions, peeled
2 clementines, skin scrubbed
500g broccoli
Preheat oven to 220C.
Place barley and 450ml water into a saucepan. Squeeze in the juice of half a lemon and add a good pinch of salt. Bring to the boil over a medium heat, cover and reduce heat to low. Cook for 15-20 minutes, or until tender. Remove from heat and let stand, covered for five minutes. Drain any excess water.
Meanwhile, peel the beetroot and cut into 2cm wedges. Wear gloves for this or just wear your red hands with pride. Toss with 2 tablespoons olive oil, the balsamic vinegar and season well. Spread across a large roasting dish, place in the oven and roast for 10 minutes while cutting the red onions and clementines (leave the skin on) into 2cm wedges. Add to the beetroot, toss well and return to the oven for a further 20 minutes until tender.
While all that is going on in the oven, cut the broccoli into bite sized florets, peeling any tough bits of stalk before chopping it into 2cm strips. Toss the broccoli with 2 tablespoons olive oil, salt and lots of black pepper. Spread it out on a baking tray and roast for about 15-20 minutes until tender and toothsome, the edges of the florets starting to brown.
Whisk the lemon zest and rest of the lemon juice with the last 2 tablespoons of olive oil, season well and stir through the barley.
I like to layer this salad up on a big platter or plate. Spread the lemon barley across the plate, scatter over the roasted broccoli, then top with the beetroot-onion-clementine combination, making sure to scrape out any juices from the pan. Makes a great lunch or serve as a side dish for a chicken roasted with harissa and pomegranate molasses.