Read: The Farmette Cookbook by Imen McDonnell + Frangipane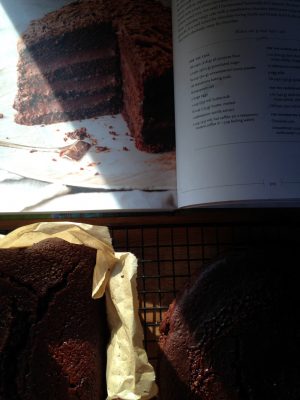 First published on Irish Country Living.
It's a love story.
It's a quest for home.
It's a showcase of great Irish food.
It's a love story. Once upon a time, one cold Minneapolis night, creative advertising producer and confirmed urbanite Imen McDonnell met a tall, handsome Irishman. Limerick dairy farmer Richard McDonnell – you can see from the shared surname where this story is going – won her heart, she moved to Ireland and set up home on his family farm. It wasn't easy. Imen went from having all the amenities of big city life, the bakeries, coffee shops and restaurants, to the rural Irish countryside where, if you want a good loaf of bread, you need to get out the mixing bowl.
It's a quest for home. I first met Imen in 2010 when she was just figuring her way around that mixing bowl, cooking herself into her home in Ireland. At the time she was writing her blog (then called I Married an Irish Farmer; now Farmette) and also a weekly column in Irish Country Living. My mother passed on the ICL supplements to me and I read, with fascination, Imen's very different take on life in the Irish countryside. I too had recently moved from the big city – ok, not in the States but Dublin does count! – to the country and had to figure out a new way of living and cooking. I did have the advantage in having a rural-ish childhood, family close by and a long-seated devotion to the kitchen but I loved how she made me look anew at things I took for granted: barmbrack and real butter, Irish cream, even nettle stings. For Imen, cooking, whether the food of her missed homeland or that of her new – and occasionally frustrating – home, was how she found her place in the world. She was fortunate to have the help of her late mother-in-law, Peggy, whose knowledge of Irish cookery and generosity of spirit infuses the pages of The Farmette Cookbook.
It's a showcase of great Irish food. Beautifully illustrated with her own photos, Imen's lovely book shines a light on the kind of traditional cooking that my farming grandmothers would find familiar – egg mayonnaise, coffee walnut cake and soda farls – alongside her own unique specialities. She celebrates the produce of Ireland in dishes like Irish Trout Caviar Blinis and Hot-Smoked Burren Salmon Tacos, forages for elderflowers, blackberries and sloes to transform into drinks (Kiddy Elderflower Honeysuckle Cocktails, Hedgerow Shandy) and what she can't do with milk isn't worth doing; try her Farmhouse Tres Leches Cake, where she makes her own condensed and evaporated milks from farm-fresh milk and taste a true labour of love. By finding her place in the world, she's bringing everyone else on an Irish food journey.
It's The Farmette Cookbook. And it's out now.
Claire's Frangipane
If there's one thing that I can't pass by, it's frangipane and I didn't resist this simple recipe for too long, adding a little extra complexity by using soft brown sugar and spelt flour. Makes 1 x 23cm cake.
150g butter, at room temperature
150g soft brown sugar
2 eggs
150g ground almonds
33g spelt flour
Caster sugar, for dusting.
Preheat the oven to 175C. Butter and line a 23cm springform tin.
Using an electric mixer, cream the butter and sugar together for about 5 minutes, until pale and creamy. Beat in the eggs, one at a time, then stir in the ground almonds and flour.
Scrape cake mix into the tin then bake for 30-35 minutes, until golden brown and a cake tester comes out clean.
Sprinkle with caster sugar and cool on a wire rack. Remove from the tin and serve with in-season berries and Greek yoghurt or whipped cream.
Adapted from The Farmette Cookbook: Recipes and Adventures from My Life on an Irish Farm by Imen McDonnell (Roost Press). Thanks to Roost for the review copy.
***

More books
Spring! It must be book release season! Also arrived on my desk is another cookbook from Limerick. Val O'Connor's latest is Val's Kitchen (O'Brien Press), which takes her from blog-to-book with lots of easy and doable recipes for home cooking. Her Welsh Rarebit muffins were a cheesy, savoury store cupboard lifesaver this past icy weekend, especially with lots of butter a warming bowl of her sweet potato and coconut soup. Make sure you check out the pantry chapter with some simple recipes for cheese, yoghurt and fermented food. On my must try list: her fermented baked beans.
Also watch out for Recipes and Stories from Ireland's Wild Atlantic Way by American author Jody Eddy and photographer Sandeep Patwal (Gill Books). It's a meander along the Western Seaboard, with food-orientated stops for each chapter at spots like Shell's Cafe, Achill Mountain Lamb, Kelly Oysters and Hazel Mountain Chocolate, including a selection of recipes. Jody, by coming at this very Irish space with new American eyes, focuses on dishes that are just a little bit different; Smoked Trout and Barley Salad, Spiced Pumpkin Biscuits (aka scones), Summer Berry Dutch Baby. I particularly loved the fact that there was a visit to Kevin O'Hara's Independent Brewing in Connemara – make sure to check out the recipe for Chocolate Stout and Sea Salt Ice Cream! Pack a copy of this book into your car and download the McKennas' Guides' WAW app for a toothsome tour.
Thanks to O'Brien Press and Gill Books for the review copies.