IPA tasting at Kerrygold Ballymaloe Litfest
Sunday, 11.30am.
Seven IPAs.
ABV: from 5% to 9%.
60 minutes.
Two presenters.
Hops & Glory, an IPA tasting, was what kicked Sunday morning at the Ballymaloe Litfest into a very chilled afternoon. (Or would have, if I hadn't been scooting around with the radio mic, trying to capture sounds for a Lyric fm Culture File feature. More of which later.)
British beer and cider writer Pete Brown – we never did get to figure out who was the hops and who the glory! – was my partner in crime for this stonking whiz through the IPA style, taking in white and black, single malt and double, Ireland, England and NI.
The Beers:
Rascals Brewing – Yankee White IPA 5% – for many people, this was breakfast beer.
Worthington's White Shield 5.6% ABV – the original English IPA.
Eight Degrees – The Full Irish single malt IPA 6% – my home beer.
Metalman – Ironmonger IPA 6.5% – gloriously bitter.
9 White Deer – Black Lightning Black IPA 6.5% – great example of a playful style.
Boundary Brewing IPA 7% – from NI, a cracking brew.
Cloudwater DIPA 9% – from Manchester, ultra rare. Lives up to the hype.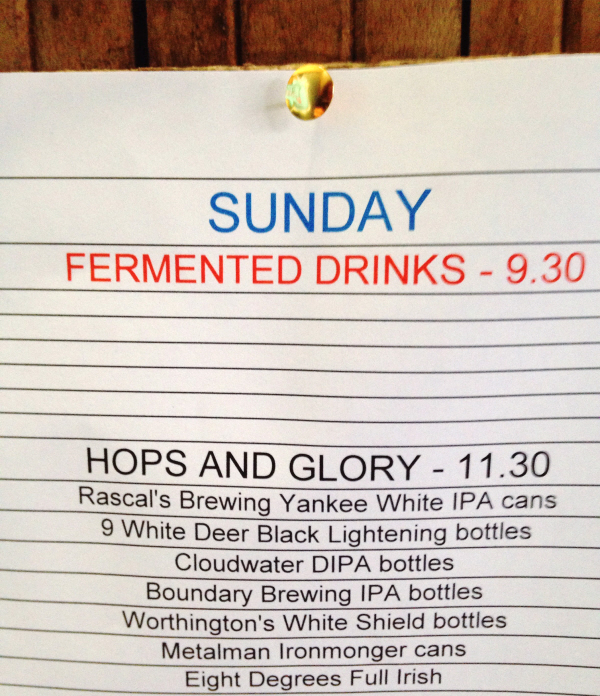 That's the backstage list that you see above, pinned up behind the scenes so that the #GangofPour, volunteers who worked in the Drinks Theatre for the weekend, pouring numerous glasses of beer, wine, cider, cocktails and even kombucha, knew what was coming up. Once again, the whole thing was coordinated impeccably with grace and good humour by Colm McCan. I especially liked his 10 MINUTE WARNING printout that was passed to presenters (ie us!) who might have been getting all very relaxed and chatty towards the end of the talk / tasting.
Seven IPAs in a row will do that to you, especially when you feel the need to taste them a couple of times…