Irish lamb: Braised lamb shanks with orange gremolata
This is a sponsored post for Bord Bia's tastyeasylamb promotion. The opinions and words are my own.
"How many?" "Four," I said. And with that, the butcher unhooked his longest, largest saw, picked up a big curved knife, and walked off to the cold room. The Small Girl was fascinated. Five minutes later her eyes opened wide as he returned with what I'd asked for: four huge meaty lamb shanks, practically bursting out of their bag.
At this stage of the year, the lambs of North Cork – rather than yielding up petite single-serve forelegs – are producing something more along the lines of dinosaur hocks.
The Small Girl really wasn't sure what she'd be expected to eat…
She didn't mind sharing though. Especially when lunch for four happened to become lunch for seven. The best way of feeding a gang without hassle? Get yourself a decent quartet of lamb shanks and you're set. Even more especially when the "summer" day turns out cold and damp and dull.
Lamb is is the taste of home. My mother makes a glorious roast for Sunday lunch, especially if one of my far-flung family has returned, however briefly, to the fold. Walking into the house and smelling roasting lamb is an indication that we're all together, all sharing in the banter and veg chopping and chat. On this particular lunch day, she was away in the sun; instead of gathering at home, my sister, brother and father came to the cottage to share a taste of family tradition, reinvented.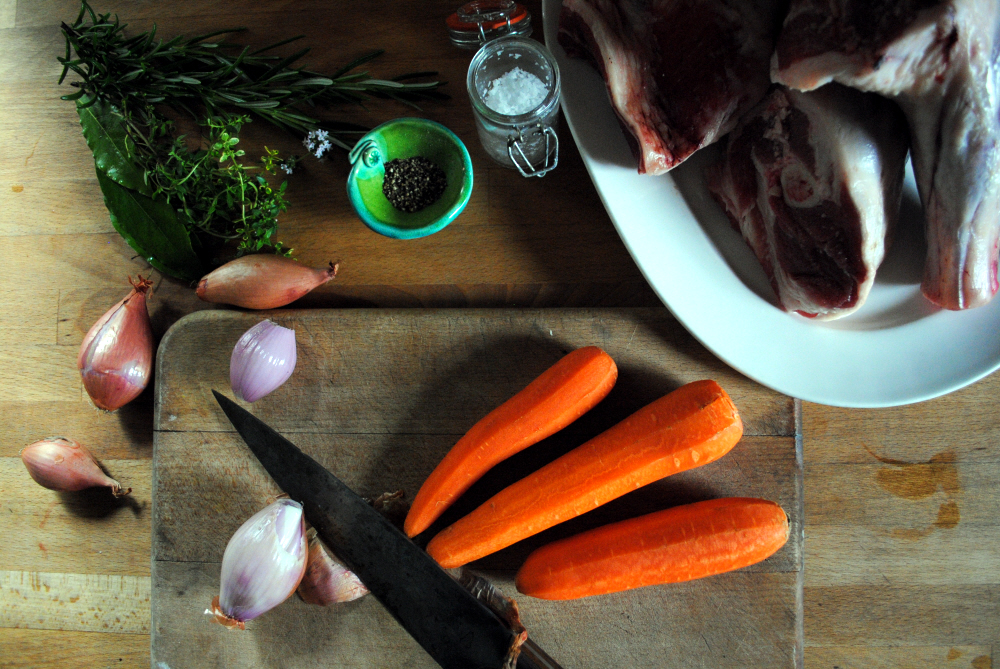 I love the way I can play with lamb: a Moroccan-style lamb and apricot tagine to warm up a winter night; cumin-spiked lamb burgers stuffed into pita breads and drizzled with sriracha yoghurt; a butterflied leg to cook on a barbecue and serve sweetly pink; or a fast-breaking lamb, chickpea and lentil harira. It's a meat that you can take in so many different directions – and I often do.
Make it Tasty: serve this dish with interesting sides. We had cumin-roasted cauliflower barley salad, orange-braised carrots and a dish of puy lentils with mustard and mint. Teeny, just-dug spuds from our cottage garden were bulked up with side-of-the-road new potatoes, both served with big lumps of butter. Of course.
Make it Easy: with such large shanks – the largest topped the scales at 650g and, in total, they weighed 2200g! – it was easiest to let the oven do the work. Small shanks will cook in an hour and a half; mine took 2½ hours at 180C (160C fanbake) until the meat was ready to fall off the bone. My tip? Pop them in early and, if they're ready ahead of time, take them out and reheat closer to serving time. Cooking in the oven also lets you roast a few other things at the same time, like the cumin-tossed cauliflower and carrots with orange.
Make it Fun: got a bottle of good Irish red ale or dubbel-style beer in the house? Use it instead of the water/stock for a richer flavour. Just make sure you keep some to drink with the lamb!
Make it Yours…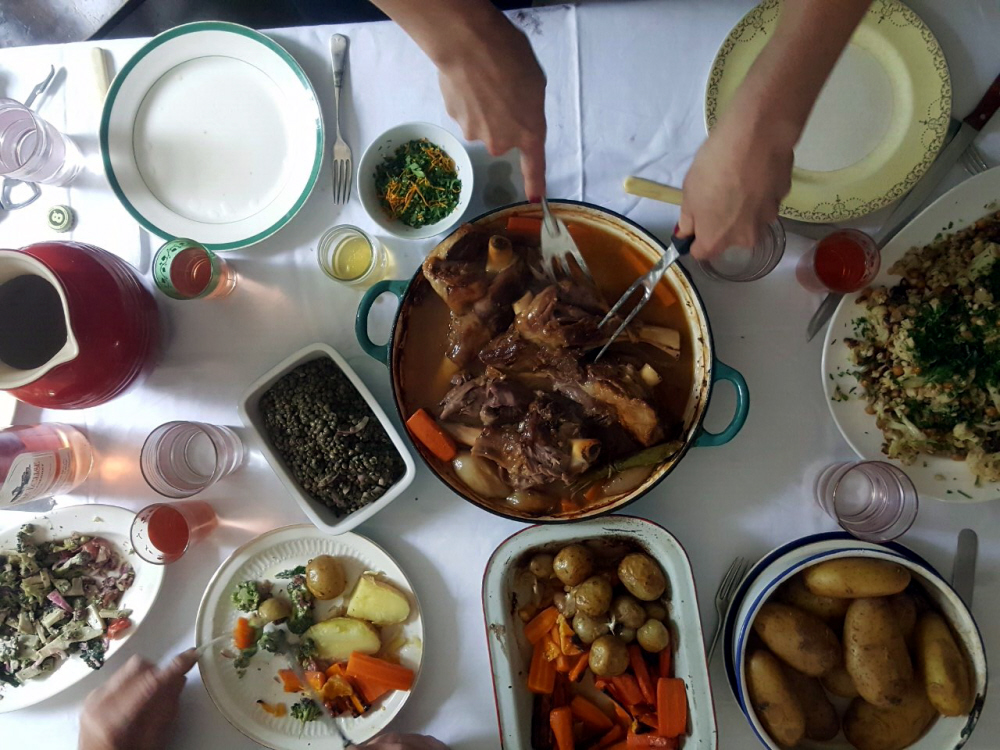 Braised lamb shanks with orange gremolata
This is a recipe that I chose to cook from the Bord Bia Lamb: Tasty Easy Fun website. The orange gremolata is a fantastic way to finish, bringing a real brightness to the flavours of the dish. The shanks I used were considerably larger than the ones used in this recipe and so easiest cooked in the oven at 180C for 2-2½ hours. They served 5 adults and 2 children, with leftovers. Here's the original recipe, which serves 4.
4 lamb shanks
2 tbsp olive oil
a knob of butter
salt and pepper
3 carrots, cleaned and sliced into batons
6 shallots, peeled
2 tbsp plain flour
1 bouquet garni – a fresh bay leaf, sprig of thyme and some parsley stems, tied together
500 ml stock or water
Gremolata:
Handful of flat-leaf parsley
1 clove of garlic
1 orange
Heat the oil in a large hob-proof casserole dish then add a knob of butter. Add the lamb shanks and brown on all sides. Season with salt and pepper.
Remove the meat and add the carrots and shallots to the casserole dish. Allow to brown for a couple of minutes then sprinkle in the flour. Mix this for 1 minute then return the lamb shanks to the dish along with the bouquet garni and the stock or water. Cover and bring to the boil, then reduce the heat. Leave to simmer on a very low heat for at least 1½ hours, turning the shanks occasionally. The meat should be very tender after this time.
To make the gremolata: Finely chop the parsley leaves, crush the garlic clove and grate the orange zest, then mix together.
Serve the shanks with vegetables and scatter the gremolata over the top.