Read: Growing and cooking with kids + Strawberry halloumi salad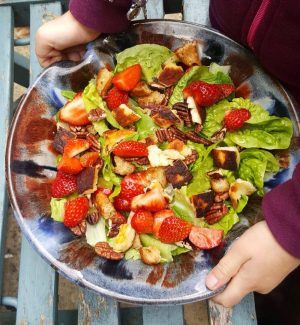 First published on Irish Country Living.
One day while collecting the Small Girl from preschool, a teacher stopped me with a question: "would you like some lettuce?" For the last term, the preschool class had been growing lettuce in a re-purposed canoe outside the front door. After lots of care and attention (and some benign neglect!) there were fine heads of bright green, floppy butterhead lettuce ready for the picking.
The Small Girl went home that day the proud owner of a just-picked lettuce, along with a handful of sun ripened strawberries the class had also been growing amongst flowers across the yard. All very, very precious because she had been involved in planting and watering and looking after them.
There was halloumi – much beloved by small people – in the fridge, a handful of lonely pecans at the bottom of the nut box and a couple of stale slices of pre-buttered sourdough (courtesy of Little Missy's half-eaten school lunch). It all added up to a rather brilliant summer salad.
The Small Girl washed the leaves, swishing them about in salted water to remove a few tiny slugs, chopped the strawberries, mixed the dressing and kept an eye on the hot pan while things were browning.
It always tastes better when you grow and make it yourself.
Strawberry and halloumi salad with pecans and mint
Lots of things that kids can do to make this their own. Get them involved – smelling the nuts, tearing the lettuce, picking the mint – and they'll love to share and taste the end results. Serves 4 as a side salad.
A head of just-picked butterhead lettuce
200g strawberries, halved
2 slices sourdough bread, buttered
250g halloumi, cut into 2cm cubes
50g pecan nuts, roughly chopped
1 tablespoon lemon juice
2 tablespoons white balsamic vinegar
4 tablespoons extra virgin olive oil
Sea salt, freshly ground black pepper
Handful of mint leaves, shredded
Pull apart your precious lettuce, discarding any slugs, then carefully wash and dry the leaves. Tear the larger leaves into smaller pieces. Place into a large salad bowl. Scatter over the strawberry halves.
Heat a non stick or cast iron pan over a medium heat. Tear the buttered sourdough bread into bite sized pieces and fry slowly until crunchy, about 8-10 minutes. Set aside. Add the pecans to the dry pan and toast, shaking regularly, until they smell warm and nutty. Remove from the heat immediately. Dry fry the cubes of halloumi cheese for 3-4 minutes, until golden brown.
Make the dressing by whisking together the lemon juice, white balsamic vinegar and olive oil. Or shake them together in a jar for full, kid-friendly fun. Season with salt and pepper.
Sprinkle the crunchy sourdough, pecans, halloumi and mint over the salad. Pour over the dressing. Serve immediately.
For some great cooking with kids ideas, check out Cliodhna Prendergast's gorgeous series of videos at breakingeggs.com.