Halloween ghosts: Spiced Pumpkin Muffins with Cream Cheese Frosting
Halloween time; time to remember past Jack-o'-lantern antics and these gorgeous Spiced Pumpkin Muffins from 2012 (cream cheese frosting optional – but worth it!).
"Púca! Púca! Is mise an púca!
Púca! Púca! Aon-dó-trí!
Seo í an oíche, Oíche Shamhna
A théim ar cuairt chun do thí,
Chun do thí!" *
Pumpkins were never part of my childhood. Instead, we carved faces in turnips for Halloween. As a child, I thought it was just something that my own family did but, according to Darina Allen, it's an old Irish Halloween tradition.
It's not something I'd recommend: every time I cut into a turnip now, that sharp-sweet smell immediately reminds me of the hours spent digging out the flesh with a teaspoon and blunt knife. When we had it hollowed out, we would stick a candle stub inside before putting the lid back on. That scent of turnip, blackened and burnt from the flame, was only bearable if you had your Jack-o'-lantern out on the window sill. I still can't be convinced on the merits of turnip as a vegetable.
Now there's no shortage of pumpkins in Ireland for carving, or for eating. While I've never managed to better the pumpkin pie that I used to get after yoga in Christchurch, these muffins were delectably moist, almost akin to gingerbread, and fragrant with warm spices. Little Missy had to have her ghost muffins, which we decorated with simple glace icing, but the cream cheese frosting – I could eat it by the spoonful – make these muffins just the thing for morning coffee on a dismal morning.
* this Irish poem that I learned in primary school, like the turnip, is an indelible memory of Halloween.
"Ghost! Ghost! I am the Ghost!
Ghost! Ghost! One-two-three!
This is the night, the Halloween night
I go for a visit to your home,
To your home! "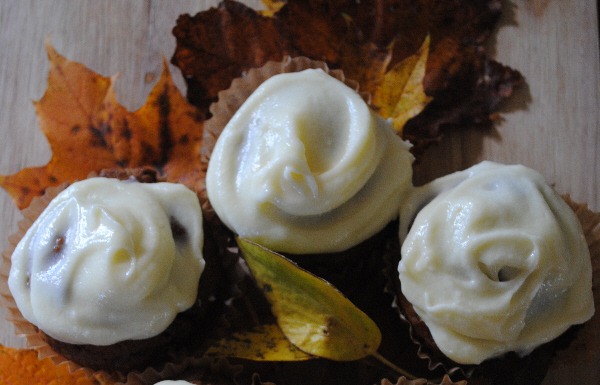 Spiced Pumpkin Muffins with Cream Cheese Frosting
They may not be the same thing, but I do use pumpkin and squash interchangeably as often the only thing I can get my hands on is butternut squash. Chopped and roasted in an oven while dinner is being cooked, it can be puréed and fed to the Small Girl or hoarded for recipes like this. Or make life easier and just use tinned pumpkin purée.
200g plain flour
1/4 teaspoon bread soda/bicarbonate of soda
1 teaspoon baking powder
1 teaspoon ground cinnamon
1/2 teaspoon ground ginger
1/2 teaspoon ground cloves
1/4 teaspoon freshly ground nutmeg
1/2 teaspoon salt
150g muscovado sugar
100g butter, at room temperature
2 eggs, at room temperature
1 teaspoon vanilla extract
175g pumpkin or squash purée
Frosting
125g butter, at room temperature
200g cream cheese, best go for full-fat
250g icing sugar, sifted
1/2 teaspoon of vanilla extract
Preheat your oven to 190°C (180°C fanbake) and put muffin cases into a 12-hole muffin tin. If you're using a silicon mould with ghosts, or other Halloween beasties, brush with sunflower oil before using.
Sift or whisk the flour, bread soda, baking powder, cinnamon, ginger, cloves, nutmeg and salt together.
In a large bowl, using a hand-held electric whisk or wooden spoon, beat the butter until soft, add the sugar and cream together until well blended and lighter in colour. Add the eggs, one at a time, incorporating each one into the mixture before adding the next. Stir in the vanilla and pumpkin, then add the dry ingredients, mixing gently.
Scrape into the prepared muffin tin. Bake in the preheated oven for 22-25 minutes until firm to the touch and, when tested with a skewer, it comes out cleanly. Remove from the tin and allow to cool thoroughly on a wire rack.
To make the frosting, first beat the butter until thoroughly softened. Add the cream cheese and continue to beat for 2-3 minutes. Tip in the icing sugar and vanilla and mix thoroughly until smooth.
Ice the muffins with a generous dollop of frosting. Makes 12.
Other pumpkin and squash adventures
Squash for soup: Bean, Squash and Cabbage Soup
Winter Warmers: Butternut Squash and Sweet Potato Soup
Pumpkin heaven: Spiced Pumpkin Soup
Yoga – and Pumpkin Pie