Read: Irish Examiner | 24 hours in Auckland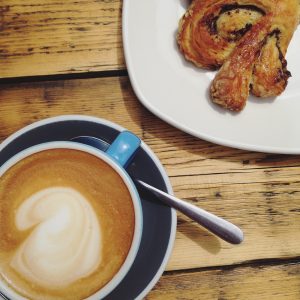 An edited version of this feature was first published in Irish Examiner. 
Make the most of a post-NZ holiday stopover by spending a night in Auckland with your family. New Zealand's largest city is a walkers' paradise, blessed with a vibrant food scene – and you're never going to be far from a decent flat white. Just what's needed before a long-haul flight home!
When might you need a holiday after a holiday? When you've just spent three fabulously full-on weeks in New Zealand with the Kiwi's family, hanging out with his parents, four sisters, their partners and a gang of seven smallies under seven years. We had a summery, sunshiny blast, staying just outside the South Island city of Nelson, making the most of the sea, the lakes and the rivers that are so much part of New Zealand life. But always there comes a time when the last set of togs has been dragged off the clothes line, the summer clothes squeezed back into suitcases, and the goodbyes all said; it's time to start the long trek home to Ireland.
We've discovered, over years of dragging kids over and back to New Zealand, that what really makes a homeward trip something to anticipate rather than dread, is to plan a stop over along the way. In the past, we've travelled around spice markets in Dubai, explored Kuala Lumpur with an appetite and, although this particular trip didn't allow for a stop closer to home, our flights did work out so that we would have just shy of 24 hours in Auckland.
My last trip to the largest city in New Zealand was more than ten years ago. That was spent mostly in a hospital bed after I was knocked down by a rogue courier truck. My memories of that time are scant – a skull fracture will do that to you – but there was, according to the Kiwi, a great view of the Auckland harbour bridge from the hospital room. We haven't been back since but, this time round, six-year-old Little Missy and the Small Girl, who is four, were well warned about holding hands while crossing roads "because Mummy didn't and that's why she got knocked down." Always good to have a close-to-home cautionary tale. And it's been a long time. So, after some due consideration, I promised to stay on the footpaths and away from couriers. Time to give New Zealand's biggest city another chance.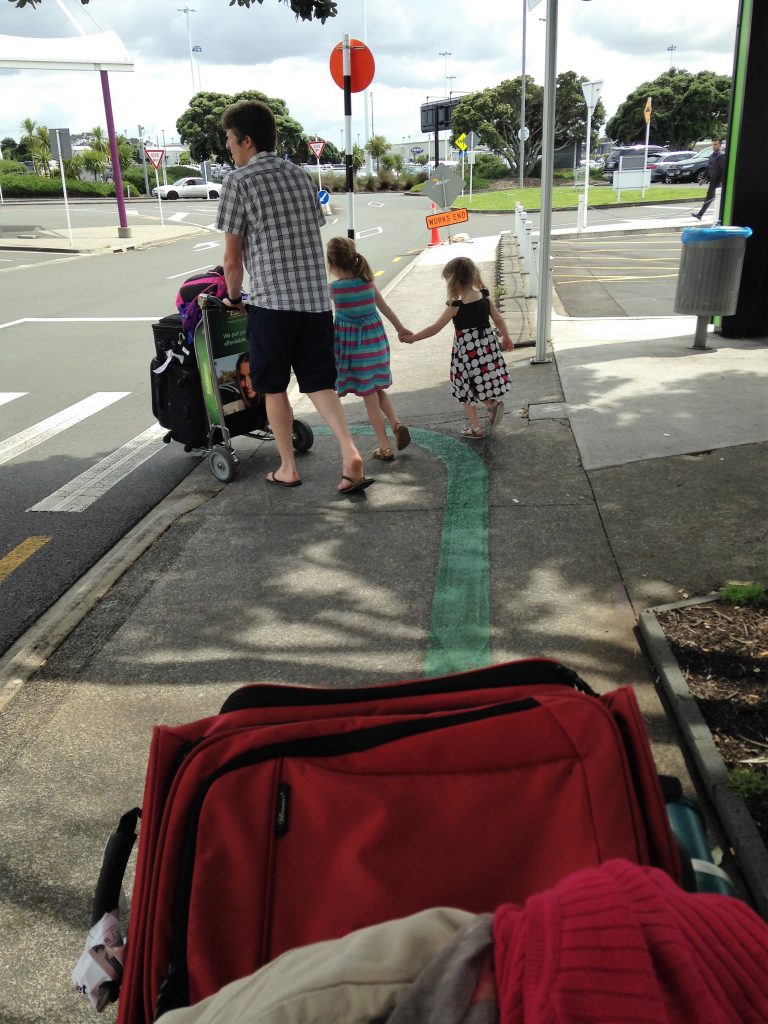 Arrival: we flew into Auckland early on a sunny Wednesday morning on a dinky little 50-seater propeller plane, which felt like a toy in comparison to the huge long-haul planes that we'll be spending the rest of the trip on. The domestic terminal is a pleasant spot, lots of relaxed coming and going, with New Zealanders treat the place like a glorified bus station. First things first: ditch that luggage. Grab a couple of trolleys to transport the three large suitcases, two small ones and four daypacks – you try travelling light with two smallies! – and follow the painted green line to walk to the international terminal in glorious sunshine. You can get a bus but where's the hard-wrestling trolley fun in that? Head straight for the Smarte Carte counter, abandon most of the bags – pricey, but well worth it for the freedom – and head outside to hop on a Skybus into the city centre. They're regular, have lovely drivers, you can buy the tickets online in advance (NZD$56 for a family return ticket) and they'll take you right to Queen Street.
Accommodation: with no pushchair (that got swallowed up in the maw of Etihad's lost luggage black hole on our trip out) our focus was on staying central to stay so that we could explore on foot. The Auckland Harbour Oaks is an apartment hotel that is a stone's throw from the waterfront, close to Viaduct Harbour and – importantly – just five minutes walk from the Skybus stop. Not that it felt like a short distance to two small girls who had to carry their own overnight bags. All whinging ended, however, when they saw the place. We were staying on floor number 26 of 37 and the view of Auckland harbour from the window of our basic two-bed apartment was enough to silence them. Until they remembered their rumbling tummies…
Lunch: it had been a long time since breakfast in Nelson so we needed to grab food without going too far. We landed just around the corner at Velvet Burger and kept everyone happy with a selection that included the Animal Rights veggie burger, a Hottie (beef with grilled mango/chilli mayonnaise), kumara chips and some mini burgers for our mini people.
Explore: newly energised, it was time to get into the city. For shopping, head to Queen Street, and Britomart where New Zealand designers like Karen Walker and Trelise Cooper jostle for your attention with vintage boutique Coucou, you can grab something cheap and cheerful at Cotton On or head to Icebreaker for the kind of cosy merino layers that you'll be wearing in Ireland long after your tan has faded. Our girls don't do shopping for long so, before little legs give out, head towards a playground. There's a small one on the edge of Victoria Park with plenty of climbing paraphernalia, a small flying fox and shade for relaxing parents. If you can get all the way to Wynyard Quarter, the playground there is on sand, with giant shells to hide in and a water feature for paddling. That has its pluses and minuses, especially if your kids – like ours – can't keep themselves dry for more than a minute. A word to the wise: it's always easier to take clothes off at the start than give out when they all get wet. And they will.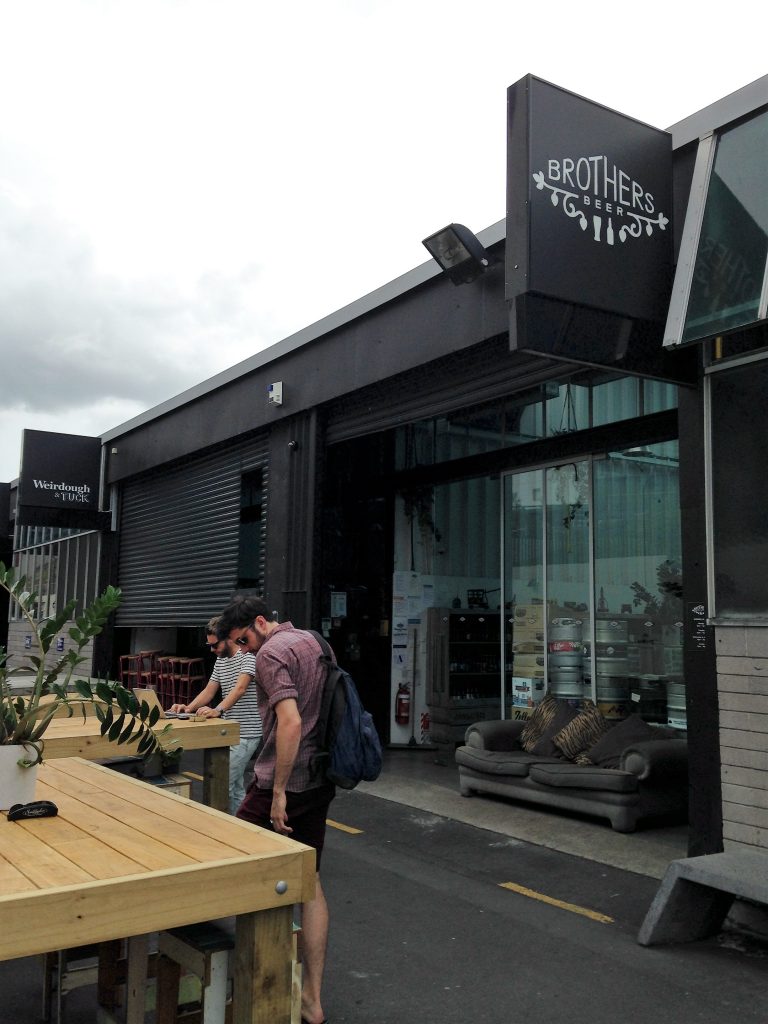 Taste: en route back from the playground, call into City Works Depot, an old industrial space that has been revitalised and now houses great eating spots, including cafe/bar/florist The Botanist, NZ chef Al Brown's Best Ugly Bagels and Dry & Tea, a blow dry bar which is also a tea house. We had Brothers Beer in our sights. It's a laid-back tasting lounge, with 18 taps pouring a selection of beers from their own in-house brewery and further afield, a bottle shop – we picked up a couple of 8 Wired beers for later – and they also serve thin crust pizza which goes perfectly with a beer tasting selection. Unfortunately we couldn't stay. Afternoon morale, in the form of ice cream and coffee, had been promised. City Works delivered in style with frozen vanilla yoghurts from Food Truck Garage and a brace of well turned out flat whites at Three Beans Coffee Roasters.
Relax: after a hot walk back to the Harbour Oaks, we were ready to try out the on-site lap pool. Situated outdoors, at the back of the building, it was too deep for the girls to go it alone but they very much enjoyed splashy piggy-back races along 25 meter length. Cool and shady, it only took a half hour dip around to hit the reset button for everyone.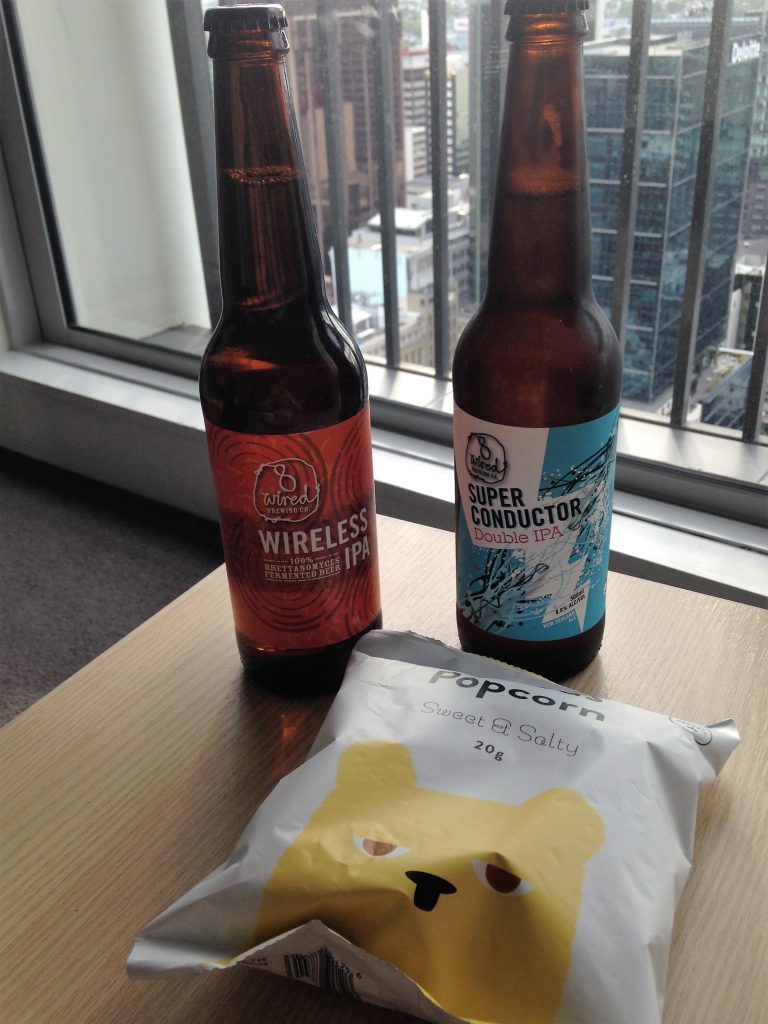 Dinner: living in the Irish countryside, takeout is not an option. Staying in the heart of Auckland, it's the only way to go, especially with tired girls. Down Fort Street, on the same block where we were staying, there was plenty of choice. Pick from great looking Italian restaurant Covo, cheap Korean, tempting Middle Eastern cooking from Ima or – do as we did – and choose a couple of options. We popped in to Indochine Kitchen, a small Vietnamese tapas bar, and ordered take away for the adults. Green papaya salad, rice rolls and beef salad were light and zesty, with plenty of fresh herbs and chilli – the antithesis of what we'd face at plane mealtimes. For our ladies, we went around the other side of the block and picked up a simple margherita pizza from Char Grill. Everyone's a winner, especially when there's a couple of beers for the adults to try out. Early night all round; we were maximising our horizontal time before starting the 40-hour journey back home.
Breakfast: with a small kitchen in the apartment, we were able to cook porridge for small people and feast on superfood smoothies and a mixed berry açaí bowl that we'd picked up the previous day at Good Life Juice Co. Nourished, sustained and ready for the road, we headed back to the Skybus to resume the long trek home. Time for just one last flat white at Atomic Coffee's Espresso Bar…
Kid friendly, plenty of good food, great coffee – and, this time, no accidents. Auckland, we'll be back.
Where to eat
Depot Eaterie is another of Al Brown's ventures and offers a real taste of New Zealand, with especially good seafood: don't miss the Buff oysters, Hapuka sliders and warahou tortillas. Little & Friday have an outpost – their Tuck Shop – not far off Queen Street and is the spot to go for light bites like toasted crumpets or warm gingerbread with Moeraki blue cheese. Flat whites not optional.
Where to stay
The CBD is a good location for anyone who wants to explore on foot and Barclay Suites ticks all the boxes. Go budget at Nomad's Backpackers which has everything from 12-bed dorms to double rooms, plus a riotous rooftop spa that entertained us from our apartment window.
What to see
Take the great glass elevators to the top of the Sky Tower (family ticket: $61) for the best views of the entire city and, if you're an adrenaline junky, you can take the opportunity to bungy jump most of the way back down (adult: $225). The Auckland Museum and National Maritime Museum are also nearby but with admission prices starting at $20 for an adult, it's enough to make you newly appreciate our own Irish museums.
How to get there
In March, Emirates started a new Dubai-Auckland route, which cuts out a stop in Australia ("hooray!" said the Kiwi) and is now the world's longest flight, coming in at 17 hours, 20 minutes. Disadvantage: you won't be able to get away from the smallies for all that time. Advantage: no going through the hell that is Heathrow. Otherwise, it's three flights. Still want to avoid Heathrow? Etihad Airways goes via Abu Dhabi/Australia and is worth checking out. If you do go through London, you have your pick of airlines and directions: Malaysia Airlines will take you via Kuala Lumpur, Air Canada hops up to Vancouver and you can even manage a stop in Hong Kong. Keep an eye on www.momondo.ie for good deals.