Slow cooker cosy + Slow Baked Beans
First published on Irish Country Living.
When days are dark and the mood is gloomy, there's nothing better than coming home to a kitchen that smells of something rich and gloriously savoury. Weeknight dinners are all about speed, feeding the family before the girls start a mutiny, or instigate an all-out attack on the pantry. But that doesn't preclude slow cooking – or slow cooker-ing. Some prep in the morning, set the slow cooker on low before we run out the door and it's guaranteed that dinner will be nearly ready by the time we arrive back.
I bought a secondhand slow cooker for a tenner, about six years ago, just to see if I'd use it. Originally from Tesco, it's a simple kitchen appliance, with three heat settings and a 3-litre ceramic cooking dish. Uncomplicated and cost effective, it uses minimal electricity and – best of all – doesn't need hovering over. Now it lives permanently on the cooker hob, where it gets more used than the fourth cooking ring. At this stage, the base is battered and stained and I can't read the temperature settings any more (I've memorised the positions!) but it's a kitchen workhorse. In the summer, I mainly use it to cook beans and chickpeas without heating up the house but it really turns into a star in the wintertime.
From bean hotpots and meaty stews, pull-apart pork and black bean chilli, chicken stock, chutney, sticky toffee and rice puddings – an especially good after-school snack – it does sweet, savoury and everything in between. Might just be time for an upgrade…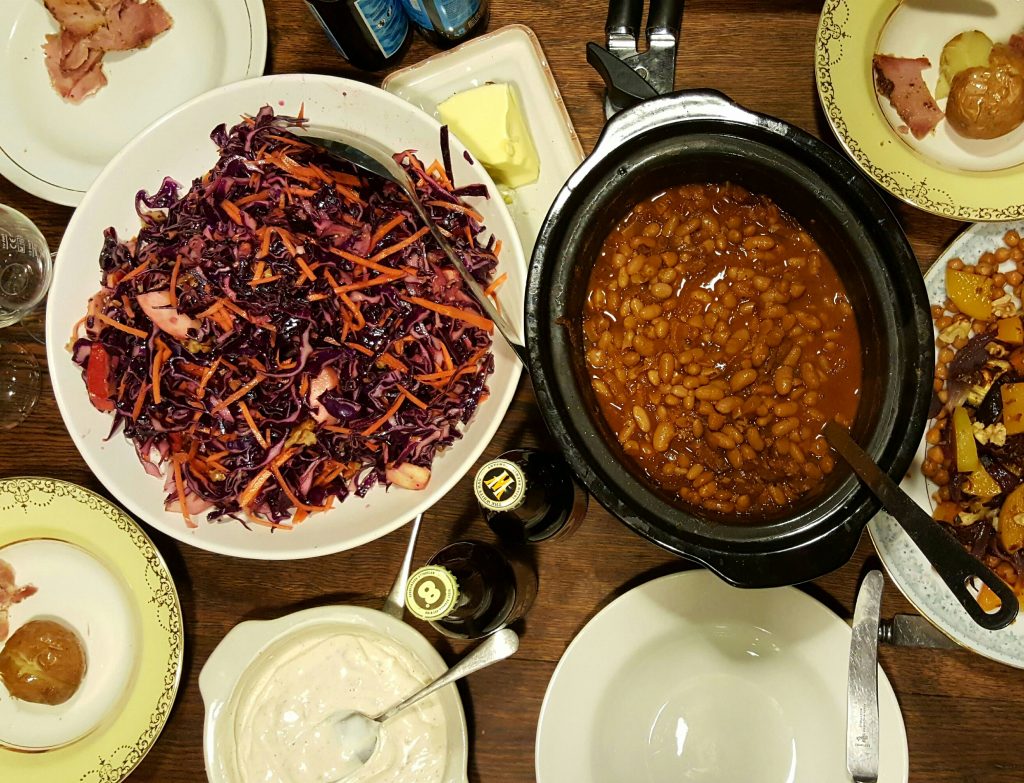 Slow cooker savy
The best cuts of meat to use are the ones that benefit from low and slow cooking; chicken thighs, beef shin, pork shoulder, stewing lamb. Of course, these also happen to be the cheapest. Win win.
Don't open the lid too often! Each time you break the seal, you add another 20 minutes to the cooking time.
If you want to add more flavour to your food, brown the meat and veg before adding them to the slow cooker.
Don't add too much liquid. The slow cooker keeps all the steam in so that nothing evaporates during the cooking time.
If your stew is too watery, cook it on high with the lid off for about an hour.
Slow Baked Beans
Gloopy tomatoey tinned baked beans these ain't! They're a darker, richer, altogether more sophisticated beast. They also freeze exceptionally well. Serves 6.
500g dried white beans eg cannellini or white haricot
2 onions, sliced
3 cloves garlic, finely chopped
250g streaky bacon, chopped into 5cm strips
3 cloves
2 bay leaves
2 tablespoons tomato purée
2 tablespoons maple syrup
2 tablespoons molasses
3 teaspoons mustard powder
½ teaspoon ground cinnamon
2 teaspoons smoked paprika
Freshly ground black pepper, sea salt
Soak the beans overnight in plenty of cold water.
In the morning, drain and rinse the beans, and place them in the slow cooker. Add the onions, garlic, cloves and bay leaves. Measure the tomato pureé, maple syrup, molasses, mustard powder, cinnamon and paprika into a measuring jug, add 250mls of water and whisk well. Tip over the beans, add another litre of water to the pot (that's 1.250mls in total), pop on the lid and cook for 8 hours on low, or 4 hours on high, until the beans are tender.
If there's too much liquid – beans can vary, depending on their age – cook for the last hour on high with the lid off. Season to taste and serve with some crusty bread or corn muffins for mopping purposes. Also good with sausages, hot buttered toast, brown rice, lemony braised broccoli, poached eggs and, for one of our favourite meals, baked potatoes and salads.