Read: Irish Examiner | Not-so fictional fairytale feasts – Part 1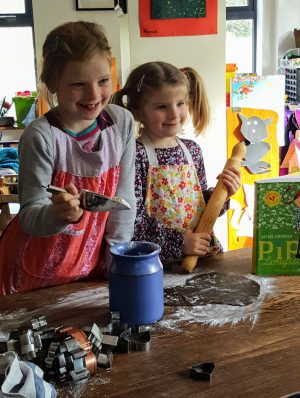 This was first published in the Irish Examiner on 30 November 2016 but – again! – I got carried away and there wasn't quite enough space for all the text. Part 2 includes The Little House in the Big Woods and Northern Lights.
It may be cold and damp and dreary outside, but indoors we can be in a different, more cosy world. Step one: cuddle up with your kids on the couch – roaring fire essential – and delve into some classic children's books together. Step two: feed small people's imaginations as well as their tummies and teach them valuable (and tasty!) life skills by cooking dishes inspired by the reading.
At our cottage, this is the kind of project that can keep Hannah, who is seven, and five-year-old Maya busy for hours. They love going through their own favourites to come up with recipes and are much entertained by the idea of bringing storybook food into the real world. When you do start looking, food is enormously important in books for small people of every age, from the catalogue of random items eaten in The Very Hungry Caterpillar to Harriet the Spy's tomato sandwiches and Aunt Fanny's black treacle ginger cake in Five on a Treasure Island. One of the pure joys of doing this is the chance to revisit your own favourites. I must confess; I've a box of childhood treasures that I've hauled for around for years for just such eventualities. Laura Ingalls Wilder, Arthur Ransome and Enid Blyton figure strongly, as does Elinor M Brent-Dwyer, Susan Coolidge and Philip Pullman.
While some of the foods are better remaining on the page – the liniment layer cake from Anne of Green Gables, for example, or Pollyanna's calf's foot jelly – dishes like Heidi's raclette-style cheese feast with her grandfather, molasses pies in What Katy Did or the treacle tart beloved by Harry Potter can also be starting points for a wander through other countries' food traditions and flavours.
But food and books are about more than keeping the kids occupied for a damp half term afternoon. It's a way of making memories, of making simple things extraordinary by doing them together. So ignore the mess or the fact that what you're cooking didn't come out quite the way you had hoped. In the end, it's not even so much the making and the baking that's important, but the people that you do it with.
And, with any luck, you'll also have something good for dinner.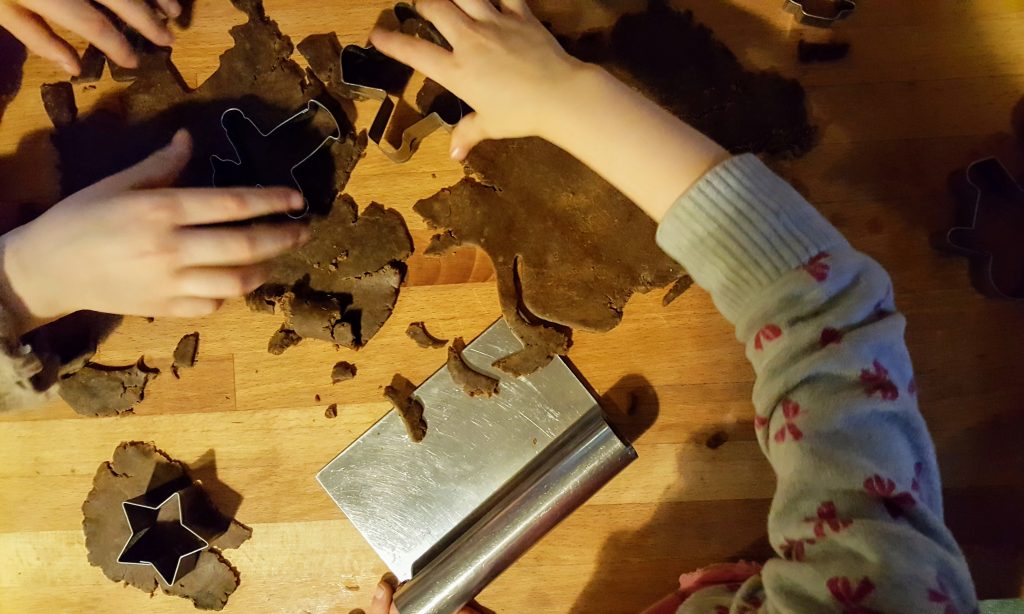 Pippi Longstocking by Astrid Lindgren
"That morning Pippi was busy making pepparkakor – a kind of Swedish cookie. She had made an enormous amount of dough and rolled it out on the kitchen floor.
"Because," said Pippi to her little monkey, "what earthly use is a baking board when one plans to make at least five hundred cookies?"
And there she lay on the floor, cutting out cookie hearts for dear life."
Who wouldn't want to play with Pippilotta Delicatessa Windowshade Mackrelmind Ephraim's Daughter Longstocking, aka Pippi? The strongest girl in the world, this freckled nine-year-old lives in the Villa Villekulla on her own, has her own pet monkey and horse and is best friends with neighbours Tommy and Annika. Despite not bothering with school, Pippi has plenty of common sense; she might do things that adults find strange but to a child's eyes there's nothing particularly odd about rolling out dough on the floor. Swedish author Astrid Lindgren's heroine shocks the grown ups and stretches the truth occasionally but she is loyal, lovable and comes with an enormous hunger for life and for esoteric meals of "little red-gold pears," flying buns for a coffee party in an oak tree, and lots of cake: "…she merrily clunked cakes in her coffee cup and stuffed so many in her mouth at once that she couldn't have uttered a word no matter how hard she tried."
Pepparkakor (Swedish Ginger Snaps)
These thin, spicy cookies are traditional Christmas fare in Sweden. Pippi makes hearts but there's nothing to stop you from cutting out gingerbread men, stars, letters or even – if you roll the dough a little thicker – your very own gingerbread house. Thais is a very forgiving mixture and will put up with a lot of child-mauling before you get it into the oven. Makes about 35 cookies.
125g black treacle
100g butter
100g caster sugar
50ml milk
2 teaspoons ground ginger
1 teaspoon ground cinnamon
¼ teaspoon ground cloves
Zest of 1 small orange
250g plain flour
½ teaspoon bread soda
Preheat the oven to 180C.
Put treacle, butter, sugar, milk, spices and orange zest into a medium sized saucepan and heat over a low temperature, stirring regularly, until everything is melted. Bring to a simmer and then remove from the heat.
Sift the flour and bread soda together then tip into the saucepan. Mix well then shape into a ball, wrap in clingfilm and chill for at least an hour.
Sprinkle some flour on your work surface (using the floor is optional) and roll out the dough to about 3mm thick. Using cutters, stamp out hearts, gingerbread men or whatever shapes you desire. Place on baking sheets and cook for 8-10 minutes until lightly browned. Cool on a wire rack.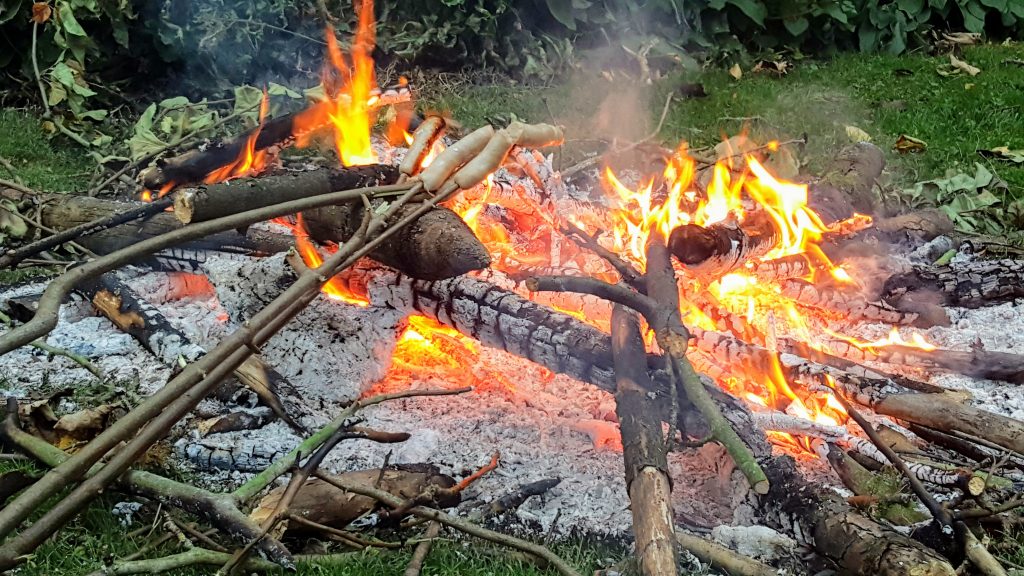 The Secret Garden, Frances Hodgson Burnett
"…there was a deep little hollow where you could build a sort of tiny oven with stones and roast potatoes and eggs in it. Roasted eggs were a previously unknown luxury and very hot potatoes with salt and fresh butter in them were fit for a woodland king – besides being deliciously satisfying."
Things cooked outdoors always taste better. Smallies who would normally turn their noses up at things like eggs in a shell and baked potatoes suddenly discover – as the sickly Mary and her invalid cousin Colin do in The Secret Garden – ravenous, outdoor air appetites that enable them to do justice to such simple feasts.
Take advantage any decent weather to build your very own campfire and compose a cook out, something that is documented in books from Camping with Maisy, The Molly Brett Picture Book and any of Enid Blyton's Famous Five series. To accompany your roasted eggs and potatoes, try sausages (parboiled, speared on greenwood sticks), a small saucepan of home baked beans to heat in the embers and serve the lot up on colourful enamel plates and bowls.
Toasted marshmallows, served S'more-style, squashed between two digestive biscuits, are entirely optional. Unless you make the mistake of mentioning it to the kids earlier…
Roasted eggs and potatoes
1-2 eggs per person (to allow for accidents)
1-2 medium baking potatoes per person (to allow for losing them in the embers)
Serve with salt, fresh butter and fresh milk
Build a proper campfire in the back garden. Let it burn down to glowing embers.
Using a needle, puncture a small hole at either end of the eggs. Hold them under a tap to dampen the outside. Place in the embers and cook for an hour, turning half way through. Scrub potatoes clean. Bury in a pile of hot ashes and roast for an hour or until cooked through.
Run around, gather firewood, climb trees and plant seeds while waiting. Eat with salt, butter, mugs of fresh milk and an acute appetite.