Holiday eating with kids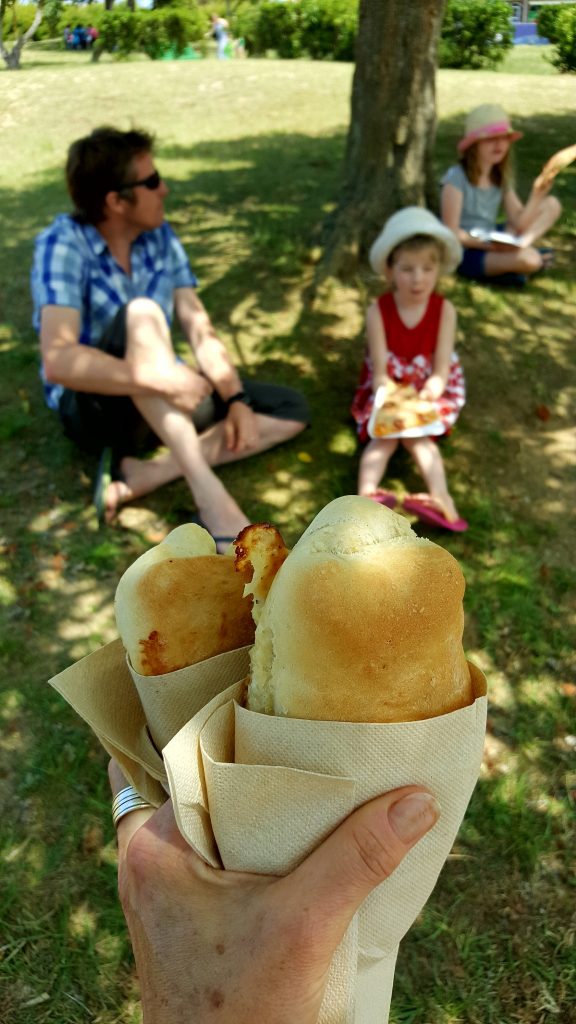 Long, lazy lunches, enormous post-beach ice creams that threatened to melt down our arms, strolling down to the local bakery to get chocolate croissants for breakfast, popping out for café con leche and freshly squeezed OJ in the afternoon: holidays are all about food.
This year we planned an epic adventure in Spain and Portugal. We started with a week on the fabulous beaches of Noja in the Cantabria region of Northern Spain, travelled to San Sebastian for two nights at an AirBnB, took the overnight train from there to Lisbon, another two nights AirBnB-ing in that city and then the most of another week down south, just outside the Algarve resort of Albufeira.
There was a lot of travelling. There was a lot of eating. It's the kind of trip that, pre-kids, would have me writing lists of local restaurants and specialities and beers and beverages to try. Now, even though I'm eight years into this parenting lark, it's still a surprise how much negotiating is involved before everyone can enjoy a meal out. And sometimes, especially if expectations are too high, it just doesn't work.
Things we learned about holiday eating with kids (currently aged eight and five).
Eat out during the day, stay in at night. Just as well I packed my self catering essentials! And, yes, there was oodles of lentil salad.
A colouring book – especially if there's a new set of holiday markers – is essential for relaxed restaurant mealtimes. Phones are not for kids, no matter what they might think.
Sometimes there's no winning with unfamiliar food. Be content if they just eat bread.
For the girls, every morning had to start with porridge – made with milk, it filled them up and then there were no worries about what they wouldn't eat for the rest of the day.
A few squares of dark chocolate at the end of a long journey – just before getting off the plane and wrestling with the car hire desk, for instance, or pre-disembarking an overnight train in Lisbon at 7am the morning (with no porridge eaten!) – can be worth its weight in gold.
Almost anything will be tried – at least once – if ice cream is in sight for the end of the meal.
A perfect meal? Go à la carte in the Algarve. One child's idea of perfection will be cockles – the result of a foraging episode in New Zealand a few years ago – while the other happily (for once!) chows down on straightforward fish fingers. Parents were delighted with the Rodízio de Peixe, an all you can eat offering of spanking fresh grilled fish. (A Grelha Do Ti-Manel, near Albufeira.)
Food always tastes better for kids if it's the size of their head. Or larger. (Ice cream at Regma in Noja, pizza from the Noja market, croissants at Croissant Gigantes in Lisbon)
An even more perfect meal? Offer to feed and mind your friends' kids – you already have two, another four is grand – while they go out for the night. The following day take their kind offer to mind yours and promptly head straight to the Michelin-recommended Sambal for lunch. We only wanted main courses and desert but these were preceded by three intriguing amuse bouches (the tiny bowl of potato / truffle / apricot was stellar), crisped slices of the local corn and sunflower seed bread and fabulous butter. Everything tasted so much better knowing that we didn't have to distract any smallies!
Sometimes, it's time to take a deep breath and just chill. Beer / wine / white port helps. Not all at the same time, however.