Hearsay 2017. An Audible Tasting.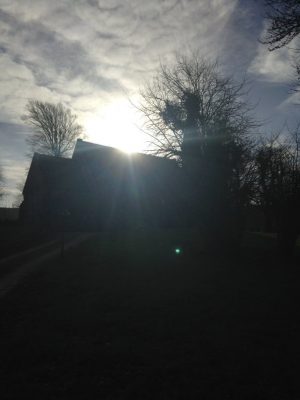 Staker, Staker, you can't catch me,
Staker, Staker, you can't catch me,
Staker, Staker, you can't catch me…
Staker Wallace was the bogeyman of Kilfinane. Hanged, drawn and quartered in the revolutionary year of 1798, his head stuck on a stake (he started life as Patrick, after it ended he became Staker for obvious reasons) at the market house in the centre of town, he was – according to local lore – buried in a corner of the local protestant church. If you walked backwards around that church, three times, repeating the lines above, taunting him, his ghost would try to grab you.
We never tried.
We weren't that brave.
Or foolish.
Now the church is a venue, the central space for the Hearsay International Audio Festival, and if you walk around it backwards this weekend you're liable to bump into – not Staker – but an headphone, mic-wielding audiophile. Or me, flying around and getting organised. Because this is what we're up to on Saturday night:
An Audible Tasting
Eric Nuzum (USA) Audible's Vice President of Original Content Development with colleagues Collin Campbell, Olivia Natt, Lina Misitzis & Jesse Baker.
Caroline Hennessy (Ire) Broadcaster and author of "Sláinte – The Complete Guide to Irish Craft Beer and Cider"
There are some things that could only happen at HearSay – An Audible Tasting offering treats for the mouth and ears is definitely one of them.
HearSay Invitees are asked to a guided tasting unlike any other, as a selection of carefully crafted audio pieces from Audible is paired with stunning locally brewed craft beers. The rich, subtle nature of both will be filtered through creative insights from passionate audio producers Collin Campbell, Lina Misitzis, Jesse Baker & Olivia Natt and the in-depth knowledge of one of Ireland's finest food writers.
[HearSay Invitees Only – not suitable for those under 18 years]
When: Sat 30th Sept 8.30pm
Venue: Old Church
***
And that's just one of 80 events taking place in the Limerick village across three days, from Friday 29 September to Sunday 1 October. This year's programme is divided into six strands – Think, Deepen, Encounter, Converse, Experience, Celebrate – with everything from the return of bindfolds for Hearsay founder Diarmuid McIntyre's In Darkness, (De)light, Lucy Dearlove's Potluck audio, radio naptimes with Kaitlin Prest, the Hearsay Audio Toilet and much, much more.
Check out the entire programme on the Hearsay website and, for some tasters, check out my posts from 2015 and 2014.
No ghosts.
Promise.
HearSay 2015. The Blind Experiment.
HearSay 2015. Memories.
Telling stories at HearSay 2014