Bronze for Bibliocook! Blog Awards Ireland 2017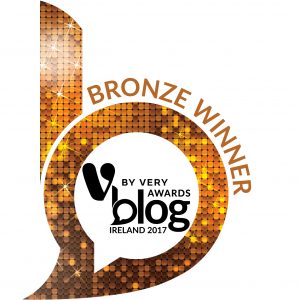 I was chuffed to learn late on Thursday night – thanks to Evin O'K (the well deserved winner of the best Arts and Crafts blog) – that Bibliocook had been awarded Bronze at the 2017 V by Very Blog Awards Ireland in the Food Review category.
Big congratulations to Carol of Gin & Griddle who won that category – great blog for finding out what's going on in food (and gin!) in Dublin – and Tanya, winner of the Best Food & Drink Blog for The Tiny Vegan Kitchen, where she blogs about her transition to a vegan diet.
Also a big round of applause for GastroGays, who not only won the Best Travel Blog award but also walked away with the 2017 award for Best Blog of the Year. I've enjoyed seeing what Patrick and Russell get up to on their food, travel and Eurovision blog since 2013 – the sky's the limit now, lads!
Best Food Review Blog
Personal​ ​&​ ​Commercial​ ​Combined
Winner: Gin & Griddle
Silver: Where Is My Teaspoon?
Bronze: Bibliocook: All About Food
Best Food & Drink Blog
Personal
Winner: The Tiny Vegan Kitchen
Silver: Procrastibake
Bronze: One Man's Meat
Commercial
Winner: Recipe Guru
Silver: Baby Led Feeding
Bronze: Lidl Recipes – More For You
You'll find the full list of 2017 Blog Awards Ireland winners here – it's a line up well worth exploring, as these were whittled down, over three rounds of judging, from over 5,000 blog nominations.