Chocolate bread and butter pudding for Halloween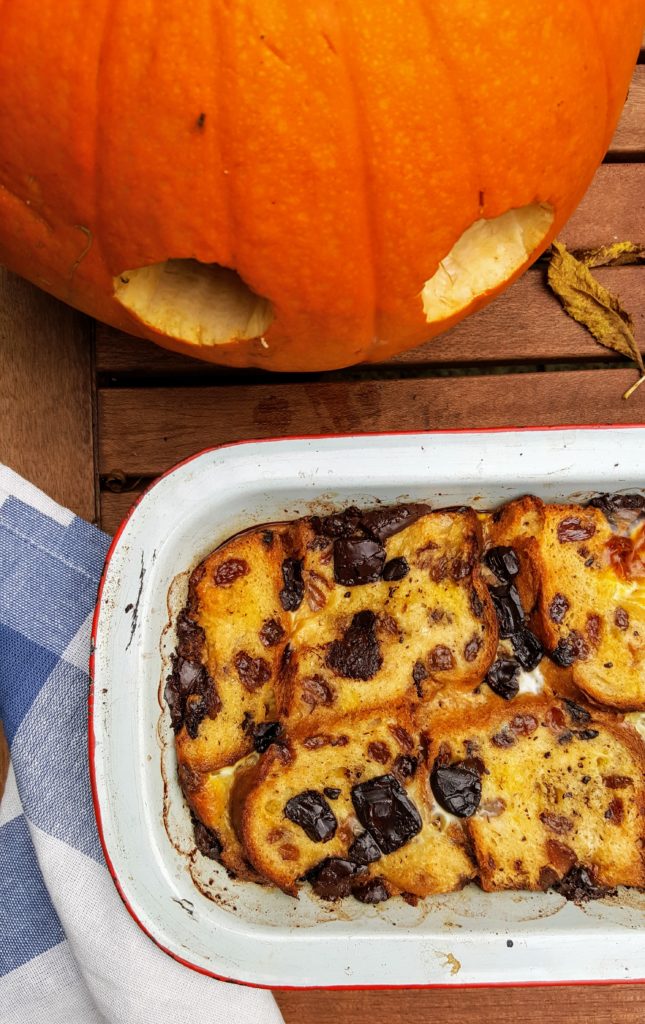 It's a truth universally acknowledged at this time of the year that children will
a) demand that you buy barm brack
and
b) poke through it to find the ring, then leave it, eviscerated and abandoned, on the bread board.
Barm brack, or báirín breac, is a traditional sweet Halloween bread, gently spiced and speckled with dried fruit. Nowadays, they only contain a ring – an indication that the finder will be the first married – but they used to have sticks and peas and cloth and coins baked into them, each token meaning something – not necessarily good! – for the recipient.  The stick meant that your husband would beat you, the pea that you wouldn't marry at all and the cloth was for poverty. The only bit of good news was the coin, meaning that you'd never want for money.
My mother used to bake coins into tea bracks so everyone was a winner, lovely 20p pieces wrapped in tin foil that set your teeth on edge as you tried to chew the bits of cake off.
I've  tried that with our own smallies but, no matter how many times I try to fob them off with homemade brack – the kind that we'll actually eat – the shop-bought báirín breac has a kind of a glamour that seems irresistible.
Sadly, the sweetened, sultana-speckled bread itself seems to be all too resistible, although I'll admit that it does have its moments when toasted and thickly spread with melting butter. Or, turn it into an extra special chocolate bread and butter pudding that's so good that I might have to start buying a few more bracks for the girls.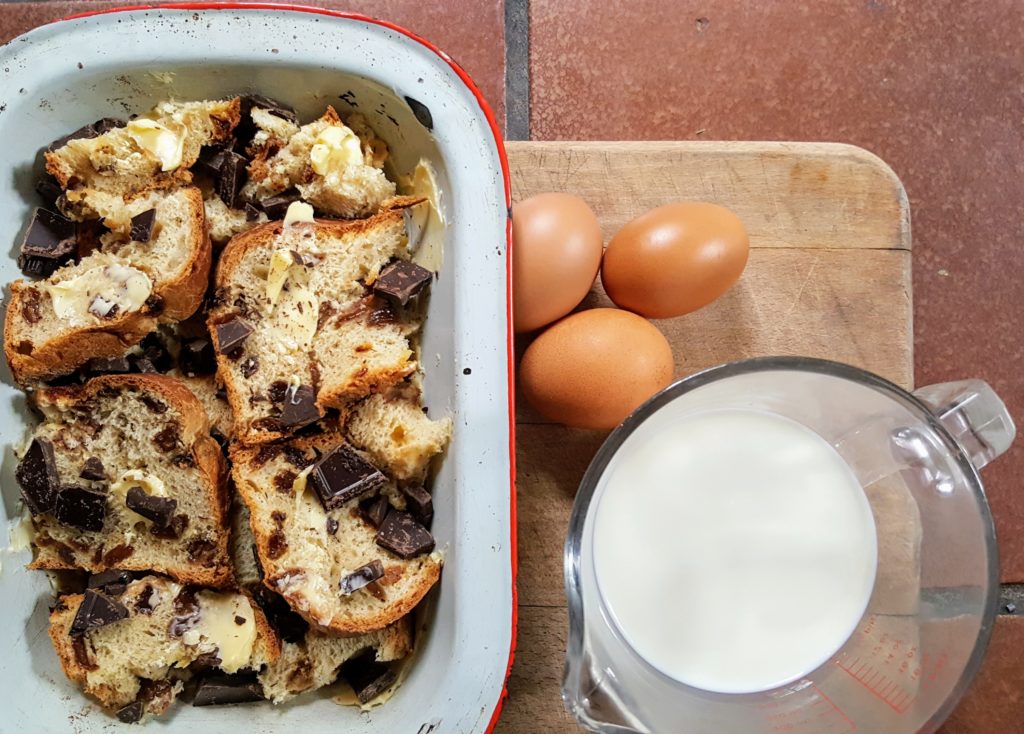 Chocolate bread and butter pudding
Bread and butter puddings are always best made with stale bread – this may not be problem with pulled apart barm brack! If you have no cream in the house, you can just use milk instead. Serves 4.
400g barm brack, sliced
50g butter, plus extra butter for the baking dish
75g dark chocolate, roughly chopped
3 eggs
200ml milk
150ml cream
50g caster sugar
Nutmeg, to grate
Butter the inside of a 1 litre baking dish and use the rest to butter the slices of barm brack. Arrange them in overlapping rows in the dish, scattering the pieces of dark chocolate between the layers. Dot any extra butter on top.
Beat the eggs with the milk, cream and caster sugar. Pour over the barm brack and leave to soak for at least 20 minutes.
Preheat the oven to 180C. Grate some nutmeg on the top. Bake for 30-40 minutes or until it is golden brown and the custard is set. Let it stand for at least 10 minutes before serving.