Cookbooks for Christmas 2017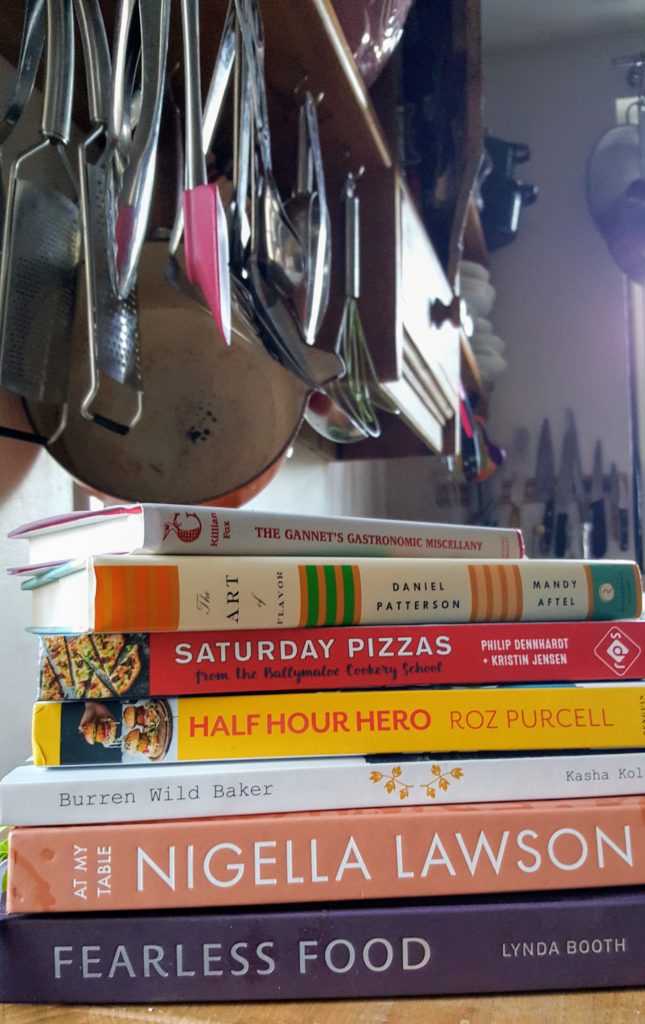 I never can resist a new cookbook. I love the thrill of cracking the spine so that I can lay it out on the table to read over breakfast. I can let the morning madness swirl around me – for five minutes, at least – while I sip my coffee and leaf through the smooth, pristine pages, marking them with toast crumbs and post-its so that I don't lose the recipes that I have to try.
I'm hard on my cookbooks, but only the best ones.
The ones that I love don't stay clean for long. They have a life on the worktop, or by the cooker, or balanced precariously on top of a mixing bowl beside the sink. The others? They sit on the shelf, unmarked and unloved and, perhaps, sometimes referred to but never properly, totally used.
Here's my pick of this year's cookbooks:
The book that will make you a more confident cook
Fearless Food by Lynda Booth (DCS Publishing)
The doyenne of the Dublin Cookery School, this is Lynda's second cookbook and gives a flavour of her sure teaching  style. Her bread game is strong and she has lots of recipes for punchy flavour boosters – what she calls "elevators" – that will bring a swoosh of style to any meal. Clear recipe writing, great emphasis on technique and lots of intriguing dishes that will get you into the kitchen.
The book that turns normal pizza into an art form
Saturday Pizzas by Philip Dennhardt and Kristin Jensen (Ryland, Peters & Small)
Kristin Jensen, the best cookbook editor in Ireland, is also my friend and was my co-author on Sláinte: The Complete Guide to Irish Craft Beer and Cider. When Kristin gets excited about a book, as she did with Saturday Pizzas, you know it's worth checking out. It's full of tips and ideas for getting the best from homemade pizza – make slow-fermented 48-hour pizza dough, stretch it by hand so that you don't lose the air bubbles, prepping sauces in advance. Now all I need to do is to figure out how to get the wood-fired oven working.
The book that will inspire gardener-cooks
Grow, Cook, Nourish by Darina Allen (Kyle Books)
A weighty tome, with lots of ideas for gardeners and cooks alike. It's a brilliant book for wintertime fireside reading, making lists for 2018 while dreaming of next year's growing and cooking and eating. Full review here.
The book that is (almost accidentally) gluten free
Burren Wild Baker by Kasha Kola
If you have a coeliac in the family who loves baking (look away now, Mum!) this is the book for them. It's even better if you go direct to the Hazel Mountain Chocolate factory, where Kasha is head chocolatier, to buy the book as you get to see, smell and taste their sublime bean-to-bar chocolate while it is being made. Make sure you also schedule in time for a stop off at the cafe for hot chocolate and a test run at the cake counter. Just so you know what recipes to try out of the book, y'know. Lots of naturally gluten free flours and compelling flavour combinations.
The food-related book that had me lost down a rabbit hole
The Gannet's Gastronomic Miscellany by Killian Fox (Mitchell Beazley)
Flick through the pages of this book – from spice mixes of the world to pets-de-nonne French pastries – and you'll quickly disappear down the rabbit hole. Like Alice you can take many different turns, at each of them finding another useless invaluable fact that will have you acing it at the next food-related table quiz. Full review here: guides.ie
The book that I bought because of a podcast
The Art of Flavor by Daniel Patterson and Mandy Aftel (Riverhead Books)
While chopping veg for dinner, or cutting up vast slabs of brownies, or doing the washing up (no dishwasher), I listen to podcasts. Radio Cherry Bombe is a favourite – the girls especially like the music, I like presenter Kerry Diamond – and I got hooked by an interview with San Francisco Michelin-starred chef Daniel Patterson and perfumer Mandy Aftel. They talked about how flavour combinations work, rules to make them work best together and how to get the best out of each ingredient. By the end of the feature I was on Amazon.  
The book that I had to have before Christmas
At My Table by Nigella Lawson (Chatto & Windus)
As a long-term, fully fledged Nigella fan, for her gloriously greedy writing as much as the brilliant recipes, I had this on pre-order from the moment I learned it was due out. While I don't agree with the chapter-less lay out – the index is just one long list of recipes – and find it irritating that the make ahead / store recommendations are all at the end of the book, it's still found a firm place in my kitchen. The simple, throw-it-all-in-a-food-processor gluten free pear, pistachio and rose cake is worth the price of the book alone.
The book that has many unexpectedly good recipes
Half Hour Hero by Roz Purcell
Clean eating may have been just-a-flash-in-the-pan fad, but there's no reason why healthy eating shouldn't be here to stay. Not so many unrealistic ingredient expectations here – although I'll be skipping the protein powder – but I'll happily take the hake and bean bake, quick savoury granola and the gluten free cookie dough. It's just that they'll sit in my cooking rotation alongside dishes involving bread and pasta and sugar.
The book that I want to buy for friends who have lost their cooking mojo
5 Ingredients – Quick & Easy Food by Jamie Oliver (Michael Joseph)
I love the kitchen; I love cooking. For me, it's a place of comfort and joy but I know that's not how it works for everybody. Jamie Oliver's sassy new cookbook has the kind of concise, full-flavoured throw-it-all-together recipes that will gently encourage people into the kitchen and, hopefully, make them remember what a delicious place it can be.
The book that I should love but am not quite sure about
Sweet by Yotam Ottolenghi and Helen Goh (Edbury Press)
This is my second Ottolenghi book – I also own Jerusalem  – but I find his books to be more admired than used. Lovely pictures and great ideas but I still haven't managed to find a recipe to fall in love with.

Disclosure: I received review copies of Fearless Food, The Gannet's Gastronomic Miscellany and Grow, Cook, Nourish. The Amazon links in this post are affiliate links. What does that mean? Well, if you click on the link and buy the book, I get a small commission – which I'll probably spend a hundred times over on new cookbooks.