Buttermilk Pancakes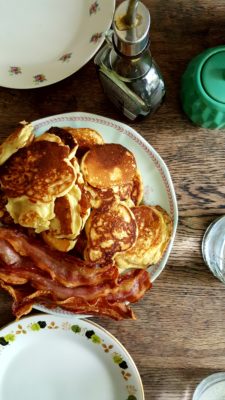 Pancake Tuesday is almost upon us and my pair of smallies have decided that they're having pancakes for breakfast, in their lunchboxes, for afternoon, after-school snacks and dinner.
That's their plan.
So far.
I'm on board, particularly if it involves making these puffy little buttermilk pancakes. These are cooked by the girls so it's always good to make them small – makes it easier for turning – and the sour tang of the buttermilk ensures that they're perfect match for crispy bacon and Highbank apple syrup or maple syrup.
They're so popular at our cottage that Little Missy has a friend who comes to visit on Friday afternoons, specifically so that she can make these pancakes. That's three small girls at the cooker, dripping and flipping and burning their fingers (doesn't stop them though) and sitting down contentedly, after all their cooking, to devour a stack each.
Pancakes. Not just for Tuesdays.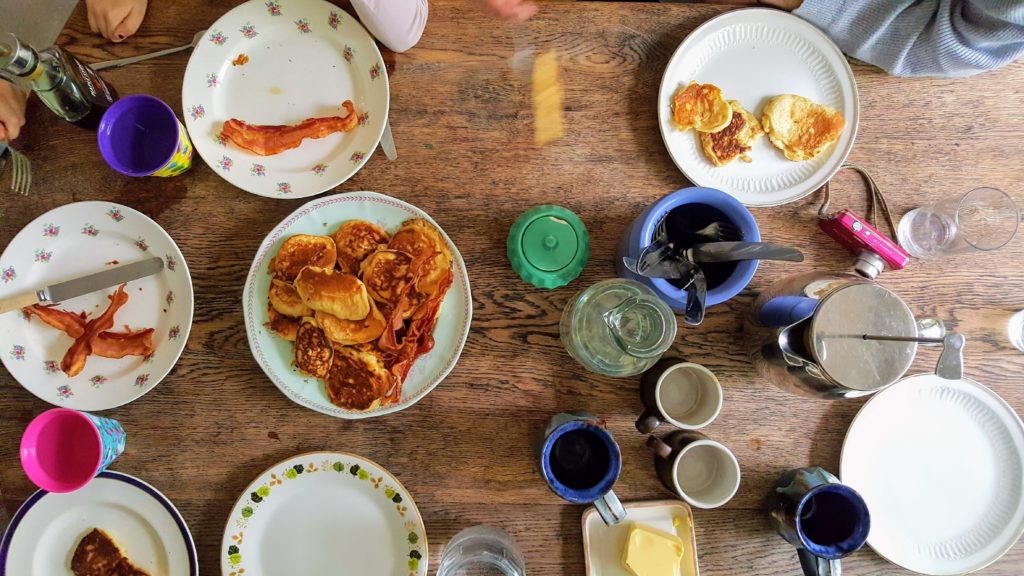 Buttermilk Pancakes
If you don't have buttermilk in the house, don't despair! Just mix 125ml natural yoghurt with 125ml milk and use instead. Alternatively, whisk a teaspoon of lemon juice or vinegar into 250ml milk, leave in a warm place for 20 minutes, and use the now soured milk in the recipe. Makes enough for 2 adults or 4 small people. Double up as necessary.
150g plain flour
1 teaspoon baking powder
1/2 teaspoon bicarbonate of soda
A pinch of salt
250ml buttermilk
1 egg
1/2 teaspoon vanilla extract
1 tablespoon butter, melted
A little oil or butter for frying
Start heating a heavy based frying pan over a medium heat.
Whisk the flour, bicarbonate of soda and salt in a large bowl. Mix the buttermilk, egg and vanilla together in a jug. Whisk the liquid ingredients slowly into the dry ingredients until thoroughly combined, then stir in the melted butter.
Add a little oil or butter to your frying pan. When hot, pour in the batter. I use a soup ladle and cook about three pancakes at a time. Cook for 2-4 minutes, until lightly brown underneath, then turn and fry the other side. Keep warm while cooking the rest of the batter then serve, with crispy bacon and a drizzle of Highbank apple syrup or maple syrup.
More pancakes
2013: Audioboo: How to make Buttermilk Pancakes
2012: Pancakes aplenty: Buttermilk Pancakes
2011: Sunday morning pikelets
2010: Buckwheat Pancake Cake with Leeks and Mushrooms
2009: Time for Pancakes – and Irish Pancake recipe
2007: Ricotta and Spinach Pancake Bake
2007: Pancake Tuesday recipe round up