Salad days: Beetroot and Carrot Salad with Ginger Miso Dressing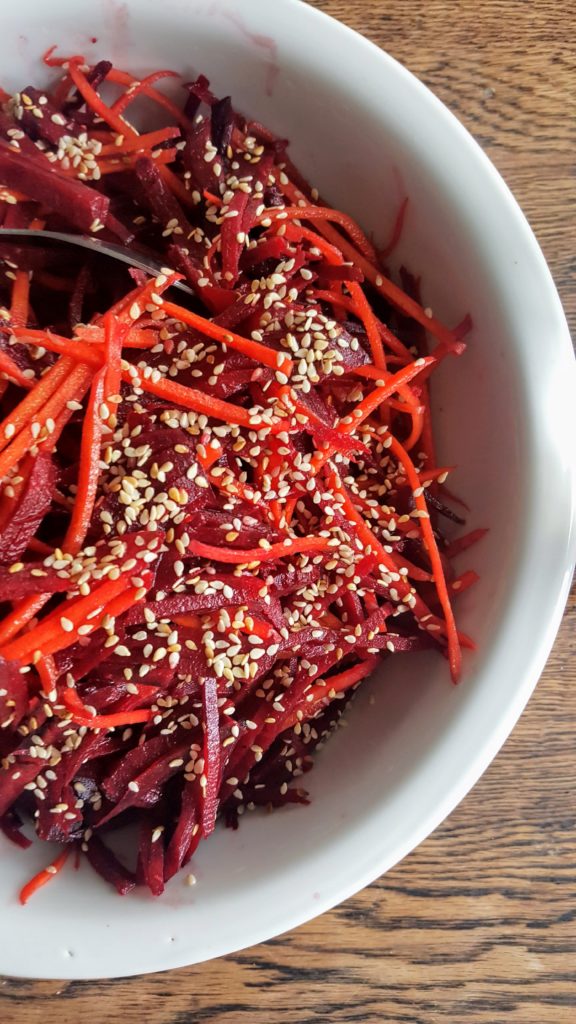 Spring.
Really?  Honestly?
The calendar may say that we're getting closer to summer (summer! Ha.) but the temperature outside and the woolly jumpers, winter coats and merino layers that I'm wearing just don't add up to a Spring-like feeling.
Despite the weather – or maybe because of it – I need bowls full of fresh salads: crunchy shredded cabbage and nuts in an Apple 'Slaw or Red Cabbage Salad; zesty citrus to squeeze over Lemon Barley and Clementine Salad or Roast Vegetable with Blood Orange and Bulgur; pulses and veg that get a blast of heat and spice in the oven before they get assembled into platters of Spiced Squash and Couscous Salad or Spice Roasted Chickpeas with Blood Orange, Buckwheat and Feta .
If I can't find warmth outside, I'll bring sunshine and heat onto my kitchen table.
It's been a long, long cold spring: we all need bolstering
Beetroot and Carrot Salad with Ginger Miso Dressing
The dressing makes more than you will need for this salad but it's difficult to blend a lesser amount. It keeps well in the fridge for the next salad and it's also fantastic drizzled over roasted vegetables, steamed greens or grilled fish. Serves 6-8, as a side salad.
4 beetroot, about 500g, washed and peeled
2 carrots, about 250g, washed and peeled
30g fresh ginger, peeled
1 tablespoon miso
1 tablespoon sesame oil
30ml olive oil
60ml cider vinegar
30g sesame seeds, toasted
Sea salt (optional)
Using a julienne peeler – or your fabulous knife skills – cut the beetroot and carrots into thin strips and place in a large bowl. While I don't use the food processor here as it tends to grate the veg into mush, I do recommend that you use gloves or else you'll be sporting Lady Macbeth-style fingers for quite a while.
Roughly chop the ginger and put it into a deep bowl with the miso, sesame oil, olive oil and cider vinegar. Using a handheld blender, whizz until all is combined. Taste and, if necessary, add salt. Miso can be very salty so you may not need it.
Toss the vegetables with half the salad dressing. The remainder of the dressing keeps well in a jar in the fridge for your next batch of salad.
To serve, pile the salad into a shallow bowl and sprinkle with toasted sesame seeds. Good with baked potatoes, sour cream and flaked smoked mackerel, homebaked beans or roast chicken with garlic and lemon. I've also been known to eat a bowl of this with some brown rice, fried egg and sriracha yoghurt on top.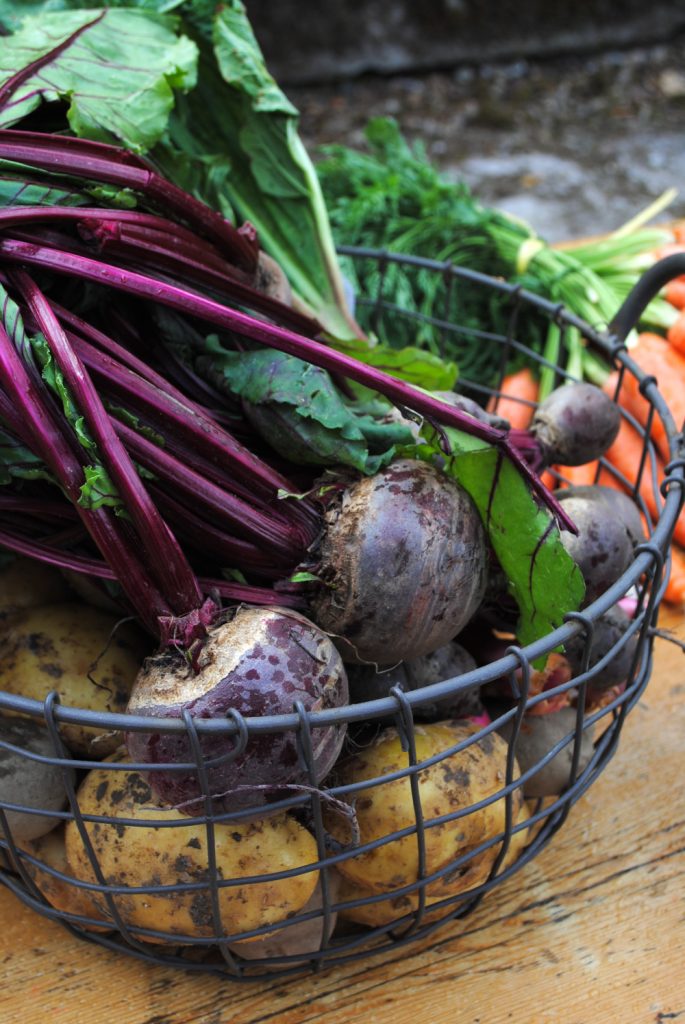 MORE SALAD
Pulses
A Simple Lentil Salad
Puy Lentil Salad with Balsamic Dressing
Roasted Squash and Puy Lentil Salad
Spice roasted chickpeas, blood orange + buckwheat and feta salad
Warm Chickpea Salad with Parmesan

Crunchy 'Slaws
Red Cabbage Salad with Cranberries, Pecans and Maple
Crunchy Apple 'Slaw
Winter 'Slaw with Cabbage, Cranberries and Pecans
Grains and pasta
Barley, Asparagus and Smoked Goatsbridge Trout Salad
Bulgur and Cauliflower Salad with Pomegranate Molasses Dressing
Lemon barley, roast broccoli, beetroot and clementine salad
Old Millbank Smokehouse Smoked Trout and Lemon Pasta Salad
Roast Vegetable, Blood Orange, Pomegranate, Bulgur Salad
Spiced Squash and Couscous Salad
Cold day salads
Warm Potato and Chorizo Salad with Poached Eggs
Dressings
Salad dressings & homemade whole egg mayonnaise
Warm weather salads
Broccoli, Tomato and Avocado Salad
Jack McCarthy's Air-Dried Beef and Parmesan Salad
Strawberry halloumi salad