Gingerbread House 2018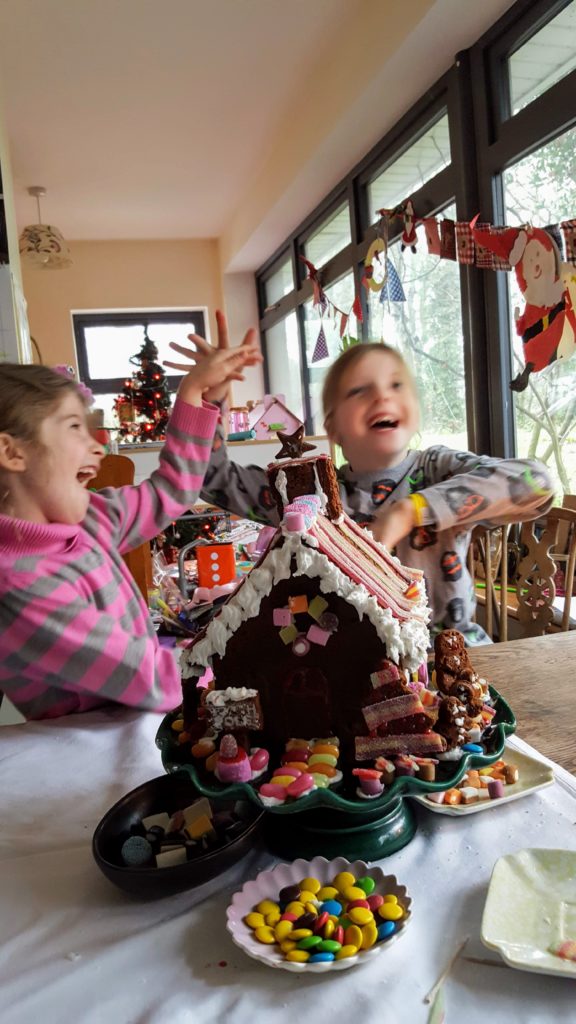 It takes a family to build a gingerbread house.
The Little Sister has to arrive unexpectedly from New Zealand to surprise a pair of small girls, sticking around to help them push the gingerbread dough into moulds and bake the constituent parts.
She has to return to the cottage a few days later to make the royal icing – aka cement – that sticks the walls together, holds roof and chimney on top and, this year, forms multitudes of icicles that ensured the three people working on the gingerbread house were nicely sticky and sugar-rushed before that night's carol service.
It takes Small Brother, home from Canada via Australia / New Zealand / Singapore (he took the long, long way back), to appear at the cottage on the day school finished up – another surprise for Little Missy and the Small Girl – in order to give his very considered opinion on how the structure is coming together. He's always the biggest customer for the finished product so the girls take his input very seriously.
It takes getting up early on Christmas Eve Eve to finish the decorating. This involves getting many bags of sweets and using the royal icing to cement them into place or out of place or, in some cases, onto small girls' hands.
Finished, with a day spare.
It's not perfect but, for us, it's the best one that we've ever made. And it's not about being perfect. The most memorable things about Christmas are the things that just don't work out quite right.
#GingerbreadHouse2018 might just be the most perfectly imperfect Christmas gingerbread house ever. Built by family. For family.
Happy Christmas!
***
'We were driving around with a turkey in the back seat': The year a storm nearly ruined Christmas dinner…but not quite
Read about a Christmas when a turkey nearly went flying in an interview I did with thejournal.ie