Best cake sale recipe: chocolate fudge cupcakes
With two girls attending the local primary school, requests for baking turn up at regular intervals during the year: fundraising cake sales, grandparents' day gatherings, coffee mornings for the new junior infants intakes.
While theoretically I'd like to be a bit more organised, this baking normally tends to happen in a very haphazard way the night beforehand. In between discovering missing ingredients at the last minute and juggling dinnertime with baking time,  I've learned a few things:
involve the kids – if Little Missy or the Small Girl help out, it's much easier to get them to proudly carry the tray into school.
fast and simple recipes = less stress for everyone.
don't rely on morning time before school to do anything.
when all else fails, sprinkles make everything look good.
This time round, it was the Small Girl's turn to bake. This easy, one bowl, no-creaming-necessary recipe originated some years ago from The Pioneer Woman Cooks and is the fastest thing that you can get into the oven during that gap between coming home from school and getting homework done. The Small Girl wanted to mix it up a bit, so we scrounged on the top shelf and found a few broken Oreos and some random Rolos to bake into the batter. Making it in fairy cake format – although we have to call them cupcakes at the cottage, an unexpected issue arising from Little Missy getting obsessed with Netflix' series Sugar Rush – means that they're in and out of the oven quickly and they cool faster than one sheet cake would.
That evening, just after dinner, we dug out ALL the sprinkles, and flung placed them very carefully and thoughtfully on top of this super-glossy icing, an acquisition from famed American chocolatier and baker Alice Medrich. Half went into school, a quarter went off to the brewery and those last few lonely cupcakes? They didn't last long!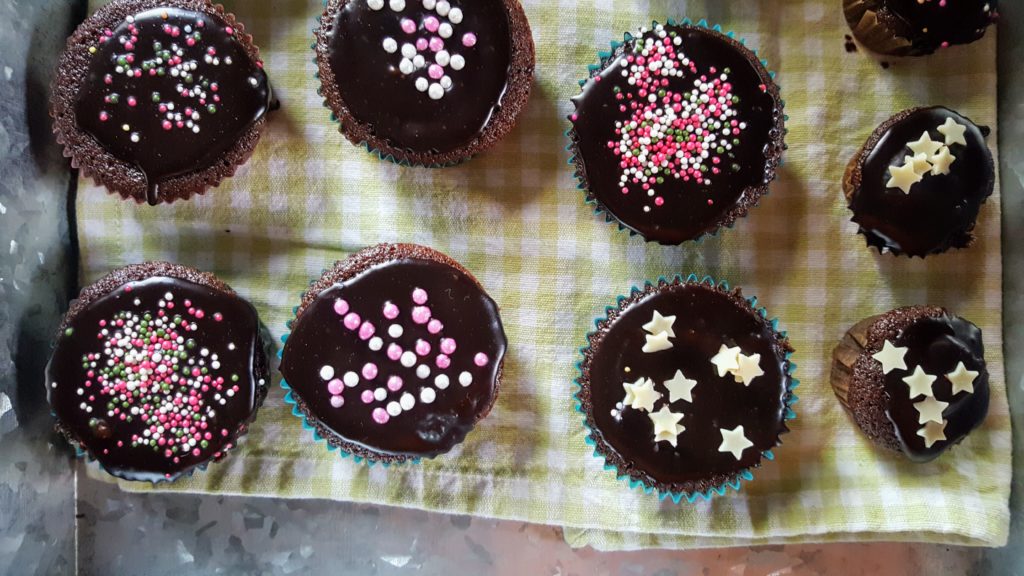 Chocolate fudge cupcakes
Cupcakes adapted from Ree Drummond at The Pioneer Woman, icing from Alice Medrich. The icing will make more than you need. Put it in a jar and store in the fridge. You'll thank me later, when you warm it up and drizzle it over ice cream, brownies, cake, the last cupcake that you stashed behind the baking bowls…
Makes 36 cupcakes.

300g plain flour
400g caster sugar
¼ teaspoon salt
125ml buttermilk (or use a mixture of natural yoghurt and milk)
2 eggs
1 teaspoon bicarbonate of soda
1 teaspoon vanilla extract
50g cocoa
250g butter
250g boiling water
OPTIONAL add ins: broken up Oreo cookies, Rolo chocolate caramel sweets
Chocolate fudge icing
75g butter
150g caster sugar
75g cocoa
175ml cream (if I don't have cream, I sub in milk. Not as luxurious but still damn good.)
¼ teaspoon salt
1 teaspoon vanilla extract
As many sprinkles as needed. (Depending on your child's viewing preferences, this may be legion.)
Preheat oven to 180°C (fanbake 160°C). Line 3 x 12 bun tins with paper cases.
Whisk the plain flour, caster sugar and salt together in a large bowl. Mix the buttermilk, eggs, bread soda and vanilla in a measuring jug.
Melt the butter in a large saucepan over a medium heat. Add the cocoa, stirring well, then pour over the boiling water, whisk and boil for 30 seconds. Remove from the heat.
Tip in the dry ingredients and stir briskly to cool. Wait a minute, then pour in the egg mixture. Stir well, then divide the batter between the bun cases.
If using the optional add ins, top the cupcakes with broken Oreo cookies or / and push a Rolo sweet into the centre of the batter.
Cook in the preheated oven for 10-12 minutes or until a skewer inserted into one of the cupcakes comes out clean.
Meanwhile, make the  chocolate fudge icing. Place the butter, sugar, cocoa and cream into a small saucepan. Melt, stirring constantly, over a medium heat until just starting to bubble. Remove from the heat, add the salt and vanilla and allow to cool until it's the right thickness to ice the cupcakes.
Spread thickly, sprinkle liberally. And don't let the kids take them all to school.
Some cake sale favourites from the last 14 (eek!) years
2017 Irish Stout Blackcurrant Cheesecake Brownies
2016 Best cocoa birthday brownies
2016 Date Scones
2014 Clementine and Cinnamon Shortbread
2012 Lemon Slices
2012 Dark Chocolate and Orange Cookies
2012 Chocolate Cheesecake Brownies
2011 Double Chocolate Porter Brownies
2010 Salted Caramel and Hazelnut Squares
2009 Lemon Poppyseed Loaf
2009 Caramel Squares
2008 Peanut Butter and Walnut Blondies
2008 Butterscotch Almond Shortbread
2007 Choc Chip Cranberry Cookies (by way of Chocolate Chippies)
2006 Oatmeal Chocolate Chip Cookies for cottage visitors
2006 Gingerbread for tea: Sticky Gingerbread
2005 A baking fest! Tan Slice
2005 Anzac Biscuits revisited