Irish Food Writers' Guild Awards 2019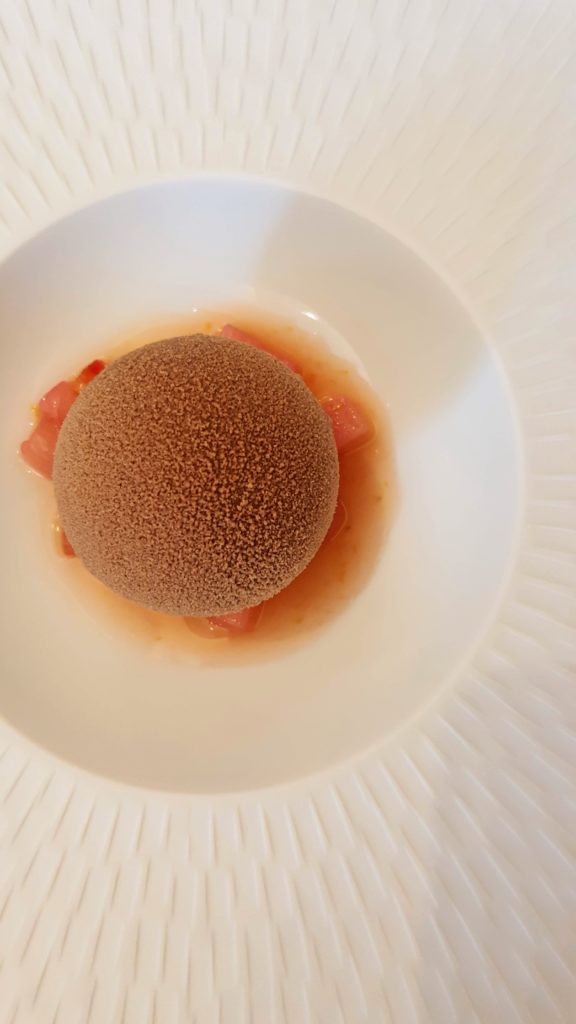 Raw milk cheese from Counties Down and Cork. A goat farm in Antrim. Organic spelt berries grown in Louth. Rare apple ice wine made from Cork apples. A Dublin-based coffee organisation. A  Cork-based charity that feeds people. A butcher who grew up in Kildare before establishing his business in Down.
These were the products, organisations and people who were celebrated today at an Irish Food Writers' Guild Award lunch in Glovers Alley restaurant, with executive chef Andy McFadden designing a menu that incorporated  ingredients from the winners.
Every year the IFWG Award winners are nominated, tasted and voted on by members of the Irish Food Writers' Guild. The Awards are unique – no one can enter their own product and there's no fee. The first thing that producers know about it is a letter from the Secretary – it's one of my favourite parts of the role! – telling them that they have been chosen as an Irish Food Writers' Guild Award winner, often shining a light on food and work by people who don't necessarily seek the spotlight.
One of the Awards that particularly struck a chord was the Community Food Awards winner, Cork Penny Dinners. One of Cork's oldest charitable organisations, it was founded during the Great Irish Famine of the 1840s. Almost 200 years later, the need is no less as they work to provide a freshly made nourishing hot meal to all those in need – about 2,000 meals per week. In an Ireland of plenty, there are still so many people in dire need.
More on the Awards, the winners plus photos and recipes of the food that Andy McFadden together and that was paired with wines from Liberty Wines on the Irish Food Writers' Guild website here:
Irish Food Writers' Guild calls for more support for indigenous Irish food producers as threat of Brexit looms
The 2019 Irish Food Writers' Guild winners
Food Award: Hegarty Cheese for Teampall Gael Cheese (Co. Cork)
While Hegarty's cheddar is a familiar cheese on many menus – and my go-to mature cheddar for cooking and eating –  this Teampall Gael is a Comté-style raw milk cheese which was developed by Dan Hegarty with French cheesemaker Jean-Baptiste Enjelvin, both of whom travelled from Whitechurch to accept the award.
www.HegartyCheese.ie
Food Award: Mike Thomson for Young Buck Cheese (Co. Down).
Every time I travel to ABV Fest in Belfast, I come home with a hunk of Young Buck for Sunday night supper. The producer of this superb raw milk blue cheese (and the man who contributes cheese to the beer and cheese tastings that I do there), Mike Thompson is also a passionate promoter of other Irish raw milk cheeses and – in an effort to Brexit-proof himself – opened Belfast's first specialist cheese shop in December 2018. Mike unfortunately couldn't make it so Kevin Powell, cheesemonger extraordinaire – and the person who sold the Young Buck that was used for judging – accepted the award on his behalf.
www.mfcheese.com
Food Award: Dunany Flour for Organic Spelt Berries (Co. Louth)
The first time that I tasted these spelt berries was in a risotto at a supper club run by Kevin Powell (above) in 2013:  I loved the fact that I could get my hands on such good quality Irish-grown organic grains, along with their plain, spelt, wholemeal and rye flours. They're well worth seeking out as they make an exceptionally toothsome risotto or salad ingredient.
www.dunanyflour.com
Irish Drink Award: Killahora Orchards for Rare Apple Ice Wine (Co. Cork)
By taking a procedure – that of processing frozen grapes to make sweet ice wine – and applying it to Irish fruit, Killahora Orchards are producing something that is unique to their terrior. With flavours of toffee apple balanced with fresh fruity acidity, this Rare Apple Ice Wine is delicious with cheese or desert. I'd recommend pairing it with some Young Buck and Teampall Gael.
www.killahoraorchards.ie
Outstanding Organisation Award: 3fe (Co. Dublin)
Not just content with producing a coffee brand which has become synonymous with good quality, Colin Harmon's 3fe now encompasses cafes, training facilities, a restaurant (Gertrude, highly recommended) and an impressive commitment to sustainability throughout the areas of waste and energy use, purchasing principles, staff welfare and community.
www.3fe.com
Environmental Award: Broughgammon Farm (Co. Antrim)
I took myself for lunch at Assassination Custard last year and one of the dishes that really blew me away was the delicate Broughgammon goat liver with yoghurt and fried curry leaves. Charlie and Becky Cole of Broughgammon have a deep commitment to the environment and ethical farming practices which shows in the delicious result.
www.broughgammon.com
Community Food Award: Cork Penny Dinners (Co. Cork)
Caitriona Twomey, the dynamo with the title of volunteer coordinator at Cork Penny Dinners, has been running the service – which dates from the 1840s – for the last 13 years. A warm and generous lady who knows a thing or two about managing people, she has 100 volunteers that work on site with her to provide food and a range of other services to people who need a hand.
www.corkpennydinners.ie
Lifetime Achievement Award: Peter Hannan (Co. Down)
The unstoppable Peter Hannan, butcher extraordinaire, is a man who strives for quality in every element of his business. This list of achievements for Hannan Meats could take up a considerable amount of space – 230 Great Taste Award stars, five Golden Forks, 15 Top 50 Foods awards and two Supreme Champion awards, Gold in the World Steak Challenge, Gold Award in every steak category at Blas na hÉireann – alongside, for Peter himself, the Derek Cooper Outstanding Achievement Award at the 2018 BBC Food and Farming Awards. His work in championing products from other quality producers is largely unsung but hugely valuable, through stocking them at his on site store in Moira and placing them in the hands of people who make buying decisions that can transform small businesses. He's also one of the best raconteurs in the business.
www.hannanmeats.com

Irish Food Writers' Guild Food Awards 2019

MENU

Broughgammon Farm Goat Shoulder, Waldorf Salad

***

Dunany Organic Spelt Risotto

***

Peter Hannan's Salt-Aged Glenarm Beef Sirloin, Salt-Baked Celeriac, Hazelnuts and Truffle

***

Killahora Orchards Rare Apple Ice Wine Granita, Sheep's Yogurt Mousse, Honey and Lime

***

3fe Coffee Crémeux, Jivara Chocolate and Citrus

***

Teampall Gael and Young Buck Cheese, Rhubarb and Apple Chutney

***

3fe Coffee or Tea
More Irish Food Writers' Guild
Irish Food Writers' Guild: Community Food Award
Celebrating Irish food: 2018 Irish Food Writers' Guild Awards
Irish Food Writers' Guild Food Awards 2016