Euro-Toques Food Awards 2019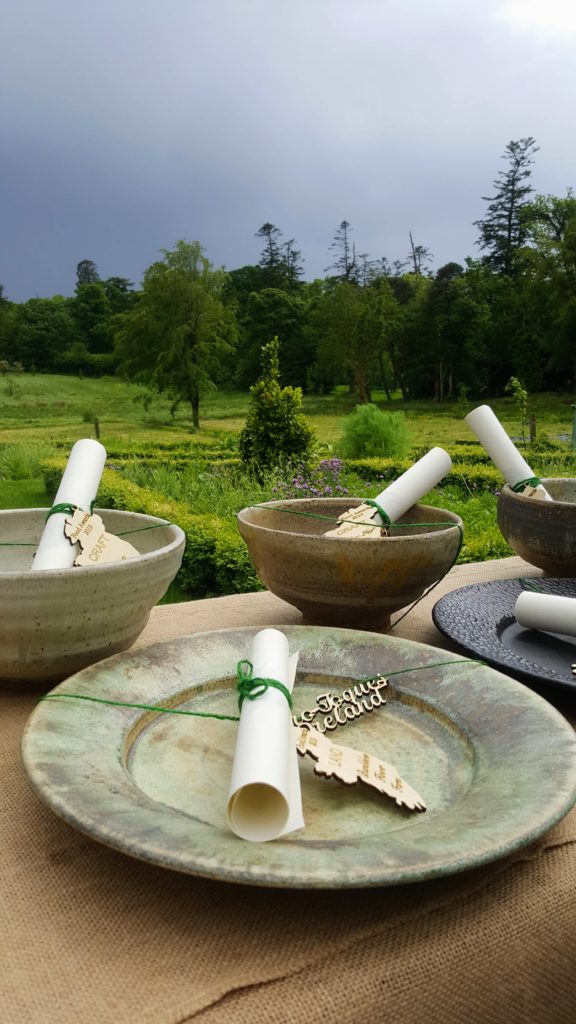 When the best chefs and producers come together, they create magic on the plate.
It is a natural synergy, a creative partnership that thrives on passion and excellence – and one that all restaurant-lovers benefit from. Euro-Toques Ireland, an independent organisation that was established by Myrtle Allen in 1986, gathers this community of chefs and producers at the annual Euro-Toques Food Awards to celebrate the very best of Irish food.
Yesterday, it was my privilege and pleasure to be MC at the 2019 Awards at Richard Corrigan's Virginia Park Lodge in Cavan. Underneath grape vines and apricot trees in a Gooseberry Gardens polytunnel (the weather was most uncooperative!), we came together to present – in the form of specially commissioned platters and bowls from Stephen and Alexis at Fermoyle Pottery  – a total of eleven awards.
The first five were Water, Land, Farm, Dairy and Artisan Produce, followed by another six awards under the category Craft, which this year recognised a selection of smaller growers.
The winners were all nominated by Euro-Toques members and then picked by the Euro-Toques Food Council to showcase producers who are doing something very right.
Water: The Island Nation Award, to represent product from our seas, lakes and rivers.
Before seaweed ever got the name of superfood, generations of the Lee family had been hand harvesting it from the Connemara coastline. In 2012, seeing the growing demand for seaweed, Noel Lee set up the Connemara Organic Seaweed Company in Ros a Mhile, Co Galway. Their locally sourced, hand harvested, sustainable seaweed products – including kelp, dillisk, carrageen moss and a seaweed seasoning – are now available through Ireland, in eco friendly paper bags and reusable tubs. making this natural Irish ingredient accessible to everyone.
www.connemaraseaweedcompany.ie
Land: Our heritage. The forests, nature, the wild and above all, our soil.
Based on two and a half acres of land just outside Drimoleague in West Cork, florist Mags Riordan started growing organic edible flowers as a commercial crop in 2015. Bumblebee Flower Farm was Ireland's first dedicated edible flower farm and now produces a year-round range for the finest restaurants, country houses and hotels. Bumblebee Flower Farm protects and promotes biodiversity through regenerative practices while cultivating bee-friendly, nectar-rich blooms that are far more than just pretty on the plate.
www.bumblebeeflowerfarm.ie
Farm: To honour the best and most sustainable way to rear animals.
Brothers Derek and Brendan Allen are the latest custodians of the lush, limestone-rich land of their family's Castlemine Farm in Roscommon. Animal welfare and ethical values are at the heart of everything that they do and this shines through in the quality of their produce. Their pasture-fed, dry-aged beef, lamb and rare breed pork is reared with a traditional sustainable approach, butchered in-house and then sold directly to chefs and producers.
www.castleminefarm.ie
Dairy: To honour Ireland's rich and flavoursome dairy bounty
"Where milk matters" is the tagline for The Village Dairy, a small, local family-run dairy which is based in Killeshin on the Carlow – Laois border. Founded in 2014 by Noel Barcoe, they produce a range of craft dairy products, including organic milk, Jersey cow milk, buttermilk and cream, that are pasteurised and homogenised as little as possible. The Dairy works with a local collective group of dairy farms, most with a radius of 10km, to produce products that have the rich natural flavour of traditional Irish milk.
www.villagedairy.ie
Artisan Produce: A product which requires a traditional and handmade process, also highlighting the second generation of producers.
One of the oldest working water-powered flour mills in Ireland, Ballyminane Mills in Wexford is run by third generation miller John Murphy. He sources wheat locally and grinds it slowly through a set of French burr milling stones, ensuring that the authentic flavour and nutritional profile of the flour is not compromised. With almost 200 years of milling in hand, Ballyminane Mills takes great pride in producing stone-ground wholemeal flour of the highest quality. It's a delicious heritage product, one that fully deserves our support and protection.
https://www.tastewexford.ie/directory/ballyminane-mills/
Craft: Honouring the people behind the product who protect and preserve our culinary skills, technique and craft, but also inspire the future.
There are six winners in this category. These growers have been awarded for growing varietal fruits, herbs and vegetables in an organic, biodynamic or chemical-free way, respecting the environment while delivering on flavour.
Connemara organic farm An Garraí Glas is a smallholding run and worked by Aonghus Ó Coistealbha together with a team of WOOF-ers, local volunteers, family and friends. His father, grandfather and great-grandfather were blacksmith and now a small farm shop sits in the site of the original forge. Producing local, organic vegetables, they supply farmers' markets, grocery shops, and supermarkets.
www.facebook.com/pg/AnGarraiGlas/about
In 2015 John Graham of Ballyholey Farm in Donegal decided to diversify his family's wholesale vegetable growing business by opening a small farm shop – known as the Log Cabin – to sell fresh vegetables direct to the public. From producing wholesale carrots and potatoes, he now grows 120 varieties of vegetables, including eight varieties of potatoes, many colours of carrots, cauliflowers, broccoli, peas, beans, tomatoes and many more.
www.ballyholeyfarmshop.com
After travelling the world as a exploration geologist, Richard Speir retired to grow veg at Glensallagh Gardens ten years ago. He specialises in growing unpronounceable Chinese, Japanese, Italian and Mexican salads and brassicas – along with a host of other strange and unusual vegetables – selling mainly to five local restaurants and cafés including Ballydehob's Michelin-starred Restaurant Chestnut.
www.facebook.com/pg/Glensallagh/
In the foothills of Mount Leinster, Gorse Farm is a certified organic market garden run by Jenny Watkins and Janet Power. The ethos at the heart of Gorse Farm is a return to pre-industrial farming values, encompassing a holistic approach to healthy food production, land management and care of the environment.
www.gorsefarm.ie
Back in 1927, Donnacha Donnelly's grandfather started growing strawberries, apples and tomatoes at Iona Farm in Co Dublin. Almost 100 years on, the farm has now diversified into growing a range of different crops, including baby vegetables and beans, courgette flowers, raspberries and cherries. This farm employs 15 full time staff and, during busy summer and autumn harvest times, another 30 part timers.
www.twitter.com/Ionafarm12

A chemical-free micro-farm, New Leaf Urban Farmers use only natural products such as green waste compost and seaweed for fertilizers. Established in 2016 on 1.5 acres of rented land in Ballyneety, County Limerick, they grow a range of produce including salad greens, summer crops and speciality products for hotels, restaurants and cafés. Using soil management techniques that would be familiar to 19th Century Parisian market gardeners, while also incorporating modern developments in technology and growing practices, it's back to the future for these growers.
www.twitter.com/newleafurbnfarm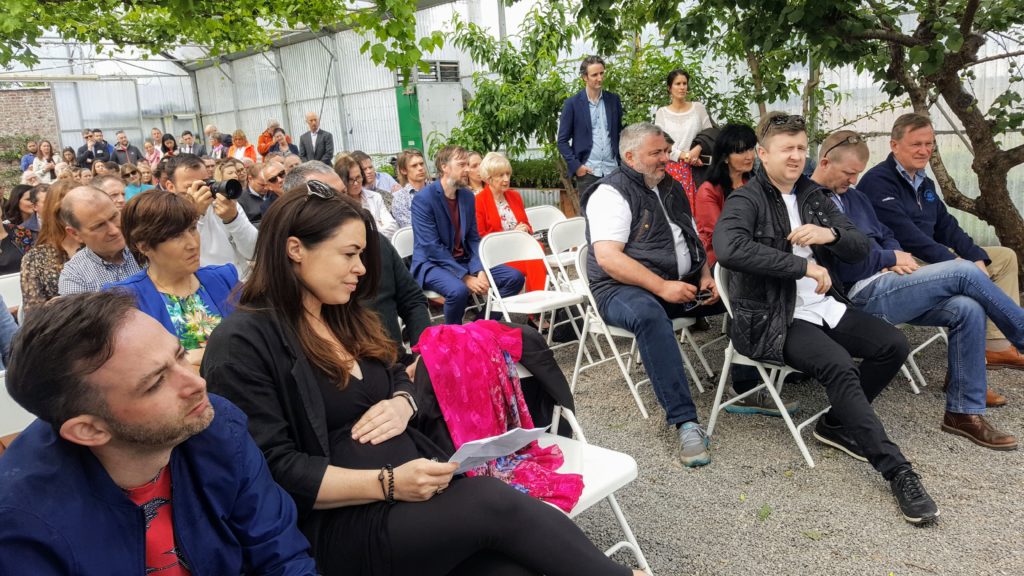 The awards were followed by a feast of Irish food and drink, some sourced directly from the winners, and a showcase of 50 Euro-Toques producers, as chefs and producers came together to celebrate in the beautiful surroundings – including more polytunnels! – of Virginia Park Lodge.
Congratulations to the winners, and to all the shortlisted producers. Their passion and commitment to supplying chefs with delicious, local and seasonal food is what makes eating in Irish restaurants such a joy.
Find more information on Euro-Toques Ireland, including past award winners, and lists of chef and producer members, at euro-toques.ie.
More on Myrtle Allen, including my first time at a Euro-Toques Ireland Food Awards event in 2001, here:
Meetings with Mrs Allen: Myrtle Allen of Ballymaloe House 1924 – 2018