Gathering food: Slow cooked brisket with stout, rhubarb and mustard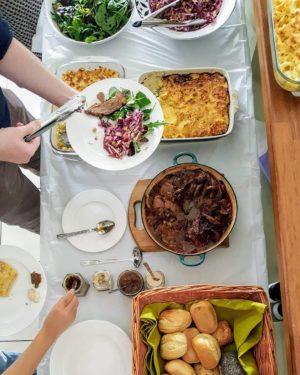 You know you're properly grown up (or getting old) when there's a cousins' get together – with no Mammys or aunts present.
One of my Malaysian cousins recently moved to Ireland and he brought his girlfriend down to visit us for a weekend. Cue a couple of Irish-based cousins deciding to make a road trip, complete with their stacks of kids, so that we could all catch up. "Great!" we said. "The more the merrier." And then we looked around at the cottage, started counting chairs and quietly panicking when ten adults and 8 smallies confirmed.
Fortunately, my brilliant cousin-up-the-road volunteered to host at her lovely house so, in between meals for our sleep-over guests, I pulled together the simplest meal for the masses:  slow cooked beef brisket with stout, rhubarb and mustard, served with homemade spicy rhubarb chutney (rhubarb delivered in large black plastic bags by my horticultural uncle) + horseradish sauce, a red cabbage 'slaw (big bowlful made by the mammy) and lots of hot, crusty rolls.
There were vats of mac and cheese for the kids who were able to eat for themselves and my cousin's gorgeous garlic potato gratin to fill the gaps that we didn't realise we had (and a few that we discovered when we realised just how good it was).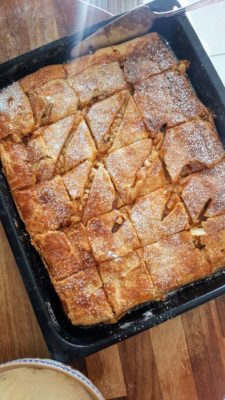 Desert was also courtesy of my mother – a big, old-school, slab apple tart, like the ones we ate at our grandparents' farmhouse kitchen when we were all children – followed by cake from my aunt: her coffee cake has been legendary in the family for many years. The older generation might not have been there but their food contributions very much were.
It takes a family to make lunch – and to eat it all up over a long, leisurely Sunday afternoon.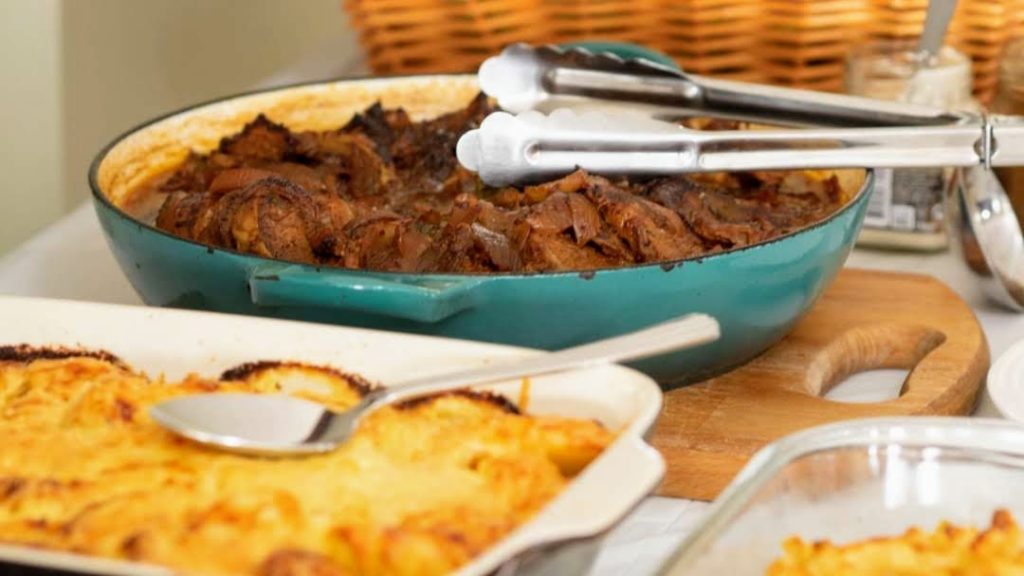 Slow cooked brisket with stout, rhubarb and mustard
A few tips:
1. Order the brisket from your butcher a few days in advance. I've found that it's best to have a chat with the butcher before Tuesday, if you want it for the weekend. I normally get a piece that's 2.5kg, which fits perfectly into my large (5.5 litre) slow cooker and this feeds 10-12 people, generously, with the best leftovers.
2. Brisket has lots of fat – that's what makes it so good for slow cooking. If you can, cook this in advance; the flavour is better and when you refrigerate it overnight, you can just lift off the solidified fat. Otherwise, be prepared to spend time skimming the fat off with a spoon.
3. MOST IMPORTANTLY: if you need this for lunch, set it going in the slow cooker the night beforehand. That way you wake up to gorgeous smelling cooked meat, with plenty of time for it to rest and reheat before the main event. Warning, you may just dream all night of being in the kitchen. But it's worth it.
Serves 10-12. 
2 large onions, halved and sliced
6 garlic cloves, peeled and halved
2.5kg beef brisket, in one piece, trimmed of fat
Sea salt, freshly ground black pepper
330ml stout – I use Knockmealdown Irish Stout or you can pick your own local craft stout
125g spicy rhubarb chutney – or use your favourite spiced chutney
2 tablespoons tomato paste
1 tablespoon molasses
1 tablespoons sweet paprika
2 teaspoons Dijon mustard
3-4 sprigs fresh thyme
2 fresh bay leaves
1 tablespoon cider vinegar
Scatter onion and garlic across the base of your slow cooker and place the brisket on top. Season well with salt and pepper. Whisk the stout, rhubarb chutney, tomato paste, molasses, paprika and mustard together in a large jug. Pour over the brisket, then tuck the thyme and bay alongside the meat.
Cover with the lid, set the slow cooker on low and cook for 8-10 hours (overnight) or until the meat is tender. Transfer the brisket to a platter and scrape / skim off excess fat using a large spoon. Discard the thyme and bay and use an immersion blender to purée the remaining contents of the pot to a smooth gravy. Season to taste with salt, pepper and cider vinegar. Slice the brisket against the grain, put into an ovenproof serving dish and pour over the gravy.  Refrigerate until needed.
An hour before you want to eat, preheat the oven to 180C. Remove any solidified fat.  Cover with a lid or foil and heat in the oven for 30-40 minutes, until thoroughly heated and bubbling. Serve with lots of horseradish sauce, crusty rolls and red cabbage 'slaw.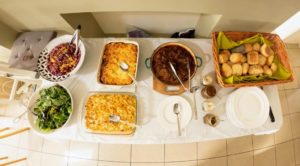 Photo credits: last two pictures by my cousin Ramon Fadli.